65+ Fantastic and beautiful Christmas Photoshop tutorials to get inspired for these winter holidays. Browse through this list of beautiful Christmas pictures and the Photoshop tutorials how to create them. They are ideal for Photoshop Christmas card ideas. Learn how to create different things in Photoshop like Christmas cards with Christmas balls and other ornaments, snowmen, Santa Claus characters, frozen ice effects, snow globes and many more.
For those of you that don't celebrate Christmas you have winter time Photoshop tutorials on how to create realistic winter scenes with snowing effects, snow, ice and icicles.
Try out the free Christmas scenes Photoshop tutorials below and create your own Christmas cards.
Huge collection of Christmas Photoshop tutorials that you can use to make personalized greeting cards for your friends and family. If you want to create Christmas cards, Christmas posters or to write Christmas messages try these Christmas design templates that you can edit online.
For adding text to your Christmas cards, check out these awesome Christmas fonts that are available for free. Use the fonts online, or install them on your computer.
Do you need Christmas Photoshop ideas that are really fast and look great? Check out these Christmas effect Photoshop actions. You don't need graphic design skills to use a Christmas filter Photoshop action.
The list contains lots of Photoshop Christmas tutorials that you will love! These Christmas Photoshop ideas are great for this special time of year. To make a Photoshop Christmas tutorial like the ones presented below is easy. You just have to follow the exact steps.
Make these winter holidays even more special. Use the Photoshop Christmas card tutorial below to make unique designs for your friends and family.
Learn how to make a Christmas background in Photoshop using basic shapes and Christmas brushes.
Photoshop tutorial Christmas lights using brushes and glow effect plus sparkles and snowing overlay.
The Christmas text effect Photoshop tutorials help you create personalized text effects perfect for the winter holidays.
I hope that you enjoyed this list of the most beautiful Christmas images and the Photoshop tutorials for creating them. I hope you decide to try some of this Christmas photoshop tutorials. It would be nice of you if you shared this list with others that want to learn how to create beautiful pictures for Christmas like the ones in this list.
If you want to create beautiful Merry Christmas and Happy New Year Cards in just a few steps, you can try these great Premium Photoshop actions.
IMPORTANT: If you are planning to buy more Christmas Photoshop actions from the actions listed below, take a look at the Christmas Photoshop Actions Bundle by PSDDude which will save you 15% of the price of individual actions.
Did you know you can use online tools like MockoFun to combine Christmas vector shapes with text and create some amazing Christmas cards? MockoFun provides pre-made templates for Christmas cards and even an awesome list of over 50 Christmas fonts that you can use online or download for free to use in Photoshop. Combine Christmas fonts with text symbols like a star symbol for example.
Check out this tutorial on how to use the online Online Christmas Card Maker and all the awesome features that MockoFun has to offer.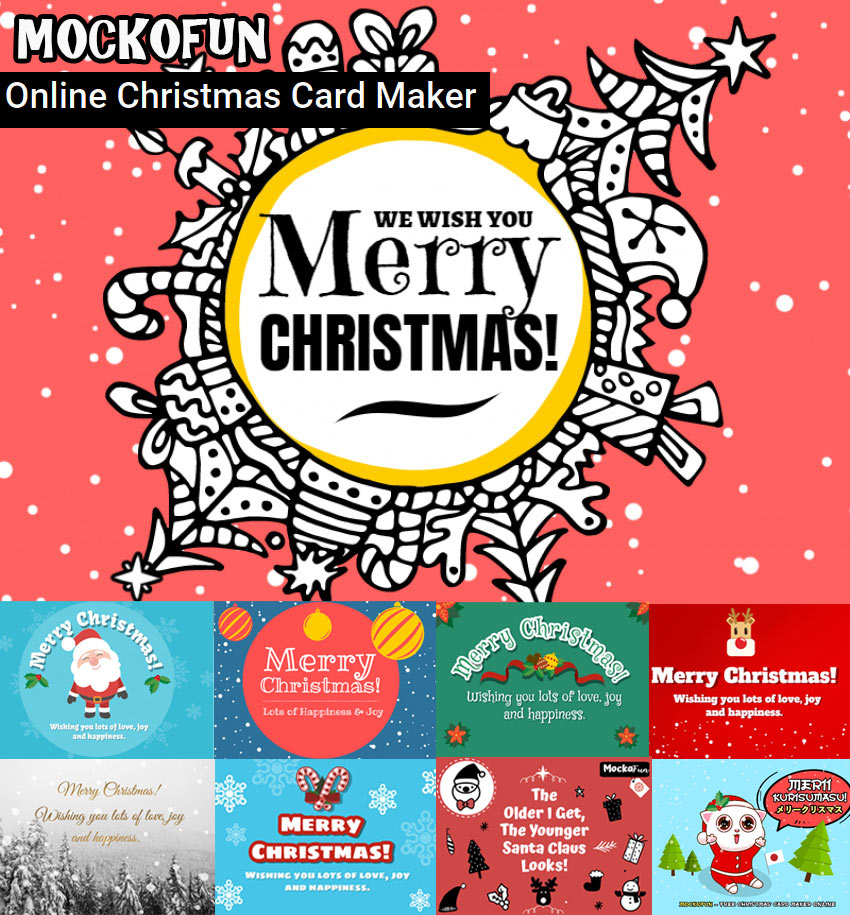 Previous Post
Amazing Christmas Inspired Photoshop Text Tutorials