Want to learn a few ways to make money as a graphic designer? What solutions work best for you and how much money can you earn? Read this and find out.
The safest way to make money as a graphic designer is to have a full time job in an agency and to receive a monthly salary.

If you are up for an adventure, you can decide to become a freelance graphic designer. In this case the income is very volatile but can be significantly higher than regular salary. Continue reading till the end to find out exactly how to do this and start making money as a graphic designer freelancer.
How to Make Money in Graphic Design
Depending on your time and abilities you can be both hired in an agency and self-employed freelancer.

Being a successful freelance graphic designer is not an easy task. That is why many people prefer to work as a full time graphic designer in a company.

How much money do graphic designers make is a question asked by many people that want to become graphic designers. Next you will find very useful information that might help you make the best decisions regarding your career.
Graphic Designer Working for an Agency
(Not Freelancer)
A graphic designer working with an agency usually specializes in one or more types of design like logo design, product design, web design, game design, etc.

In most cases, a designer working at an agency is focused only on the design process that the job requires.
How Much Does a Graphic Designer Make Within An Agency
As I mentioned before, people that are thinking of entering the graphic design industry are interested in many things. Maybe one of the most important things is income.
How much does a graphic designer make an hour and how much does a graphic designer make a year are commonly asked questions.

According to the Bureau of Labor Statistics (BLS), the median annual graphic designer salary was $50,710 in May 2021.
From another source, the average full time graphic designer salary in USA is $50,134 per year. There is also an estimated additional pay of $43,998 per year.
Additional pay could include cash bonus, commission, tips, and profit sharing. (Source)

The average graphic designer hourly rate is between $15-$26 per hour.

For example, an entry-level graphic designer with 0-2 years of experience earns somewhere between $2,500-$3,000 per month.
Freelance Graphic Designer
(Freelancer or Self-Employed)
What is a Freelance Designer? A freelance designer is an independent graphic designer that is self-employed and works independently not for an agency.
A freelancer sets his own hourly or project rate. In comparison, a graphic designer working for a company or agency usually gets a monthly salary.

What is important to know is that freelance graphic designers are in charge of every aspect of their own business.

So, a freelance graphic designer is a person who needs more than only design skills. You have to know from the beginning that a successful freelancer needs:
Good Communication with Clients
Persistence and Motivation
Effective Time Management
Social Media Marketing Abilities
Strong Financial Knowledge
How Much Does a Graphic Designer Make as Freelancer
A freelance graphic designer hourly rate varies a lot from $25 to $150 but can go even more.

The hourly rates can vary a lot depending on the designer skills, the experience, specialization and so on. The country from which the graphic designer is from, can also have a big influence on the hourly rate.

So, the bottom line is that the freelance graphic designer salary depends on so many factors and can vary a lot.
On some websites like Fiverr for example there are low graphic design freelance rates and on other sites like 99Designs there are higher rates.

Here are the freelance graphic design rates 2022 to give you an idea about the earnings:
Amateur Graphic Designer $13 - $45 hourly
Pro Graphic Designer $100 - $150+ hourly
In this article I will focus mainly on how to make money as a freelance graphic designer.
So, what do graphic designers do to make money?
In freelancing, to make money as a graphic designer you need to:
Offer your design services and work with clients or,
Sell pre-made design products.
How to Start Graphic Design Freelance
Continue reading to learn how to become a freelance graphic designer and how to make money as an independent graphic designer.

Here, you will find not only cool tips about how to start graphic design freelance but, I will also present to you the best graphic design freelance sites.
Work with Clients as a Freelancer
To make money as a graphic designer you can sell your graphic design services by working with different clients.

When working with clients there is a lot of pressure to keep up with strict deadlines. Unclear communication, difficult clients and edits that can become overwhelming are other disadvantages of working with clients.

If you decide to sell your services you have to find clients or the clients to find you.
The first thing that you need to do is to create the best graphic design portfolio online for yourself.

A graphic design portfolio is crucial for proving your skills as a graphic designer in front of potential clients. When done well, a professional portfolio can attract lots of clients and job proposals.
A graphic design portfolio must include a well-curated presentation of your work, a short description of yourself and the contact information (email, phone, social media, etc.).

Publish your portfolio online and service offering on graphic design freelance websites like Behance, Dribbble, etc.
METHOD 1 - Offer Your Graphic Design Services
Websites like Fiverr, UpWork, Freelancer, etc. are especially designed for clients all over the world that need quick access to graphic designers for hire.

The graphic design freelancers can post service offerings on these online platforms. All you have to do as a freelancer is to create an account and to start posting your service offering.
Service Offering Example
To be successful, it's important to add an appealing title, an accurate description and great quality screenshots of your previous works. The service offering must have a fair price, not too low and not too high. The delivery time is also very important and you should respect deadlines to get good reviews from the clients.

Below you have a list with the best sites for freelancing online. You can use these platforms for your freelance design work.
Fiverr is a global platform connecting businesses with on-demand freelancers in the simplest way possible.
How does Fiverr freelance work?

Sign up for free, set up your Fiverr Gig which is the service you offer and sell in the marketplace to a global audience.

You get notified when you get an order. You discuss details with customers, deliver the work and receive the payment.

The fiverr freelance graphic design market is extremely competitive. So, your Fiverr Gig must have great quality, good price and a quick delivery time.
Example:
"I will make a custom font for you to use it in your projects. I will create new custom fonts from scratch or from the client's sample, modify existing fonts, adjust kerning, add contextual alternates and ligatures, etc."
File Format: .ttf, .otf, .ai, .eps
Price: 30$
Delivery Time: 3 days
Upwork is an online platform that connects businesses with independent professionals and agencies around the globe.
How does the UpWork freelance work?

Go to Upwork and Sign Up. Add your personal information and start your Upwork profile by describing the work you do.

Then you can add predefined projects to create your Project Catalog. For each predefined project you set the title, description, screenshots of your previous works, price, delivery time and other details.
Example:
"Unique mascot logo design. You will get a unique logo design that brings your company to the next level. With over 15 years of experience in my design field. And 9 years of freelance work. The work I deliver is 100% original and high quality."
File Format: AI, EPS, JPG, PDF, PNG, PSD
Price: 30$
Delivery Time: 2 days
Behance is the world's largest creative network for showcasing and discovering creative work. It is also a place for finding freelance designers and posting design jobs.
How does Behance freelance work?

On your Behance profile click Edit Availability on the left side of your profile page. Select the kind of work you're looking for: Full Time or Freelance & Project Commissions.

A Hire Me button will be added on your Behance portfolio so that clients know you're actively looking for work and could contact you directly.
99Designs is a freelancer platform for connecting graphic designers and clients.
How does 99designs freelance work?

99designs is free to sign-up and start freelancing. Create a profile page where you display your work and clients will contact you based on your portfolio.

You can also add custom design services and charge your own rates for designs.You'll be paid in three business days and all these in a safe and secure workspace.
Example:
"Icons and illustrations design. I can create icons or illustrations which will help to tell your story visually. The price is for the pack of 1-8 custom icons."
File Format: Illustrator file (AI), Image file (JPG), Portable Document Format (PDF), Image file (PNG), Photoshop file (PSD), Large image file (TIFF)
Price: $450 (excluding 5% platform fee)
Delivery Time: 4 days
Dribbble is a self-promotion and social networking platform for digital designers & creatives. Dribbble is actually one of the largest platforms for designers to share their work online and to get hired. It serves as a design portfolio platform, jobs and recruiting site.
How does Dribbble freelance work?

First, you sign-up freely on Dribbble.

Then you create a profile where you display your best design projects.

To add the Hire Me button to your profile, you must have a Pro Business subscription which is $15 per month, paid annually.

As a Pro subscriber, go to Edit your Work Preferences from the top left menu. Check the option Freelance/Contract from the work availability section. You have to add details like minimum fixed price budget, minimum hourly rate, etc. In the end switch to Available for Work.

As a free alternative you can add your email to be contacted by clients.

After you display your work, you wait to be contacted & hired by a client. But, because the graphic design job market is so competitive you could wait a long time.

What strategy should you follow next?
METHOD 2 - Find Graphic Design Jobs Online
In this new approach, you don't wait for the clients to find you, you take action and find freelance graphic design work online.

There are thousands of freelance graphic designer jobs waiting to be found. These graphic design jobs are offered by different clients on almost the same sites (Dribbble, UpWork, Freelancer, etc).
Below you have some good examples of graphic design freelance jobs that are available online. Depending on the complexity of the freelance graphic design project, the price can range from $15 - $10k.
On Dribbble clients can post jobs and freelancers can view these design jobs for free. However, to message the project owner you must have a Pro Business subscription which is $15 per month, paid annually.
Example of design job:
"Create a logo for print on paper bags. I need a logo for printing on paper bags. It should be like in the attached image: the style of text, the size of the bag, etc. The size of the bag is 32x34+19cm."
Budget: $1K - $10K
On Behance clients can post design jobs that freelancers can search for free. Find a freelance project that you like and click on the Apply on Behance button. Your application will be submitted to the client along with a preview of your Behance profile and a message, completely free.
Example of design job:
"I'm looking for an Apparel Graphic Designer to create some mockups for a clothing line I'm starting. I'm focusing on streetwear gear. T-Shirts, Hoodies, Sweaters, Joggers, Shorts, Beanies & Hats"
Budget: Unknown (You have to ask the client via email)
On UpWork is an online platform where clients can post design jobs. The freelancers can apply for any job they like for free.
Example of design job:
"We need a graphic designer that is good at Adobe Photoshop to create us a banner for our website. "
Fixed-price: $50
On Freelancer clients can post design projects.

You, as a freelancer can offer to work on this job and enter a bid for the job. Set your budget and timeframe, outline your proposal and if the client chooses you, you get paid for your work. It's free to sign up and bid on jobs.
Example of design job:
"Looking for a designer to design a logo for a pizzeria. We are interested in rebranding our current logo with a prohibition-era design."
Prize: $300 (On this site you have to submit your work and to compete with other designers for the same project)
Freelancers can search the design jobs posted on DesignCrowd by clients from all over the world.

If you find a design project that you like, you click on the Submit Your Design button and hope to be chosen by the client.
Example of design job:
"T-shirt Design Project. We need a 1980s styled beach summer themed t-shirt. The design goes on a white shirt. Attached is an example of the design style I am looking for."
Price: $110
Clients post design jobs and one-time design projects. If a freelancer is interested in a certain project, has to send a quote for the job and wait to be contacted.
Example of design job:
"I need logo designers to help me design a brand for me at an upcoming event which will be held for medical professionals "
Budget: $250-$500
What else can you do to make money as a graphic designer in 2023?
Graphic Design Passive Income Is The BEST
Working with clients is great but it's not the only nor the best solution.

The graphic design passive income is a great way to dramatically increase your income.

Below you have some cool ideas on how to earn as a graphic designer selling your products. If you are into graphic design freelance work from home, then this is perfect for you.
Designers can make passive income by writing ebooks about design to sell on Amazon, doing affiliate marketing, selling tutorials & courses, writing graphic design articles and by selling digital products.

Selling digital products is one of the most profitable ways to get passive income for graphic designers. All you have to do is make templates of any kind (posters, invitations, or Pinterest graphics) and then sell the templates online.
STEP 1 - Choose a Graphic Design Tool
There are lots of graphic design apps and tools for graphic designers, each with their own pros and cons. So, first you have to find a graphic design tool to use. It really depends on what type of product you want to create.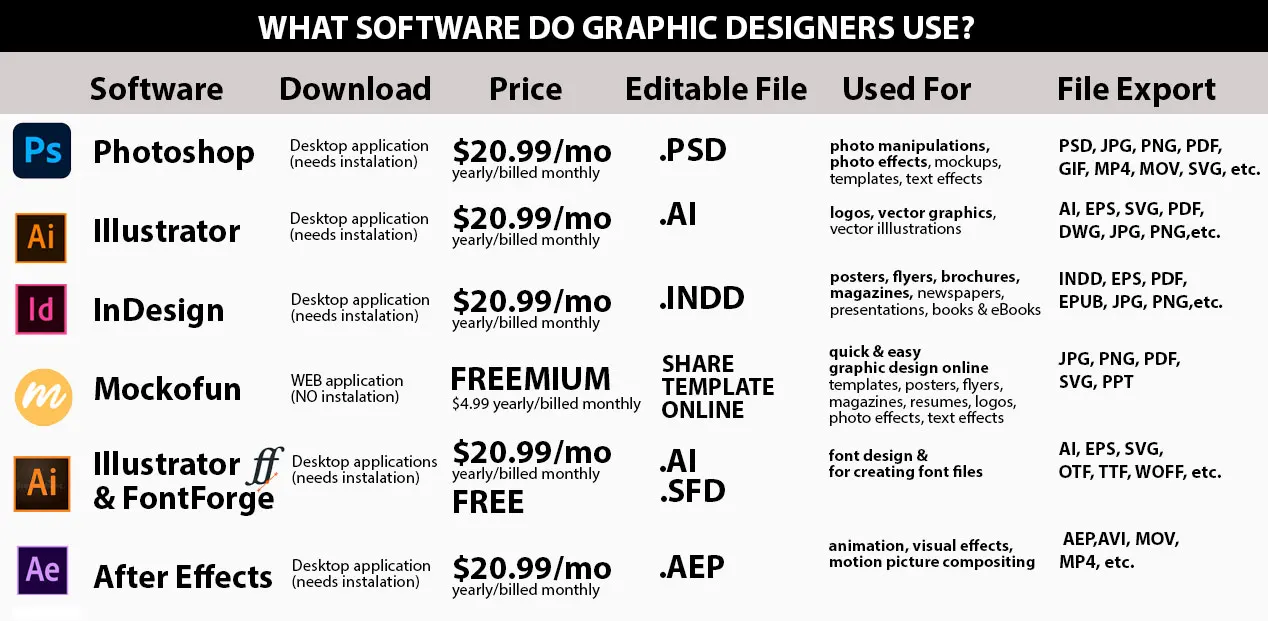 What software do graphic designers use? Below you have some examples of graphic design software useful for freelancers:
Photoshop for photo manipulations, photo effects, mockups, templates, text effects
Illustrator for logos & vector graphics
InDesign for posters, flyers, brochures, magazines, newspapers, presentations, books and ebooks.
MockoFun for quick and easy graphic design online
Illustrator & FontForge for font design & for creating font files
After Effects for animation, visual effects, and motion picture compositing
⚡ Photoshop
Photoshop is an image creation, graphic design and photo editing software developed by Adobe.
What is Photoshop used for?
The software provides many image editing features especially for raster graphics. Check out the latest Photoshop version to benefit from all the newest features. You can also create and edit vector graphics in SVG format.
Use Photoshop for:
Photo Editing & Photo Effects
Photo Manipulations & Photo Collage
Templates (Posters, Flyers, Brochures, Wedding Invitations, Resumes, etc)
Mockups (Product Mockups, Text Mockups, etc)
Text Effects
Photoshop Presets (Actions, Brushes, etc.)
Animations (GIF, MP4, MOV)
Vector Graphics (SVG)
Photoshop Price: $20.99/mo (yearly/billed monthly)
Desktop Application (Needs Installation)
Editable File Format: PSD
Example: Comic Book Photoshop Action


⚡ Illustrator
Illustrator is a graphic design software developed by Adobe, used by graphic designers to create vector graphics
What is Illustrator used for?
Illustrator works with vector graphics that are made of points, lines, shapes, and curves based on mathematical formulas. So, vector graphics can be scaled up or down while maintaining image quality.
Use Illustrator for:
Vector Graphics
Vector Illustrations
Logos
Font Design
Illustrator Price: $20.99/mo (yearly/billed monthly)
Desktop Application (Needs Installation)
Editable File Format: AI
Example: Vector Robot Kit



⚡ InDesign
InDesign is the best choice to design and publish multi page documents containing text, vector artwork, and images.
What is InDesign used for?
InDesign has precise grids and guides to position page elements and create polished layouts.
Use InDesign for:
Flyers, Brochures, Posters
Magazines & Newspapers
Business cards, postcards
Invitations, Resumes
Comics, Books & eBooks
InDesign Price: $20.99/mo (yearly/billed monthly)
Desktop Application (Needs Installation)
Editable File Format: INDD
Example: InDesign Brochure Template



⚡ MockoFun
MockoFun is an online graphic design software that allows you to make quick and easy graphic designs on your browser.
What is MockoFun used for?
MockoFun is used for photo editing, text editing and vector graphics creations.
Use MockoFun for:
Photo Editing & Photo Effects
Text Effects
Logos
Templates (Posters, Flyers, Magazine, Invitations, Resumes, eBooks, etc.)
Presentations
Vector Graphics (SVG)
MockoFun Price: FREEMIUM ($4.99 yearly/billed monthly)
WEB Application (DOESN'T Need Installation, Works Online in Your Browser: Chrome, Firefox, Microsoft Edge)
Editable File Format: You can share editable templates online
Example: Magazine Cover Template



⚡ Illustrator & FontForge
Illustrator and FontForge are used together to create fonts. Illustrator is a useful tool for font design and FontForge to create the font files.
FontForge is a free and open source font editor that allows you to create fonts, edit existing fonts, and convert from one font format to another.
FontForge Price: FREE
Desktop Application (Needs Installation)
Editable File Format: OTF, TTF, WOFF, etc.
Example: Popular Fonts 2023



⚡ After Effects
After Effects is an animation software from Adobe used in film, TV, and web video creation.
What is After Effects used for?
After Effects is used in the post-production phase, and has hundreds of effects that can be used to manipulate imagery.
Use After Effects for:
Video compositing
Motion graphics design
Animation.
After Effects Price: $20.99/mo (yearly/billed monthly)
Desktop Application (Needs Installation)
Editable File Format: AEP
Example: Glitch After Effects



STEP 2 - Create Graphic Design Digital Products
The second step is to create a digital product. I would suggest checking the market and the competition before deciding on a product.
Create high quality products to make good sales.
The competition is fierce but with great quality, good marketing and luck you can do quite well. Here are some examples of digital products that are really popular:
Logos
Flyers & Brochures
Posters
Book Covers, Magazine Covers, CD Covers
Presentations & Presentation Background Images (for PowerPoint, GoogleSlides, etc.)
Social Media Graphics (for Pinterest, Instagram, etc.)
Resumes & Portfolios
Website Layouts
Business Cards
T-shirt Designs
Wedding Invitations
Greeting Cards
Vector Graphics & Illustrations
Product Mockups
Stickers & Badges
Icon Packs
Fonts, Typography & Lettering Design
Tool Presets (Photoshop Actions, Photoshop Brushes, Photoshop Patterns, Procreate Brushes, Illustrator Brushes, etc.)
eBooks, Tutorials & Courses, etc.
Many of the pre-made graphic design items that you sell (templates, logo packs, mockups, text effects, etc.) are in file formats that are editable.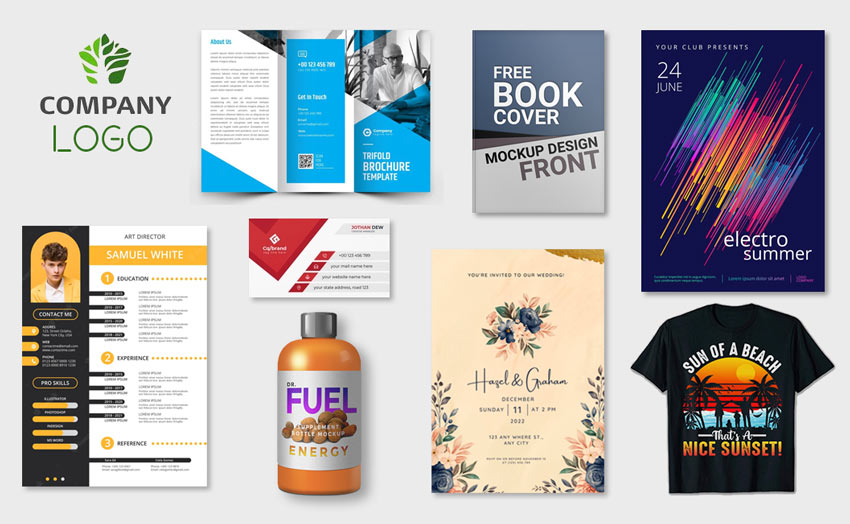 When you sell graphic designs online that are customizable/editable, the file format is very important.
The buyer must have the software in which the graphic design item was made (or a compatible software) to edit and customize the item.
That is why many people prefer to use online graphic design tools like MockoFun to make templates. The buyer doesn't need a graphic design software to edit and customize the design. It can do all the edits online with a free account.
STEP 3 - Sell Your Items on Graphic Design Marketplaces
The third and final step is to sell your graphic design products on popular graphic design marketplaces like the ones listed below.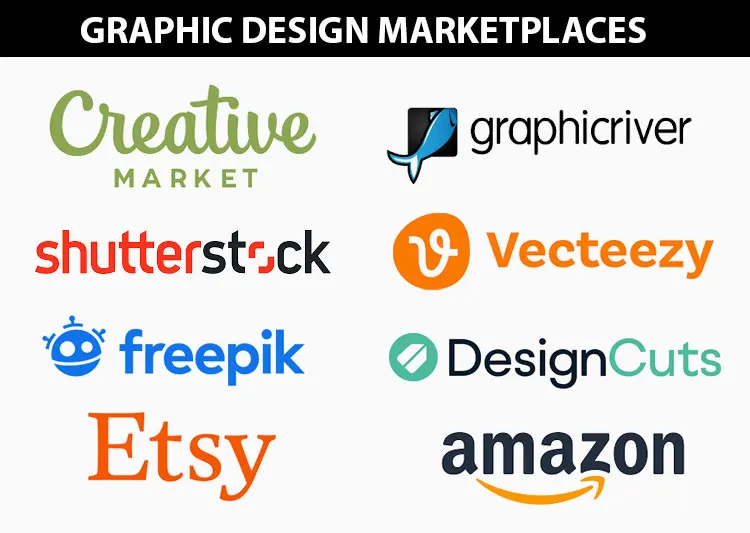 Selling graphic design on these platforms is an easy and safe process. And it's a great passive income for designers.

NOTE: Each of these graphic design marketplaces have other alternatives but these are one of the most popular.
Etsy
GraphicRiver
CreativeMarket
Vecteezy
Shutterstock
Amazon
⚡ Etsy Marketplace
Etsy is an online marketplace for unique and creative goods focused primarily on selling handmade or vintage items, craft supplies, and digital downloads.

You can sell all kinds of graphic design assets like Fonts, Logos, Posters, Resume Templates, Instagram Posts Bundle, Presentation Templates, Canva Templates, Wedding Invitation Templates, Email Marketing Templates, Magazine Templates, etc.

Etsy charges two types of fees:
Listing fee of $0.20 USD for each item that you list for sale
Transaction fee of 6.5% of the price you display for each listing plus the amount you charge for shipping and gift wrapping.
GraphicRiver is an online marketplace for designers with a huge collection of graphic assets.

On GraphicRiver, you can sell design assets like Logos, Business cards, Vector Graphics, Brochures, Banners, Posters, Flyers, Infographics, Fonts, Templates, Illustrations, Resumes, Icons, Web elements, Adobe add-ons, etc. for just a few dollars.

When your item is sold on Envato Market, what you earn is calculated by taking the Item Price and deducting the Author Fee.

Envato charges an Author Fee that varies depending on your all-time sales and whether you've chosen to sell your work exclusively on Envato.
Non-Exclusive Author Fee: 55%
Exclusive Author Fee: 12.5% - 37.5% (for Exclusive Authors, the more items you sell, the less our Author Fee becomes)
⚡ Vecteezy
Vecteezy is a marketplace for vector, video, and photo contributors.

In their free program, they provide a pay-per-download model, where designers can earn:
$5.00 per 1,000 downloads for vectors and photos
$10.00 per 1,000 downloads for video
⚡ Shutterstock Marketplace
Shutterstock is an online marketplace where you can sell photographs, vector graphics & illustrations, and footage clips.

As a Shutterstock contributor, you will earn a percentage of the price Shutterstock receives for licensing your content.

There are 6 separate earnings levels for images and for videos, ranging from 15% up to 40%.
Creative Market is an online marketplace for graphics and design assets. The platform provides a marketplace for creators to sell fonts, graphics, themes, photos, website themes, icons, brushes, photos, templates, etc.
Creative Market has commission rates that vary per shop/per product. The transaction fee is 40% per transaction.
⚡ Amazon Marketplace
Amazon is the biggest marketplace for physical and digital products. As a freelance graphic designer you can sell digital products like graphic design eBooks, courses, digital comic books, etc.

Amazon offers two types of Amazon seller accounts:
Professional sellers: $39.99 monthly fee
Individual sellers: $0 monthly
Sale-related fees range from 6% to 45% of each product's selling price, with the average seller paying about 15%.

Per-item fees:
Professional sellers: No per-item fee
Individual sellers: $0.99 fee for each item sold
Signing up on most of these online marketplaces is free but they usually charge a fee on every item you sell to provide you with support, secure payments, and fraud protection.

Each marketplace has its own fee rates so you must check the details carefully on their site.


Case Study 2023: How much money can you actually earn?
Do graphic designers make good money? Well, it depends. The amount of money is based on two main factors:
Item Price
Number of Sales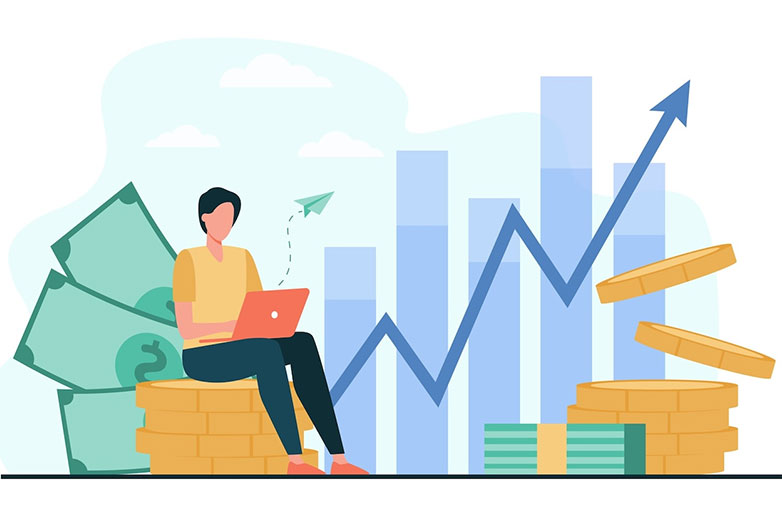 ✅ Formula: Monthly Income = Monthly Number of Sales * (Item Price - Item Price * Author Fee)
Let's say the Item Price is $7. The Author Fee is 30% on the marketplace where you sale your item. In one month you make 100 Item Sales.

✅ Formula: Monthly Income = 100 * (7 - 7 * 30%) = 490

So, in one year you can earn $5.880 from selling an item like this. And, if you have 10 items like this, the amount reaches to around $58.800 per year.
It's not easy to make 100 sales per month for 1 item. And, to have 10 items with the same success is even harder.
To increase your chances you will have to promote your item on social media, personal blog, YouTube, etc. You can even advertise your item by buying ads on Google, Facebook, etc.

This article pretty much covers all information about how to make money as a graphic designer.
In Conclusion
I hope that now you have a pretty clear idea on how much a freelance graphic designer makes. You can definetly make money desiging graphics.
What does a freelance graphic designer do?
A freelance graphic designer works with clients to create all kinds of visual graphics for them and bring their ideas to life.

Besides working with clients, a freelance graphic designer sells all kinds of pre-made products related to graphic design to earn more money. These products include things like logos, templates, fonts, illustrations, etc. but also eBooks, video tutorials & online courses.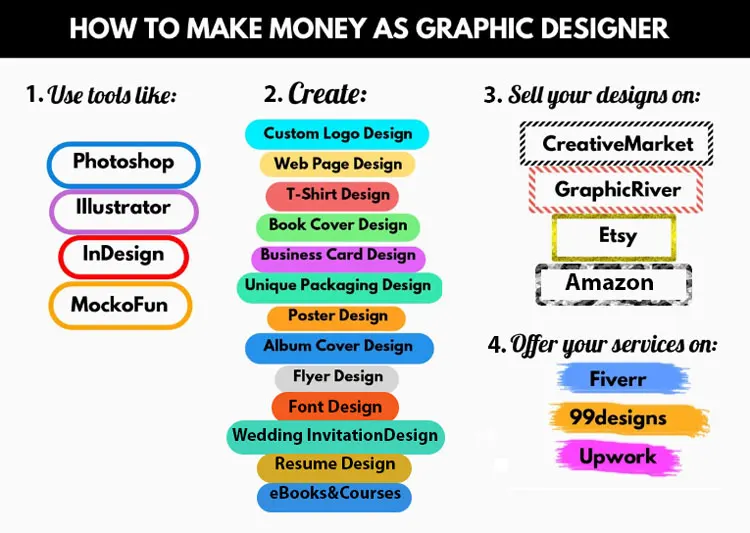 So you see, the freelance graphic designer job description is so complex and includes so many things from creating templates, illustrations, writing eBook & tutorials, making courses & presentations and so on.
To sell your digital products go to marketplaces like GraphicRiver, CreativeMarket, DesignCuts, Etsy, Amazon, etc.
Another thing that you have to remember is that the freelance graphic designer portfolio is a must for getting more exposure, more clients and more sales.

Clients hire a freelance graphic designer on freelance graphic designer websites like Fiverr, Dribbble, Behance, UpWork, Freelancer, Guru, DesignHill, PeoplePerHour, WeWorkRemotely, 99Designs, etc. so these are the places where you should also be.

The graphic design freelance salary depends on the type of work you do, your experience and the quality of the work you provide.

You see that there is plenty of freelance work for graphic designer in 2023 and there are endless opportunities that you can and should explore.