Brand imagery is the visual representation of your brand and it contains all the visuals that your company uses. The branding imagery is very important in creating a positive brand image.
How Design Helps Establish Brand Credibility
Today we'll disclose the secrets of visual language in brand imagery and how it may be used to get positive reviews and sway consumers in the branding world.
So, let's find out how to build trust with customers through design.
What is Visual Language in Design?
A visual language is a system of communication using visual elements. Visual languages are applicable to anything that can be visualized and they help perceive and comprehend visible signs.
A design language is basically a set of rules and principles that guide the visual identity of an organization or brand. The language of design ensures that the brand visual identity has a sense of continuity.
The brand visual language is very important for building a strong brand.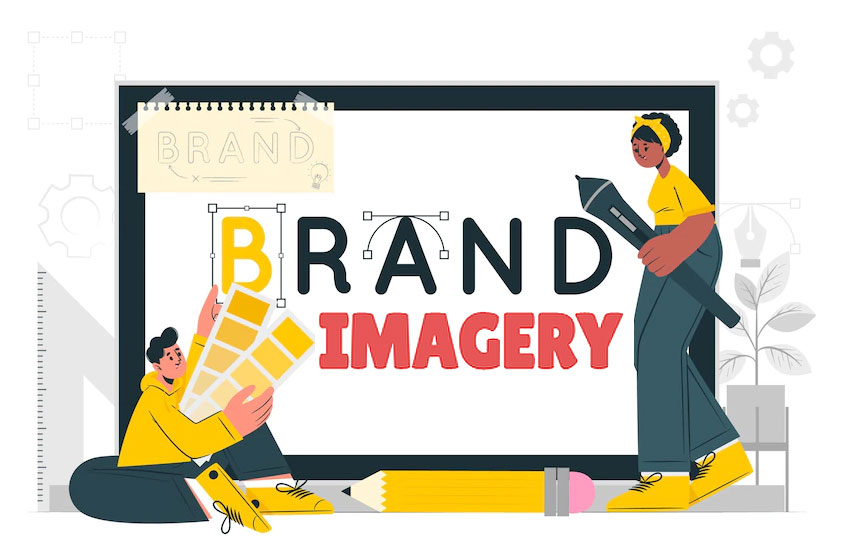 What is Visual Identity?
Visual identity is a collection of visual elements that differentiate a brand from another. The brand visual identity refers to any visible elements like a logo, brand colors & color scheme, product labels, product shapes, fonts and typography, etc. that help customers identify a brand.
The design in branding is becoming more and more important. The branding design uses key brand elements and design components to make a brand stand out from competitors.
What is Brand Imagery?
The brand imagery meaning is the visual appearance of your brand's message and it must convey an emotion in the viewer, known as "brand feelings".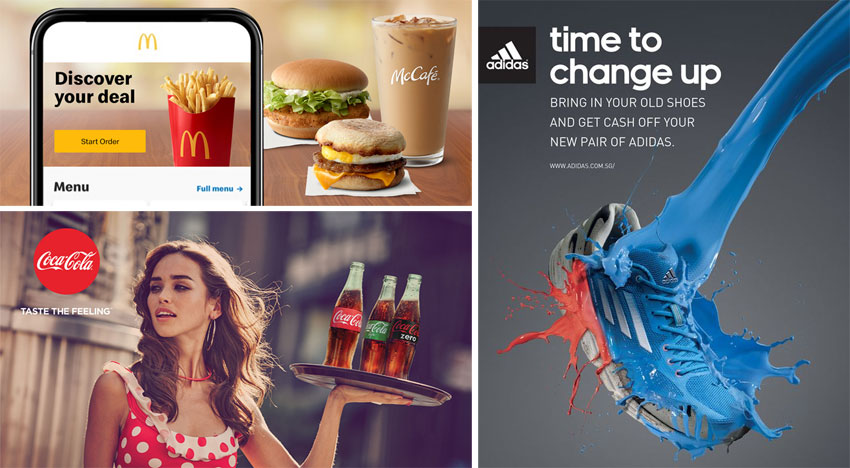 The brand visual identity or the brand imagery is the result of all the visuals that represent your brand's identity combined.
All the images that are involved in your brand imagery can take a variety of forms:
Imagery in Branding: Brand Identity Elements
The brand imagery is used to visualize your brand in order to convey your brand message. The brand imagery must have a consistent look and feel.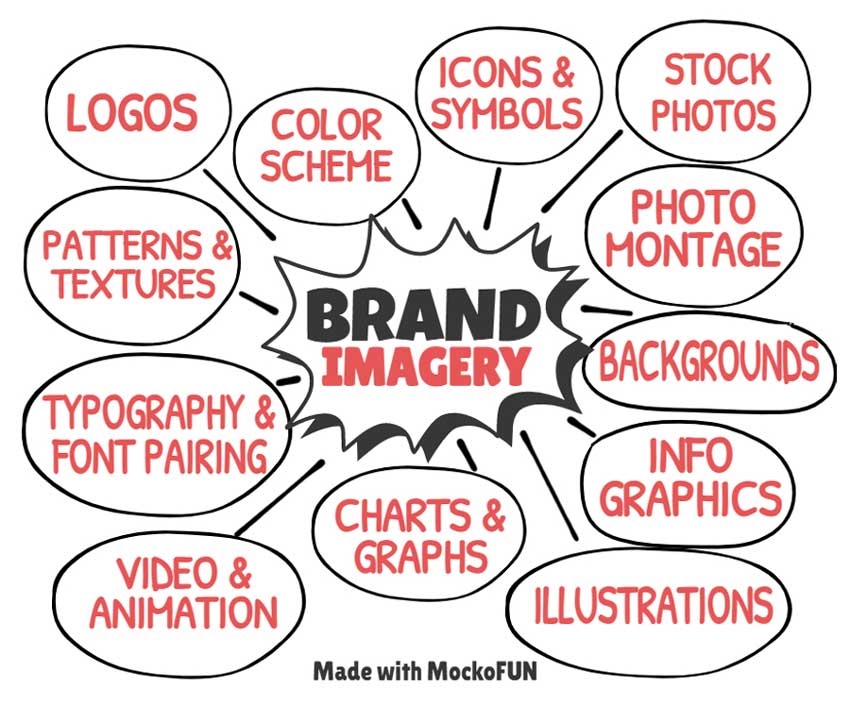 There are lots of types of brand imagery that a brand uses throughout its life cycle that spans from the time it is launched to the time it exits the market. Here are some examples of types of imagery:
Brand Imagery Guidelines
"A picture says more than a 1000 words" - meaning that images tell a better story than words. By using images, a brand can better express their personality and values, evoking feelings that can be difficult to express by just using words.
The brand design guidelines help you build your brand imagery in a more efficient way. The main components of a brand visual identity are logo, color, typography and images.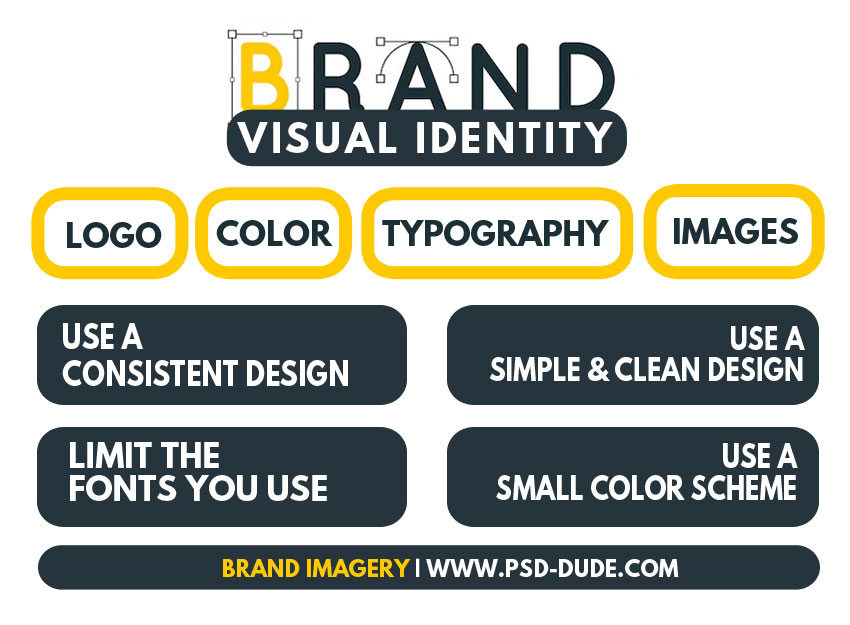 The brand identity elements listed above, are the unique aspects of your brand. When using brand imagery you have to respect some basic principles:
Design Consistency gives your brand a coherent look and should be applied for websites, social media, products, emails, etc. It basically means that you should use the same fonts, color schemes, design style, types of images, etc. Having consistent brand imagery helps create positive first impressions. In many cases, consistency builds trust, and trust leads to sales.
Limit your typefaces and use no more than two or three fonts. Choose the fonts wisely and make sure they look good together.
Use a small color scheme. Usually brands use a maximum of two main colors for their design.
Keep your design simple and clean. Do not use too many elements (fonts, colors, images, etc) to avoid design mistakes.
Integrate images with the same style in your design. For example, choose either flat vector illustrations or stock photography for your brand, not both.
Be different in a good way. People tend to remember things that are creative, smart and unique. So, aim for a beautiful and consistent design but also for a design that is uniquely yours.
What is a Brand Association?
Brand association is defined by the way customers remember a brand. Basically, a brand association is when a customer makes a connection between a brand and an emotion, concept, image, person, color or experience.
Brand imagery associations are images and symbols associated with a particular brand. There are so many brand imagery examples and each has its own particularities.
Coca-Cola is one of the best examples of iconic brands.
Their bright red logo is instantly recognizable all over the world. People associate Coca-Cola with a smile, refreshment, perfect harmony and family.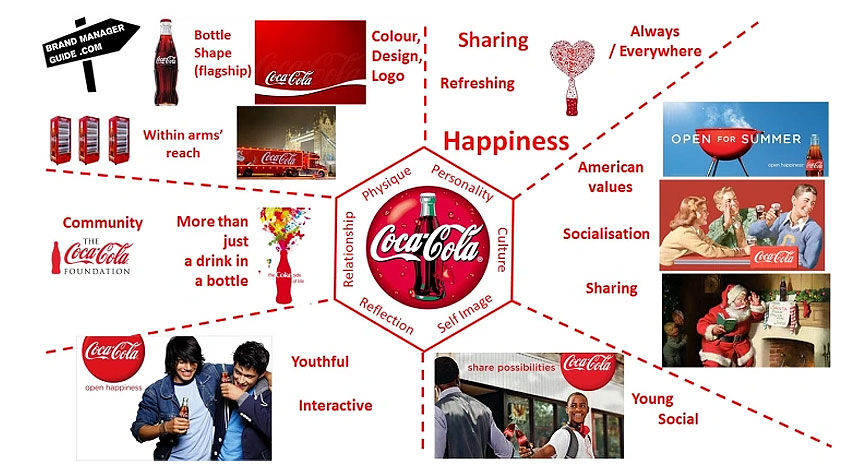 Also, the brand cleverly uses visual images of Santa Claus and the Christmas holiday to enter into the hearts and minds of its consumers worldwide. Source: brandmanagerguide.wordpress.com
IKEA is another great example of iconic brand, famous world wide.
Ikea's brand identity is focused around furniture with good design at low prices. Because of the store layout the whole shopping experience is like a therapy.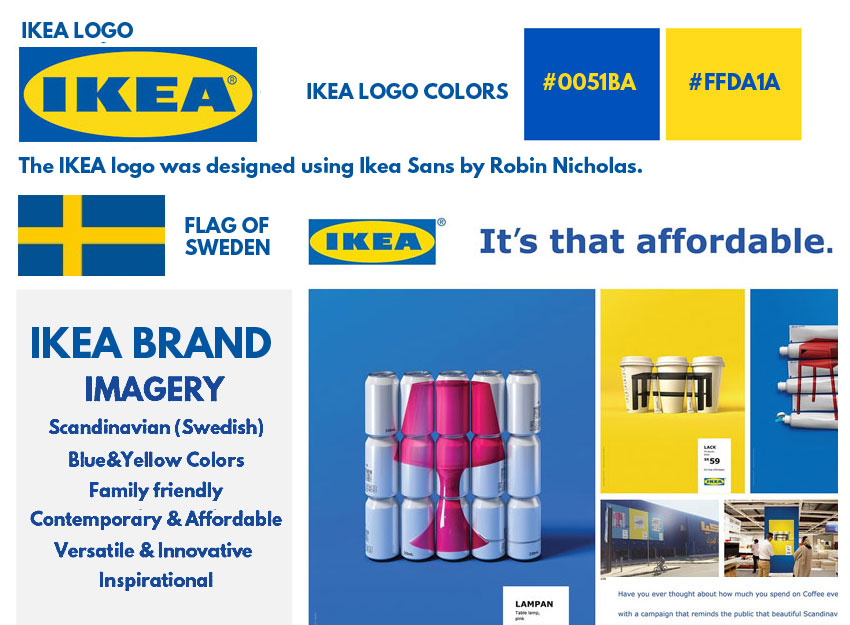 The decision of adding a restaurant with cheap but yummy food inside the store makes the experience even more enjoyable. Another great idea is the Do-It-Yourself assembly who gets customers committed.
How to Choose Branding Colors
What are brand colors? Branding colors are a palette of colors that are used to represent a certain company or brand. A consistent use of brand colors increases the brand awareness and recognizability.
The best logo colors are: Blue: 33% Red 29% Black, Grey, Silver: 28% Yellow, Gold: 13%. As you can see Blue is by far the most popular choice for logo color. The reason is simple: blue color is peaceful, tranquil, secure but also sophisticated.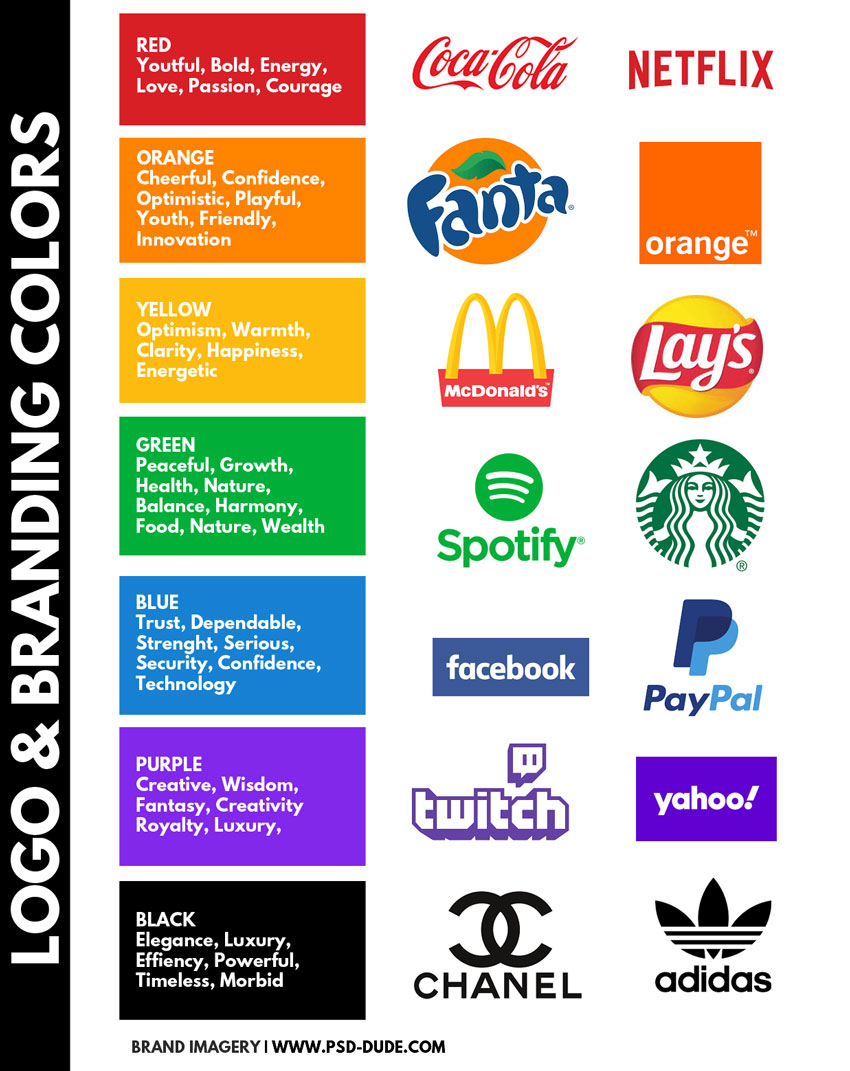 The color psychology in branding is very important. Because colors have such a powerful effect on our emotions, they automatically impact the way we perceive a brand.
So, you must choose the colors for logo design wisely. If you choose only one color is somehow easier and safe. But, if you want to make a brand color combination (2-5 colors), then use logo colors schemes to help you make the best decision.
What Are Primary Brand Colors?
Primary brand colors are the main colors which are consistently used in all brand imagery graphics, publications, posters, flyers, signage, videos, etc. Primary colors help consumers to quickly identify a brand and for that reason they rarely change.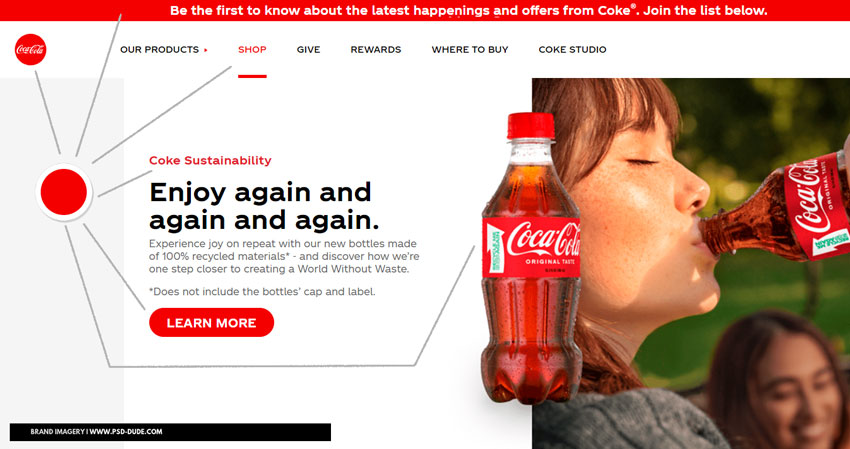 For example, Coca-Cola red is the main color which is consistently used in their website, posters, videos, ads and so on. The website has the red color present in the logo, top bar, highlight text color, action buttons, images. The secondary colors used in the website are neutral, black and white.

Read this article to learn how to create a color scheme for website that looks professional.
Visual Branding Tools
Now you know why is visual branding important. It helps with brand recognition, brand credibility and brand trust. There are lots of branding tools examples that can help you in creating and growing your business. For the visual design process here are some brand tools & software that you can use.
1. InDesign for Making Posters & Flyers
InDesign is a great software for making posters, flyers, brochures, business cards, etc. for your business. Here you can find InDesign Templates for your company.
2. Photoshop for Creating Photo Montage
Photoshop is another software from Adobe that you can use for making creative photo montage images. These photo manipulations are great for posters, websites, social media, print ads, etc. Use Photoshop or Lightroom for professional photo editing.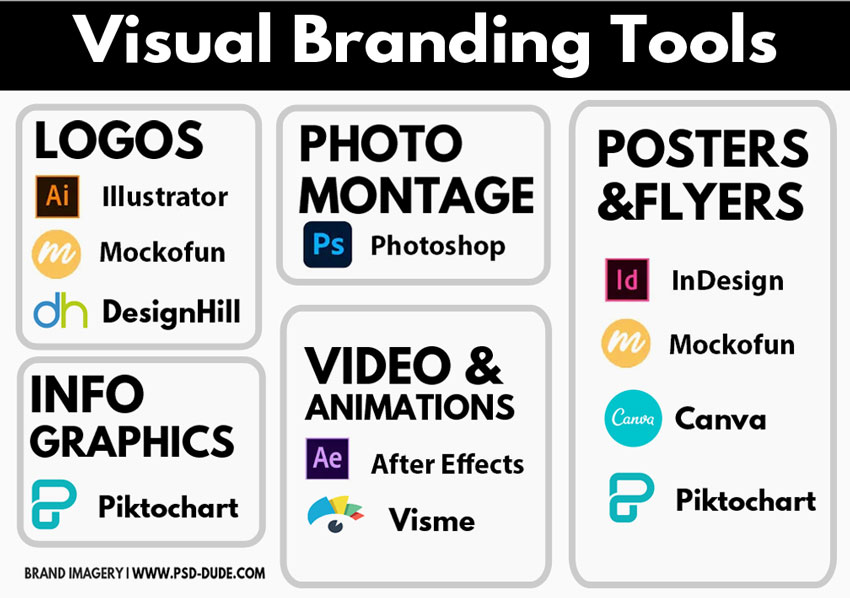 3. Illustrator for Logo Design & Vector Graphics
Illustrator is probably the number one tool for creating professional logos and vector graphics. The most popular tools for branding are the ones for making logos.
4. MockoFun for Quick & Easy Graphic Design Online
MockoFun is a free online graphic design software for making brand visuals like logos, posters, flyers, banners, backgrounds, etc. Use these pre-made online templates or create your own design from scratch. MockoFun is accessible to everybody, no matter their budget and it is one of my favorite free branding tools. You only need a free account to start.
5. HubSpot for Email Signature
The HubSpot's Email Signature Generator helps you create a personalized email signature that reflects your brand identity. Your marketing emails must have the same visual identity with the rest of your brand.
The branding tools and techniques available for free on the internet are countless. If you are looking for free stock images for your business go to Pixabay or Unsplash.
Visual design branding can be done with the help of professionals at an affordable price. In our article on How to make money as a graphic designer there are some useful places where you can find a brand designer.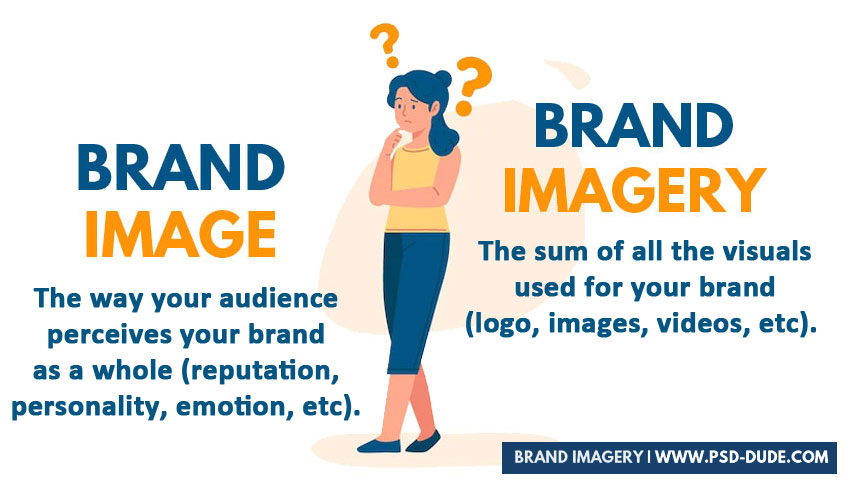 Brand Imagery vs. Brand Image
Even though they sound similar brand imagery and brand image are two different things.
Brand imagery as mentioned in this article is the sum of all the visuals used for your brand.
Brand image is the way your audience perceives your brand as a whole, not just from an aesthetic point of view.
Let's talk about brand identity vs visual identity. Visual identity includes things like logo designs, brand colors, images and typography. Brand identity includes not only the visual identity but also other aspects like mission, brand voice, brand personality, etc.
Brand Image vs Brand Identity
To go even deeper in defining the branding concepts, let's explain a little the brand identity vs brand image.
Brand image is the way people actually sees your brand as a whole in terms of reputation, personality, emotion, etc.
Brand identity is the way YOU want your audience to percieve you (logo, tag line, aestethic style, language tone, etc.).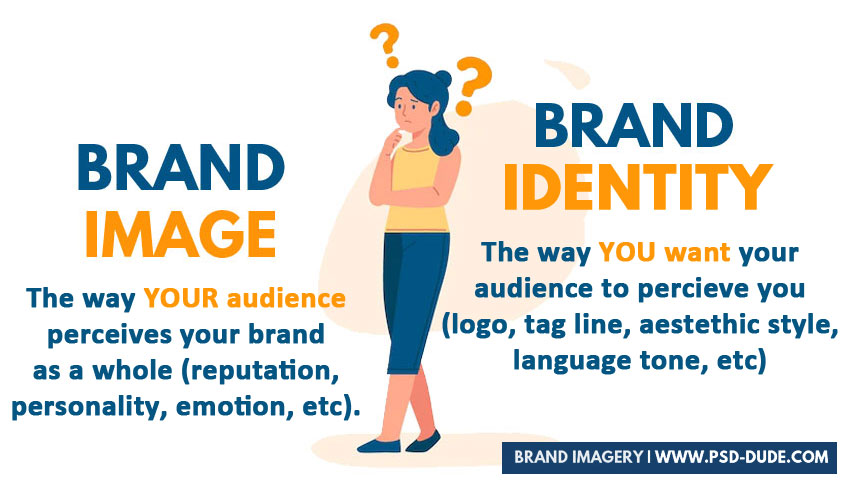 How much does design define the way consumers view your brand?
Making the right design choices is the key to connecting with your audience and earning their trust. The fonts, the colors, the symbols, the images that you use are all key elements.
Good design decisions will contribute to your brand awarness, brand positioning and brand resonance in the minds of your targeted audience.
In our next article about the brand performance you will learn the branding secrets that might lead your company to success.
Credit: www.freepik.com | www.mockofun.com