Looking for the list of all Photoshop versions? Adobe Photoshop's has been around for over 30 years. In 1987, Thomas Knoll developed a pixel imaging program called Display. It was a simple program to showcase grayscale images on a black-and-white monitor. However, after collaborating with his brother John Knoll, the two began adding features that made it possible to process digital image files. The program eventually caught the attention of industry influencers, and in 1988, Adobe made the decision to license the software, naming it Photoshop, and shipping the first version in 1990. This way, on February 19, 1990 Adobe Photoshop was born.
📢 What is Adobe Photoshop Latest Version Name?
The latest version of Adobe Photoshop is version 25.0 released on September 2023.
What is the newest Photoshop version?
Adobe Photoshop 2024 is the newest PS version and it is a significant update to the world's leading image editing software. The new Generative AI Photoshop features are particularly impressive, and they have the potential to revolutionize the way that people create and edit images. The other new features, such as the Contextual Task Bar and improved startup performance, also make Photoshop 2024 a more efficient and user-friendly application.
Adobe Photoshop 2024 New Features
Photoshop Generative AI
Generative Fill: Add or remove content from your images non-destructively, using simple text prompts within the app.
Generative Expand: Expand the canvas of your image by adding realistic content to the edges, while preserving the style of the original image.
🤔 What Version of Adobe Photoshop Do I Have?
Many people wonder how to know Photoshop version that is installed on their computer.
So, how to check Photoshop version?
If you are not sure what version of Photoshop you have, display it by going in the Photoshop top menu under Help > About Photoshop. If you are using Photoshop on a Mac choose Photoshop > About Photoshop.
🎂 Adobe Photoshop makes history: Over 30 years of being the most well-known graphic design app
UPDATED: September 2023
I originally wrote this article for Adobe Photoshop 25th anniversary. Then updated it for the 30th anniversary at the end of 2020.

Since then I've constantly updated this article.
Photoshop means so much to me and to many-many users around the world. It has been THE graphics tool that for such a long time now has allowed both proffessionals and amateurs to unleash their creativity. There are so many things that you can say about Photoshop. I tried to sum up a few of the most important aspects by creating this Adobe Photoshop Infographic. I hope you enjoy it and share this with others.
🥇 The First Photoshop Version
The first Photoshop version is Photoshop 0.63 which was officially created on 2nd October 1988 by Thomas and John Knoll.
When was the first version of Photoshop released?
Photoshop 1.0 was officially released in February 1990. The software was released commercially with the brand name Adobe Photoshop.
A lot has changed over the years, but Photoshop has tried and succeded to be on top of the most used graphid design tools. It's even made a move towards online applications and changed the pricing model to a subscription model. All this to keep up with the competition of online tools that are simpler to use and much cheaper.
How many Photoshop versions are there?
There are three main versions of Photoshop currently available: Photoshop CC (Creative Cloud), Photoshop CS6 and Photoshop Elements.
Is there an online version of Photoshop?
You can also use Photoshop online as part of Adobe Creative Cloud but this version doesn't have all the features. You need to have an Adobe account to use the online Photoshop version. There is also an online photo editor like Photoshop called Photopea.
Is there a free Photoshop version?
You can sign up for a free trial of Photoshop. Another thing that you can do is to get cheaper Adobe by following these tips. For on-the-go creativity, you can install Photoshop Express on your smartphone. Is Photoshop Express free? Yes. Or, you can create graphics, collages, flyers, videos, and animations for free with Adobe Express. Is Adobe Express free? Yes.
Photoshop Alternative Free
GIMP is the best free Photoshop alternative for photo editing right now. There is also Photopea which is a Photoshop clone online. MockoFun is another free online Photoshop alternative with smart photo editing, text effects, AI generated images, etc.
Canva is another tool that you can use for making posters, flyers, etc. Canva vs Photoshop, which tool is better for you?
Photoshop Version List
⌛ History of Adobe Photoshop Timeline
Below you have the Photoshop all version list updated for 2023-2024. The infographic is mainly about Adobe Photoshop All Versions List but it also cotains other interesting Photoshop statistics & facts.
30 Years of History for Adobe Photoshop Infographic by PSDDude
A short history of Adobe Photoshop
Adobe Photoshop versions and their release dates:
Photoshop 1.0 - released February 1990
Photoshop 2.0 - June 1991
Photoshop 3.0 - September 1994
Photoshop 4.0 - November 1996
Photoshop 5.0 - May 1998
Photoshop 6.0 - September 2000
Photoshop 7.0 - March 2002
Photoshop CS - October 2003
Photoshop CS2 - April 4, 2005
Photoshop CS3 - April 16, 2007
Photoshop CS4 - October 15, 2008
Photoshop CS5 - April 30, 2010
Photoshop CS6 - May 7, 2012
Photoshop CC - June 17, 2013
Photoshop CC 2014 - June 2014
Photoshop CC 2015 - June 2015
Photoshop CC 2017 - November 2016
Photoshop CC 2018 - October 2017
Photoshop CC 2019 - October 2018
Photoshop CC 2020 - November 2019
Photoshop 2021 (v.22.0.0) - October 2020
Photoshop 2022 (v.23.0.0) - October 2021
Photoshop 2022 (v.23.2) - February 2022
Photoshop 2022 (v.24) - October 2022
Photoshop 2023 (version 24.5) - May 2023
Photoshop 2024 (version 25.0) - Sept 2023
Photoshop 2.0 introduces: Paths, CMYK Color and EPS Rasterization Photoshop 3.0 Tabbed Palettes, Layers Photoshop 6.0 Vector Shapes, "Liquify" filter, Layer styles/Blending Options dialog Photoshop CS2 Smart Objects, Smart Sharpen, High dynamic range imaging (HDRI) support (32 bit per channel floating point) Photoshop CS4 Content-aware scaling, Adjustments panel, Auto-alignment of layers Photoshop CS5 Content Aware Fill, New Blend modes: Subtract and spanide, Puppet Warp Tool, Repousse 3D extrusion tool (Extended version) Photoshop CS6 Content-aware Patch and Move tools, Enhanced crop tool with straighten option, Oil Paint filter now ships with the program Photoshop CC Camera Shake Reduction, Improved 3D painting, Share on Behance, Perspective Warp Photoshop CC 2017 Support for SVG OpenType fonts Photoshop CC 2018 Re-organization of the brush panel, new Curvature Tool similar to Adobe Illustrator Photoshop CC 2019 New Frame Tool to create placeholder frames for images Photoshop CC 2020 Improvements to the AI content aware fill, Adobe Camera Raw improvements Photoshop 2021 New features in Photoshop 2021 include:
- Sky Replacement
- Photoshop Neural Filters
- Live Shapes - Cloud Document Version History - etc. Photoshop 2022 New features in Photoshop 2022 include:
- Object Finder
- More Neural Filters (Harmonization, Lanscape Mixer)
- Paste vectors from AI, etc. Photoshop 2023 Photoshop 2023 new features include:
- Generative Fill
- Adjustment Presets
- Contextual Task Bar
- Improved Gradients, etc.
Adobe Photoshop Facts
Available in 26 languages
Over 10 mil users
Adobe Photoshop is available in 25 languages including Chinese Simplified, Chinese Traditional, Czech, Danish, Dutch, English, Finnish, French, German, Hungarian, Italian, Japanese, Korean, Norwegian, Polish, Portuguese, Romanian, Russian, Spanish, Swedish, Turkish, or Ukrainian

Photoshop has over 10 million users all over the world which represents aprox. 90% of the digital artists community.
The Photoshop community is very active and Adobe has managed to gain quite a lot of fans on its social networks growing the number of Facebook fans from 400,000 in 2010 to over 7,000,000 in 2015.
400,000 FB likes in 2010
7,000,000 FB likes in 2015
7,965,000 FB likes in 2020
8,033,083 FB likes in 2022
Adobe Photoshop Facebook likes 2010 vs. 2020 vs. 2022
2010 2020 2022 2010 2020 2022 2010 2020 2022
🤑 Adobe Profits
Adobe is doing quite well financially, and good for them! Here are a few statistics about the Adobe revenue history and growth rate to give you an idea about the size of the Adobe business keeping in mind that one of their most important product is Adobe Photoshop.
| | Gross Profit |
| --- | --- |
| 2010 | $3,396,498,000 |
| 2011 | $3,778,385,000 |
| 2012 | $3,919,895,000 |
| 2013 | $3,468,683,000 |
| 2014 | $3,524,985,000 |
| 2015 | $4,051,000,000 |
| 2016 | $5,034,000,000 |
| 2017 | $6,291,000,000 |
| 2018 | $7,835,000,000 |
| 2019 | $9,499,000,000 |
| 2020 | $12,870,000,000 |
| 2021 | $15,790,000,000 |
| 2022 | $17,606,000,000 |
2010
2011
2012
2013
2014
2015
2016
2017
2018
2019
2020
2021
2022
Adobe number of employees
2010
2011
2012
2013
2014
2015
2016
2017
2018
2019
2020
2021
2022
A lot of people are working for Adobe, and one of their most active projects is of course Adobe Photoshop.
| | Adobe employees |
| --- | --- |
| 2010 | 9,117 |
| 2011 | 9,925 |
| 2012 | 11,144 |
| 2013 | 11,847 |
| 2014 | 12,499 |
| 2015 | 13,892 |
| 2016 | 15,706 |
| 2017 | 17,973 |
| 2018 | 21,357 |
| 2019 | 22,634 |
| 2020 | 22,516 |
| 2021 | 25,988 |
| 2022 | 29,239 |
Adobe Photoshop pricing history
Adobe Photoshop has tried to keep it's price relatively constant throughout the years and only with Adobe Photoshop CC version the price model was changed to a subscription payment model. Here are a few Photoshop price levels for some of the Adobe Photoshop versions.
extended
standard
extended
standard
extended
standard
extended
standard
extended
standard
extended
standard
extended
standard
extended
standard
| | Adobe Photoshop license price |
| --- | --- |
| Photoshop 1.0 | $895 |
| Photoshop CS3 | $649 |
| Photoshop CS4 | $699 |
| Photoshop CS5 | $699 ($999 for the CS5 extended) |
| Photoshop CS6 | $699 ($999 for the CS5 extended) |
| Photoshop CC | $297 / year |
| Photoshop CC 2020 | $285.48 / year |
| Photoshop 2021 | $636 / year |
| Photoshop 2022 | $239.88 / year (Billed Upfront) |
Photoshop is no. 3 in the top of the Most Pirated Software
Reality shows that Adobe Photoshop is so popular that everybody wants to have it and quite a lot of people don't want to pay for it. This is why Adobe Photoshop is one of the most pirated software out there, making it to no. 3 in the top of the most pirated software according to fast.org (Federation Against Software Theft)
1. Microsoft Office 24%
2. Microsoft Windows 24%
3. Adobe Photoshop 16%
4. Adobe Illustrator 10%
5. Solidworks 6%
6. SQL 6%
7. Quark 4%
8. Autodesk Autocad 4%
9. Virtual DJ 2%
10. Corel Draw 2%
Adobe Photoshop
Microsoft Office
Microsoft Windows
Adobe Illustrator
Quark
Autodesk Autocad
Solidworks
Virtual DJ
Corel Draw
Others
In fact it is estimated that aproximately 60% of the Adobe Photoshop users use a pirated version of Photoshop.
www.psd-dude.com


Thank you for reading! Share with friends
Please share:
The infographic is an interactive infographic made with PSDDude's Infographic Charts and Graphics HTML Tags Library.
Download the image version of the "History of Adobe Photoshop Versions Infographic by PSDDude"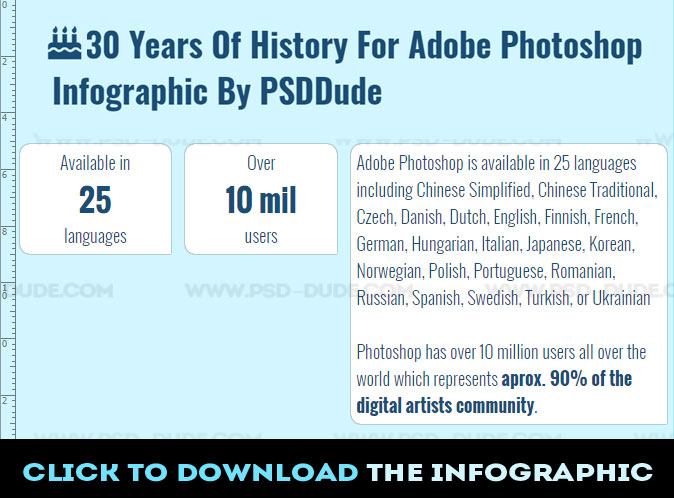 🖼️ Adobe Photoshop 30 years in pictures
What would be more appropriate to describe the road map for Photoshop throughout its 25 years of life than doing through images. Here is the story and history of Adobe Photoshop with images representing its identity over the years.
The first version of Adobe Photoshop in action
Here is a video showing Adobe Photoshop version 1.0 in action
Have you ever wondered what was the first photo ever photoshoped? Well, John Knoll, one of Adobe Photoshop's creators took a picture of his wife Jennifer on a beach in Bora-Bora. He later used that picture for demos of Photoshop and even included it in the installation package naming it "Jennifer in paradise". Here is the very first picture ever photoshoped.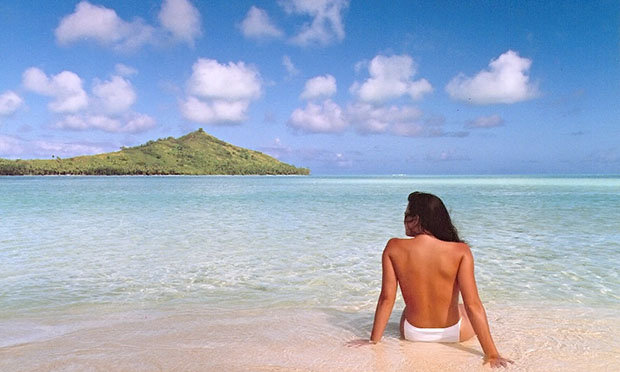 The Adobe Photoshop box cover, shortcut icon, splash screen, toolbox
When you buy the Adobe Photoshop package the very first thing that you see is the software box cover (well, not anymore with the CC version I guess). Here's how the box cover design of Adobe Photoshop evolved over time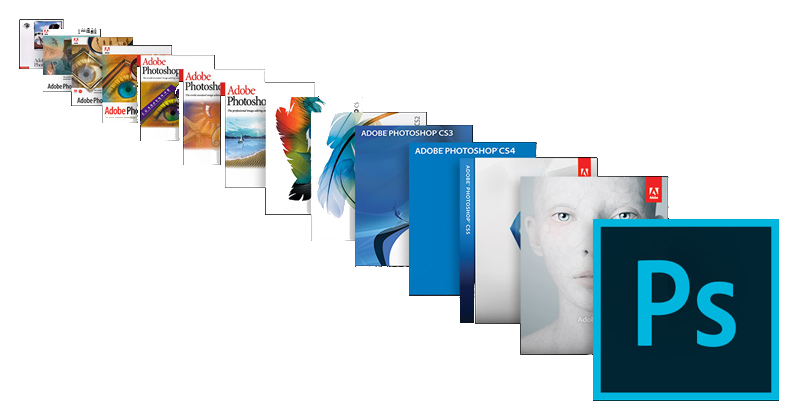 Nothing says more about a software than it's shortcut icon. You probably never saw all of them in one place, but here it is: all versions of the Adobe Photoshop shortcut icons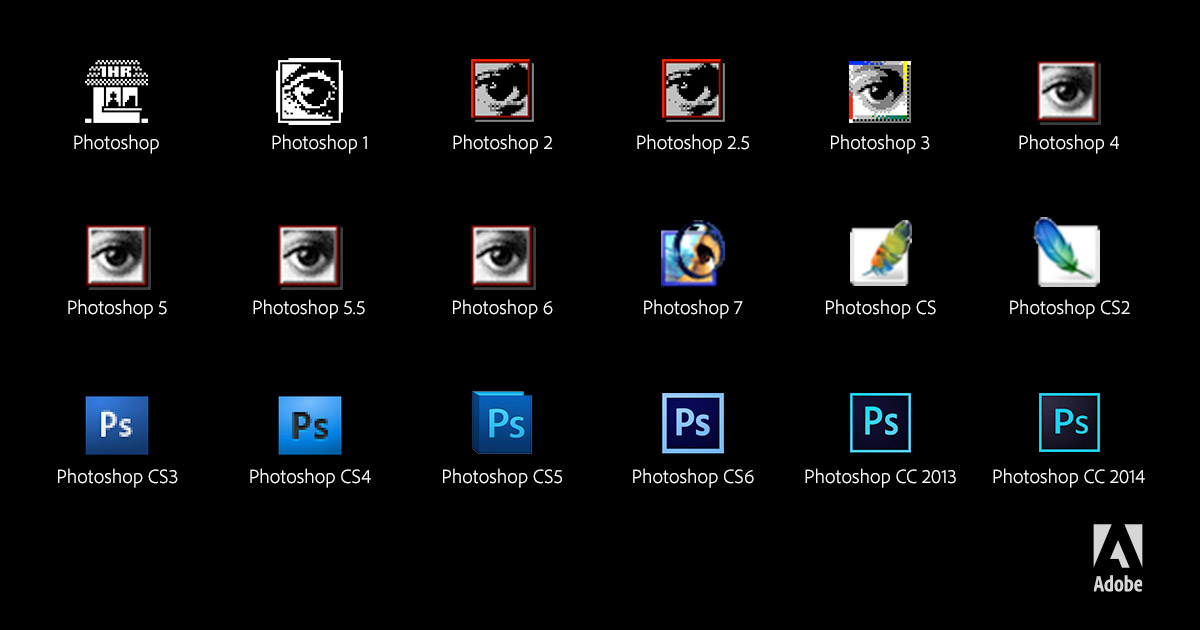 I don't know how it is for you, but for me, when I start my Photoshop and I see the splash screen loading I start to feel my creative juices preparing. Here are all the versions for the Adobe Photoshop splash screens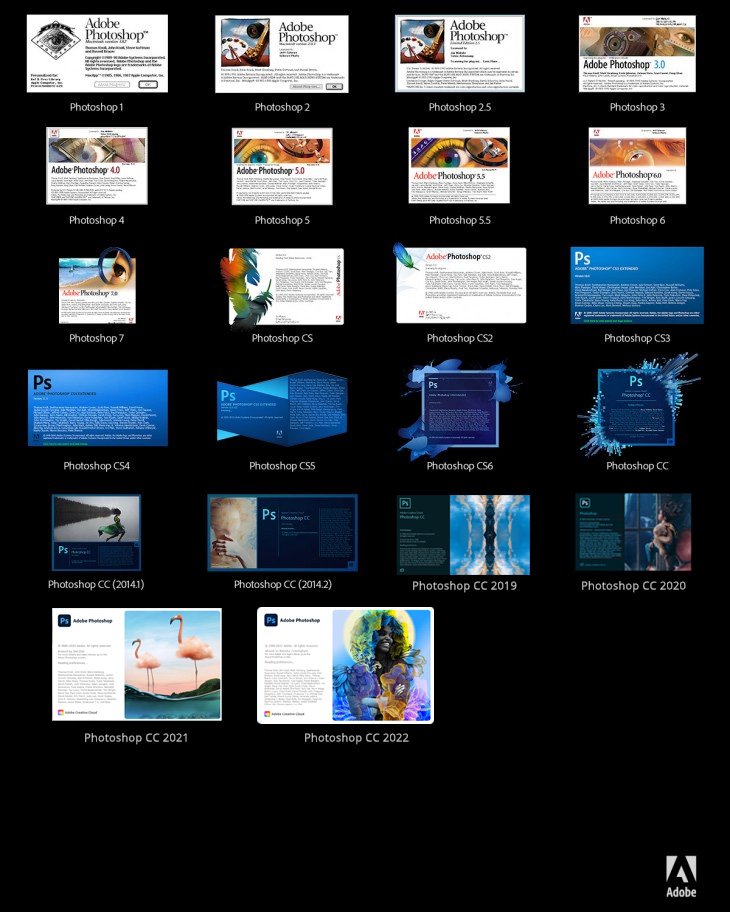 A lot has changed since version 1.0 of Adobe Photoshop, but the concept of the toolbox was there even from the very begining. It is true that tools were added with the new features offered by the newer version of Photoshop. Here is the history of Adobe Photoshop toolbox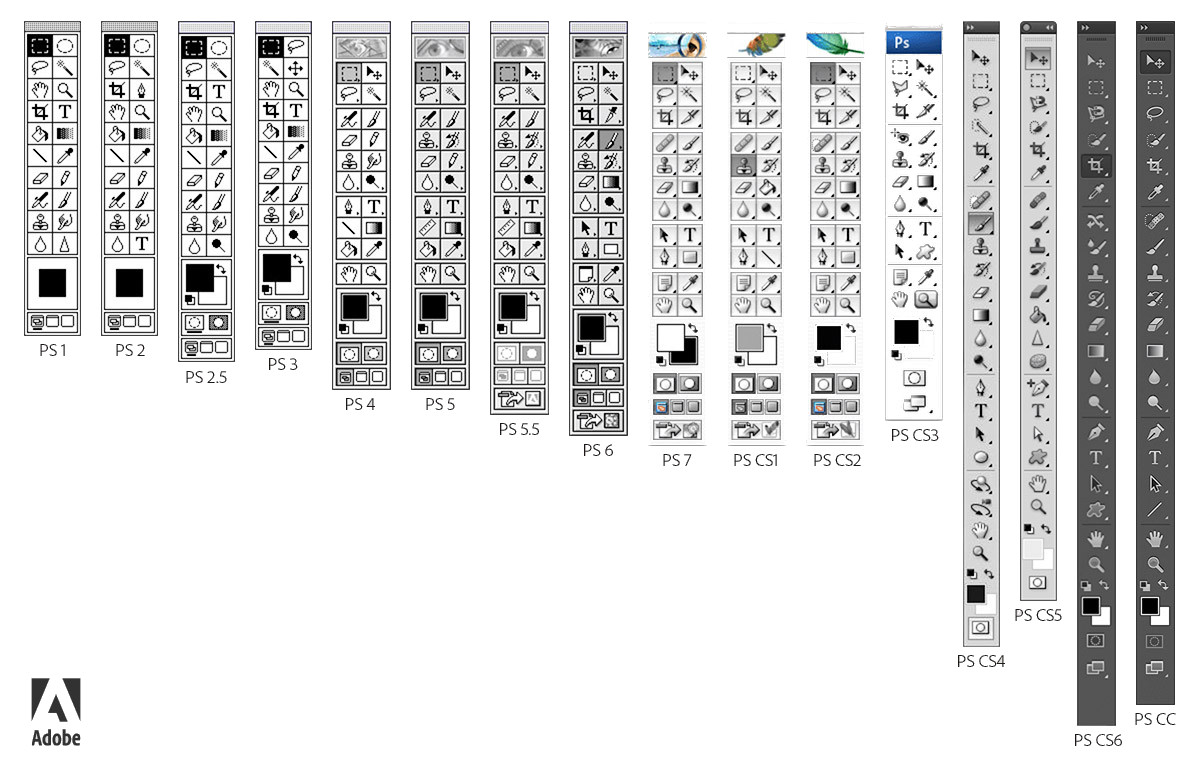 Adobe Photoshop Today
Photoshop is the world's most advanced digital imaging software. It is used by photographers, designers, web professionals, and video professionals, and is available to Creative Cloud subscribers.
Customers can also subscribe to Photoshop CC 2023 as an individual subscription product, or through the Creative Cloud Photography Plan which is an offer targeted at photographers and photo hobbyists and includes Photoshop Lightroom as a companion tool to Photoshop. Another Photoshop related product, Photoshop Elements, is offered separately and is targeted at consumers who desire the brand and power of Photoshop through an easy-to-use interface.
For tablet and phone users, Adobe offers several mobile apps including Photoshop Sketch, Photoshop Mix, Lightroom Mobile and more—all of which enable sophisticated photo editing and content creation using a touch-based interface on tablet and mobile devices.

In 2021 the comapny launched Adobe Express (former Adobe Spark) which is an all-in-one design online and mobile app for photo and video editing. It includes lots of templates, access to Adobe Stock photos, and editing tools to make your content creation easy.
💰 Adobe Photoshop Price
Single App Plan is 17.23$/month. This plan provides access to Photoshop as a standalone application along with 100GB of cloud storage. It's suitable for users who primarily need Photoshop and don't require other Adobe apps.
Photography Plan is 19.99$/month. Ideal for photographers, this plan includes both Photoshop and Lightroom, Adobe's photo editing software. It also offers 20GB of cloud storage and is geared toward those who work extensively with images.
🛒 I've found this Photoshop Photography Plan on Amazon which includes both Photoshop and Lightroom. Or, you can get the entire collection of Adobe Creative Cloud which includes all the Adobe software.
Just a heads up: If you decide to buy something through these links, I might earn a small commission. Don't worry, it won't cost you anything extra, and it helps support our blog. I only pick out the coolest deals and products that I genuinely think you'll love.
All Apps Plan is 59.99$/month. Adobe's comprehensive plan includes access to the entire Creative Cloud suite, which encompasses Photoshop, Illustrator, InDesign, Premiere Pro, and more. This plan suits professionals or creatives who work across multiple Adobe applications.
The prices for business are higher. Check out the Adobe website for more details about Photoshop pricing.
Adobe offers Photoshop Express, a simplified version of Photoshop, as a free app for mobile devices. It provides basic photo editing capabilities. Also Adobe Express (an online tool) is available for free and includes thousands of templates, Adobe Stock photos, videos and music, Adobe Fonts, design assets, quick actions, and amazing features.
Please share this Photoshop all versions page & infographic.
We would like to wish once again Happy 30th Anniversary to Adobe Photoshop and long life!