Monogram logos or lettermark logos are logos made up of only typography letters. Monogram logos are made by combining two or three letters which are usually your company name initials.
What is a Monogram Logo?
A monogram is a motif made by putting together two or more letters or other graphemes to form one symbol. Monograms are often made by combining the initials of an individual person or a company. They are used as recognizable symbols or logos.
The first monograms date back to 350BC. Over the centuries, monograms have been used in royal symbols, religion, architecture, etc. Source: Wikipedia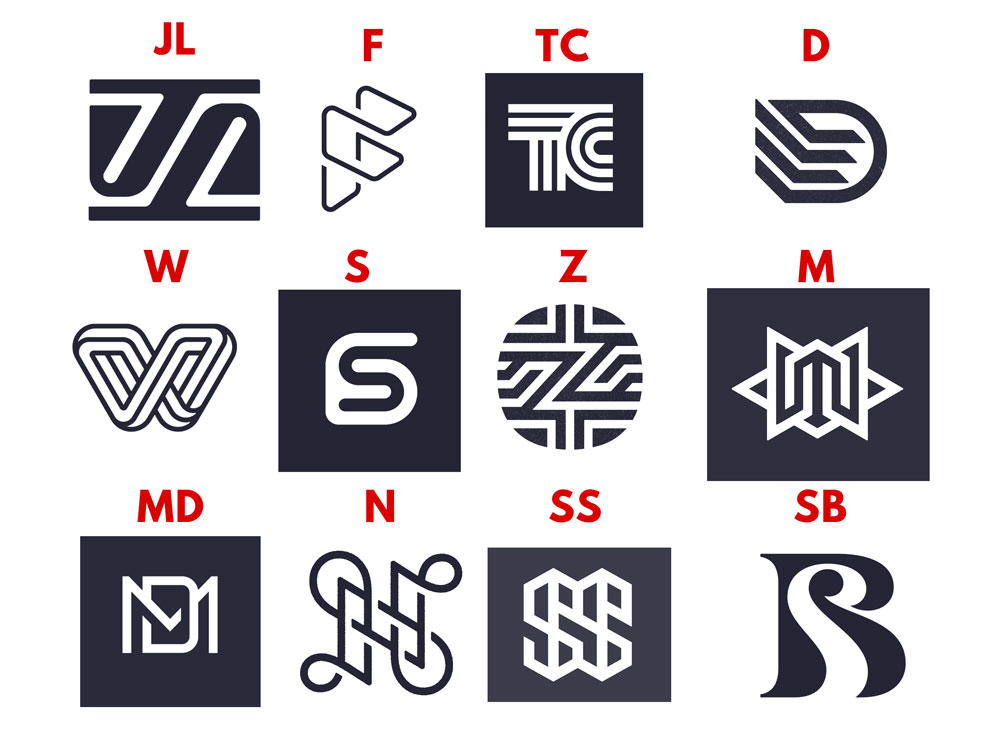 Credit: Dribbble
How to Create a Monogram Logo
To create a monogram logo, use any graphic design software with fonts like Photoshop, Illustrator, Inkscape, Gimp, etc. Or, use a monogram logo generator online that has predefined templates. In the preview images you have some monogram examples to inspire from.
Use this free online logo maker to make a monogram online in just a few easy steps.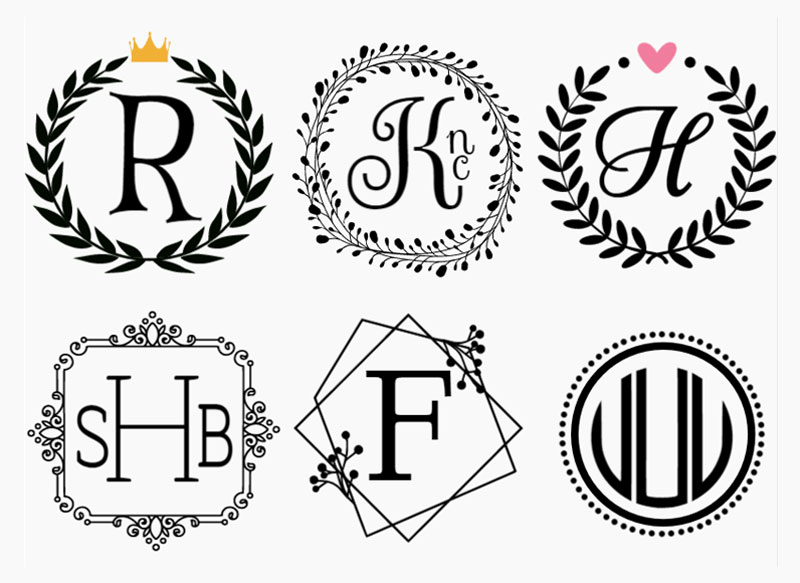 In this tutorial I will create a name monogram online. Read our previous article to learn how to combine letters and create a monogram logo or a lettermark logo for your brand. There you have many monogram logo ideas in different styles.
To use the monogram logo maker, click on the create button to start. Make a monogram logo free from scratch or choose a monogram template.
Step 1: Add the Monogram Letter
Go to the Text menu and add a text. To make a m monogram logo write an uppercase M letter. To make a s monogram logo write an uppercase S letter.
Usually a m letter logo is different from a m monogram just like a s letter logo is different from a s monogram. A letter monogram is more suited for persons, couples, families and a letter logo is more suited for businesses. Based on the number of letters used, we can create an 1 letter monogram, a 2 letter monogram, 3 letter monogram, 4 letter monogram, etc.
Step 2: Set the Font, Size & Color
Choose the font family. You can pick a serif font, a cursive font or any other font that you like from a list of 800 free online fonts. This online tool has also a monogram font that you can use for free. Download this circle monogram font for free.
Set the size of the letter and also the color. I use Sevillana font, Size 200 and Color #000000.
Step 3: Add Monogram Frames
Even though monograms are based mainly on letters, sometimes they have other graphic elements like monogram frames and borders. The monogram frames have a circle shape
This monogram maker has lots of frames and borders that you can use to make a monogram with frame.
Go to Elements > Shapes or Elements > Illustrations and search for the word "wreath" or "circle".
Or, go to Elements > Frames > Decorations and Ornaments and there you have lots of monogram frames to create monogram logo free.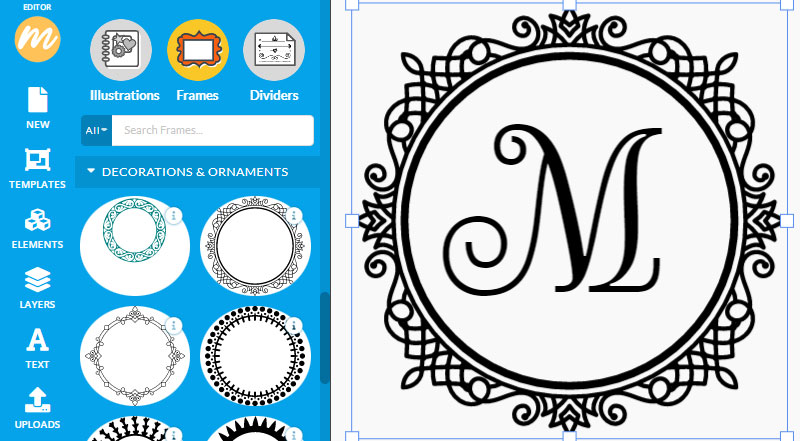 The monogram design looks really nice. Below you have some monogram ideas made online with MockoFun.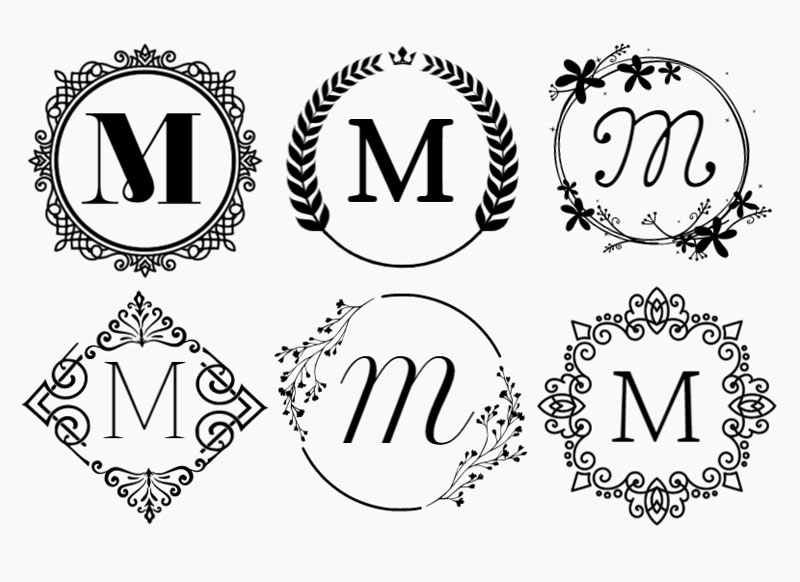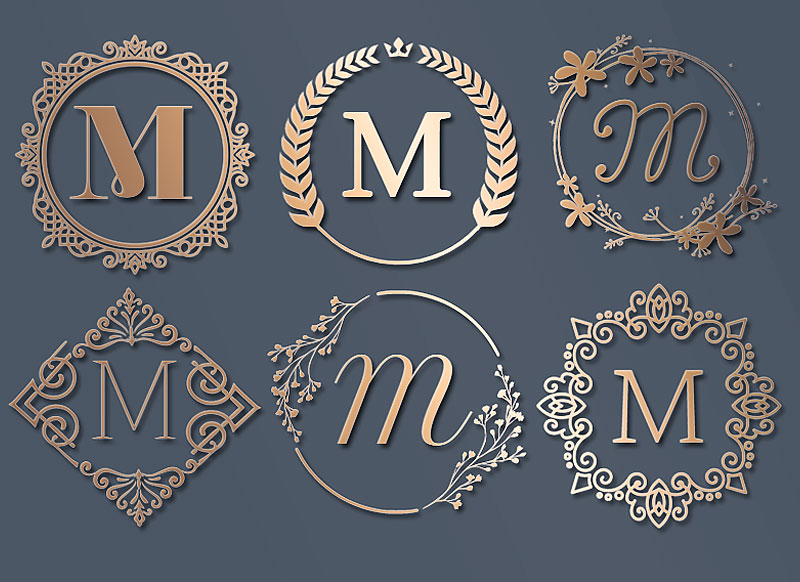 Step 4: Download the Monogram
When your design is ready, Download the monogram PNG file for free or the SVG file if you have a premium user account. You can also download the monogram frame PNG. Just make sure to make the Background transparent.
In this way you can make a personalized monogram, a name monogram, split monogram or a monogram logo PNG in just a few simple steps. People usually use embroidered monogram letters for clothing. A hand embroidered monogram gives a certain class and style. Embossed monogram stationery are also great to make personalized items.
Monogram Design Tips
Because monogram logos are based mainly on letters, it's important to choose wisely the type of font you use to create one. Once you decide on the font you are about to use, you can focus on other design details.
Below you have a list with the main features that make up a monogram:
Font type (serif, cursive, etc)
Number of the initials
Order of the initials
Size of the letters (the letters can vary in size or be the same)
Layout and monogram style (interlocking letters logo, stacked letters logo, overlapping letters logo)
Shape of the monogram (circle monogram, square monogram, rectangle, rhombus, etc.)
Colors used for the monogram design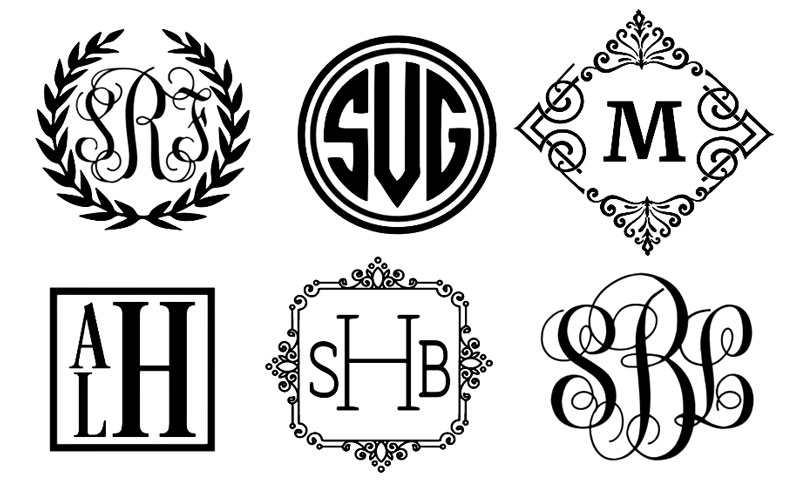 Types of Monogram
Monograms are not just for companies and brands. Anyone can create a monogram for itself. You can put your monogram on stationery, luggage, clothing, or other personalized items.
Name monogram or personal monogram is usually a 1 letter monogram. To create name monograms you can use the initial of your first name or last name.
Couple monogram is a 3 letter monogram. Couple monograms consist of the wife's first name initial, the couple's married last name initial in the center (large letter) and the husband's first name initial.
Wedding monogram is usually a 2 letter monogram. It's created by putting together the first initial of the bride and the groom's first names. Use only the initial letters or add an ampersand, vertical bar, slash, horizontal line, plus sign or other unifying design element. A wreath monogram will look just perfect as a wedding monogram.
Family monogram consists of the family last name or the family last name initial.
Monogram Logo Examples
So, monogram logos are logos made up of typography letters. As mentioned earlier monogram logo consists of one, two or three letters. The monogram letters are the initials of your company or brand. The monogram logos are also known as lettermarks. If a logo is made out of only 1 letter it is called a letterform logo.
In the late 19th century, companies started using their initials to create monogram logos for their brands. Companies like IBM, CNN, HP, HBO, LG, NASA use their initials for brand-identification purposes.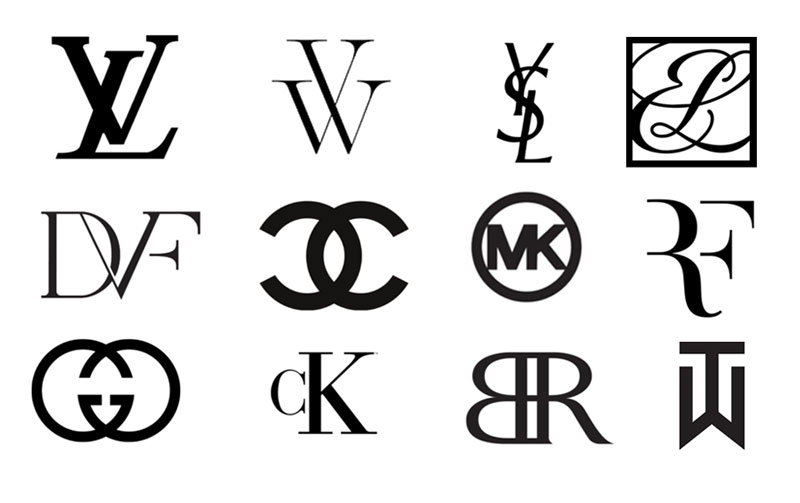 The fashion industry for example was one of the first to use monogram logos. Companies like Louis Vuitton, Gucci, Chanel, Fendi have monogram logos that convey style, luxury and above all exclusivity.
Monograms are used as signatures by artists for their paintings, sculptures and other artworks. More recently, athletes use monogram logos to brand their merchandise (e.g. Tiger Woods and Roger Federer).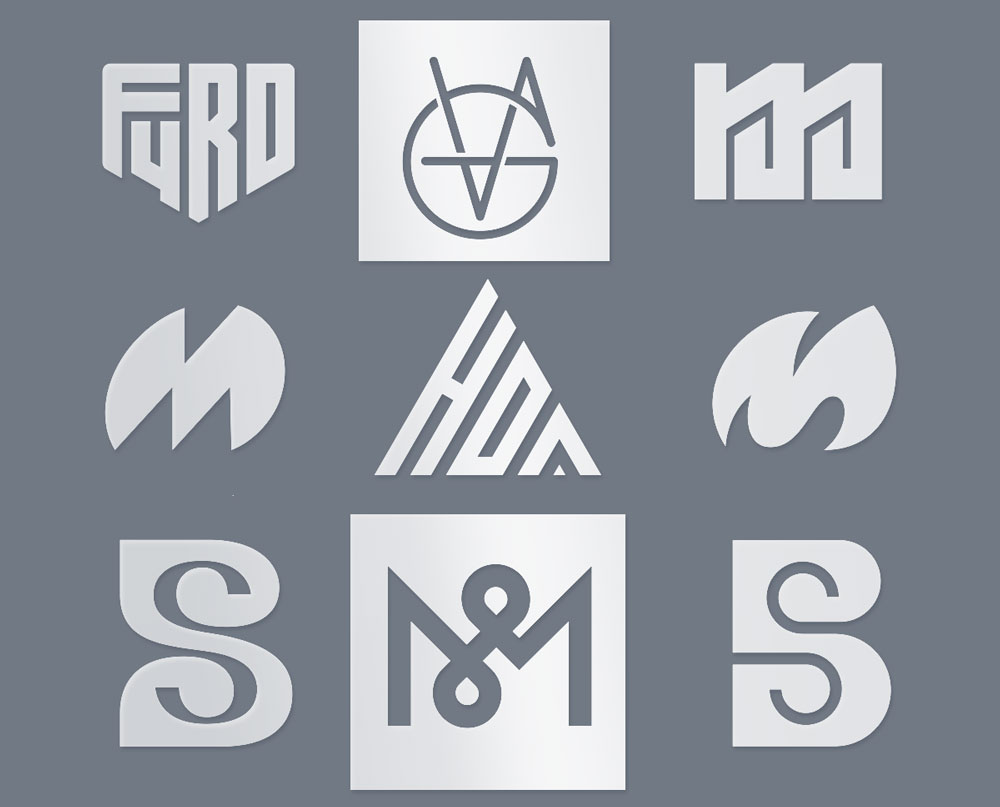 The brand logo design is one of the most important element of brand imagery that your audience will recognize. If you want to sell your logo templates read our article on how to make money as a graphic designer online.
In Conclusion
Monograms are memorable and they stand as a symbol of royalty, luxury, professionalism and class.
Monograms have been used for personalized wedding invitations, for marking ownership over artistic work, for making personalized gifts and of course for creating logo designs. I hope you decide to try your design skills by making your own monogram logo. It's super easy and fun!