Graphic design and Photoshop trends are always changing. Sometimes they go away only to come back re-interpreted. In this post I tried to capture 7 Graphic Design Trends in 2019 with examples that you can use for inspiration.
Some of the resources below are Photoshop resources that are free to download, some are simply projects that designers have made.
There is no authority on setting design trends in graphic design, however we can guess from the kind of graphic designs that were successful last year, what will work and what we should improve as graphic designers this year.
Movie posters, company logos, ads, book covers, CD covers, etc. If you're into typography you should definetly check out this fonts from movies list with some free fonts you can download. These are all examples where graphic design plays a very important role. Recently I encountered a list with amazing samples of modern graphic design and those are only a few outstanding works of graphic designers these days. But, you kind of get the idea of certain styles and trends.

Let's take a look at the very latest trends of graphic design!
design trend #1
Low Key Lighting, Black on Black and Dark Light
Making images black and white and increasing the contrast gives a very clean look to designs. Another design trend is the black on black design where emphasis is put on the gloss of the subject. This sometimes is meant to underline the premium aspect of the product or subject presented. This can be achieved by using low key light photography.
Watercolor And Hand Written Inking Typography
Using scripted fonts (fonts that look hand written) the designs get a fresh and young look. The design speaks to the young and hip. This is very important for brands that have a mainly young and trendy audience.
Everything Metallic and Dressed in Gold Texture
Gold will always be gold. In design it indicates premium products, highly refined and top quality. Designers use all sorts of methods to achieve the gold look especially for things that are not normally made out of gold. This augments the effect.
Gold in special and the metallic look in design indicates cleanliness, order and attention to details.
Dadaism Influence and Mixed Art
Design trends are always coming back and they are re-interpreted. This is espcially true for old design trends.
This is also the case with the Dada art current, that gets re-interpreted successfully in the digital age.
Popart Geometric Patterns
Geometric shapes have always been part of art and design. Here are some neat design trends combining modern pop art and geometric designs.
Modern Retro
The retro design style indicates a brand's inclination for the traditional and as a sign of experience.
Modern reinterpretation of retro style designs is also working as it appeals to a nostalgic audience: "Those were the good old times"
If you are feeling nostalgic about the 80s when the sci-fi movies and the retro futuristic design was so popular, check out my article about 80s font types used in movie posters, video games, music album covers, etc. You can download some of the 80s text effects that were used in sci-fi movies and retro video games.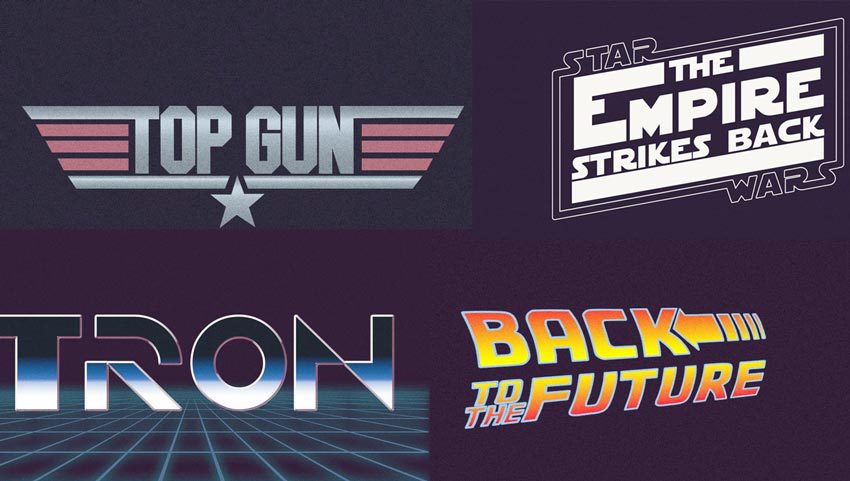 Deformed Typography And Typography Forms Design
Typography is more than text. Text communicates messages in many ways. Through the text itself, the style of the text (fonts), but it can also be stretched, bended and warped in various forms and shapes. Here are just a few creative poster examples that show what can be done with typography in design.
Next Post
Lightning Textures and Brushes for Photoshop