With their stunning audio-visual appeal, PowerPoint presentations hold the fort of the business world in every corporate sector. They form the pillars of demonstrating your business ideas to your clients. A well-designed slide deck with a professional look assists your clients in the decision-making process.
While crafting a stellar slide deck, designing cliche slides with stock templates will fail to leave a memorable mark. So, how to design a slideshow that exudes professionalism and creativity? Your answer lies in leveraging hand-picked presentation templates that create an eye-catching deck.
Utilizing templates will create a win-win situation for you as a business professional. It helps you in following the brand guideline and unleashing your creativity too. Liked the idea of using templates but don't know where to find them? SlideModel offers top-notch 100% editable templates for every business domain to construct awe-inspiring slideshows.
Why Having the Perfect PPT Matters?
Building a perfect presentation is of the utmost importance if you're planning to take your clients by storm. A whopping 30 million presentations are crafted by business executives daily. With the statistics so high, you need to have a wow-worthy presentation that makes you stand out from the herd. Nearly 79% of the people believe that presentations become mundane if not designed with mastery.
Statistics also say that 91% of the presenters feel more confident when prepared with a well-designed slideshow. A person dedicates an average of eight hours to build a deck from scratch. Powerpoint templates not only make your slideshow engaging but save your precious time as well. Thus, presentation templates prove to be your perfect companion in concocting a fabulous slideshow.
Types of Presentation Templates
Microsoft PowerPoint contains a repository of presentation templates. You can even create your template, save it, and share it with your colleagues. Modify any slide master and slide layouts in it to make a template. Now, make a presentation and save it as a PowerPoint template file (.potx). You can share this slide deck and reuse it any time you want.
Google Slides is a cloud-based software that comes in handy to create impactful presentations with your peers. You can collaborate and edit slides in real-time. It has a plethora of themes and templates to choose from. You can craft your templates or download one from SlideModel and incorporate it in Google Slides.
Others
There are numerous PowerPoint themes and templates available online on various websites like SlideModel, Prezi, and MockoFun. All these software are cloud-based containing downloadable templates. Of course you can always find free pre-made PPT background images HD quality, even on our website.
Here Are The Best Templates With Description: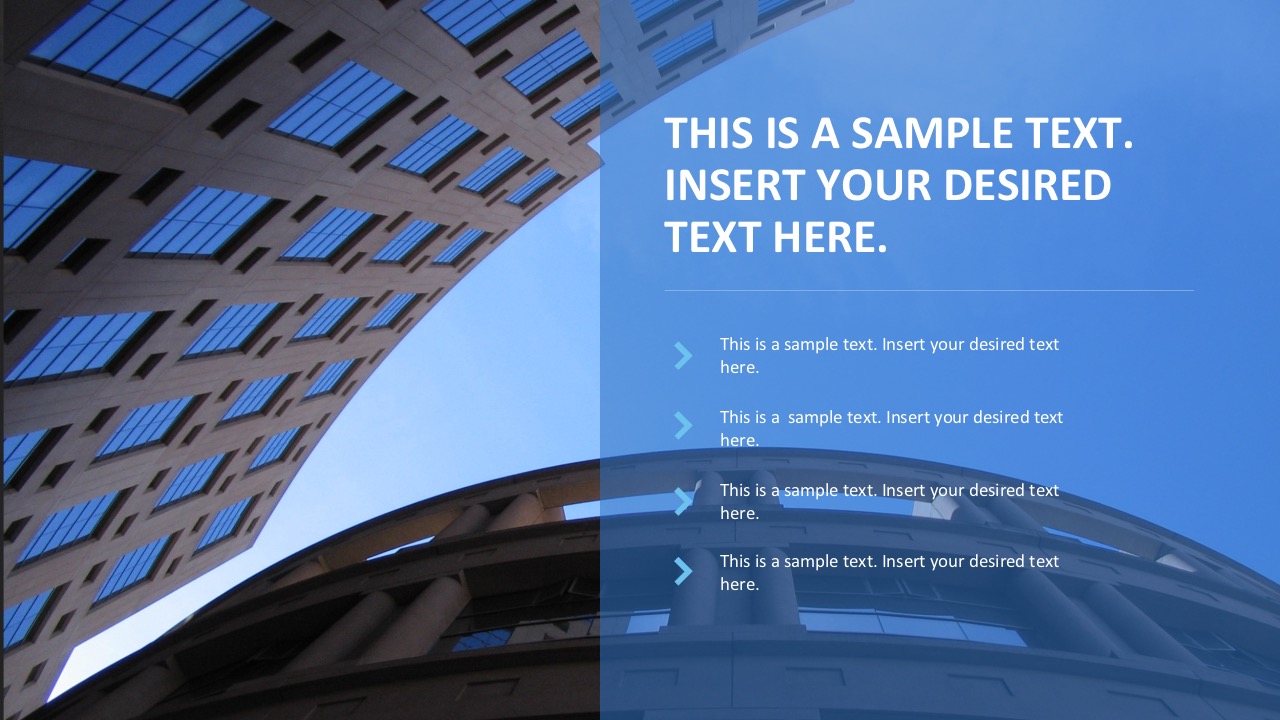 Company Slides Deck Business PowerPoint template from SlideModel is a great pitch deck template for all entrepreneurs out there. It consists of 14 slides to exhibit a holistic company profile. Having minimalistic design, this template will prove best to showcase your company to your clients.
Some of the slides include company background, mission, vision, products, services, unique selling propositions. From images to text, everything in this slideshow is 100% customizable according to your needs. You can download and edit it in Microsoft PowerPoint templates. This template will bring out the best profile of your company and leave your clients impressed.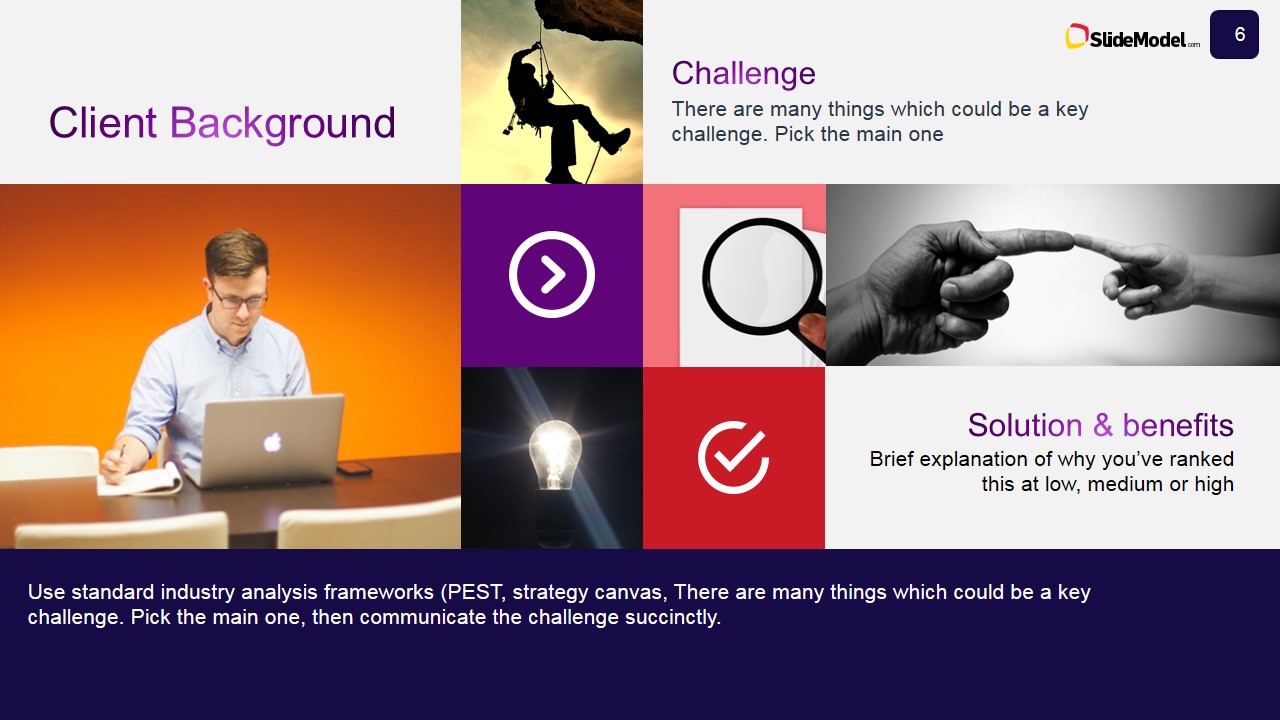 Business case studies form a vital role in the domain of business education. Thus, this template is perfect for all MBA students and aspiring business studies candidates. This presentation template Incorporates 31 slides that will assist you in creating an in-depth study of any individual or business organization.
Having HD graphics, the deck has slides like company analysis, problem- solutions, SWOT analysis, financial performance, etc. Its design is based strictly on Harvard Business School Case Study Guidelines. Don't like the color scheme? Change it. Don't like the shape? Customize it. Leveraging this template will not only leave your professors mesmerized but also amazed.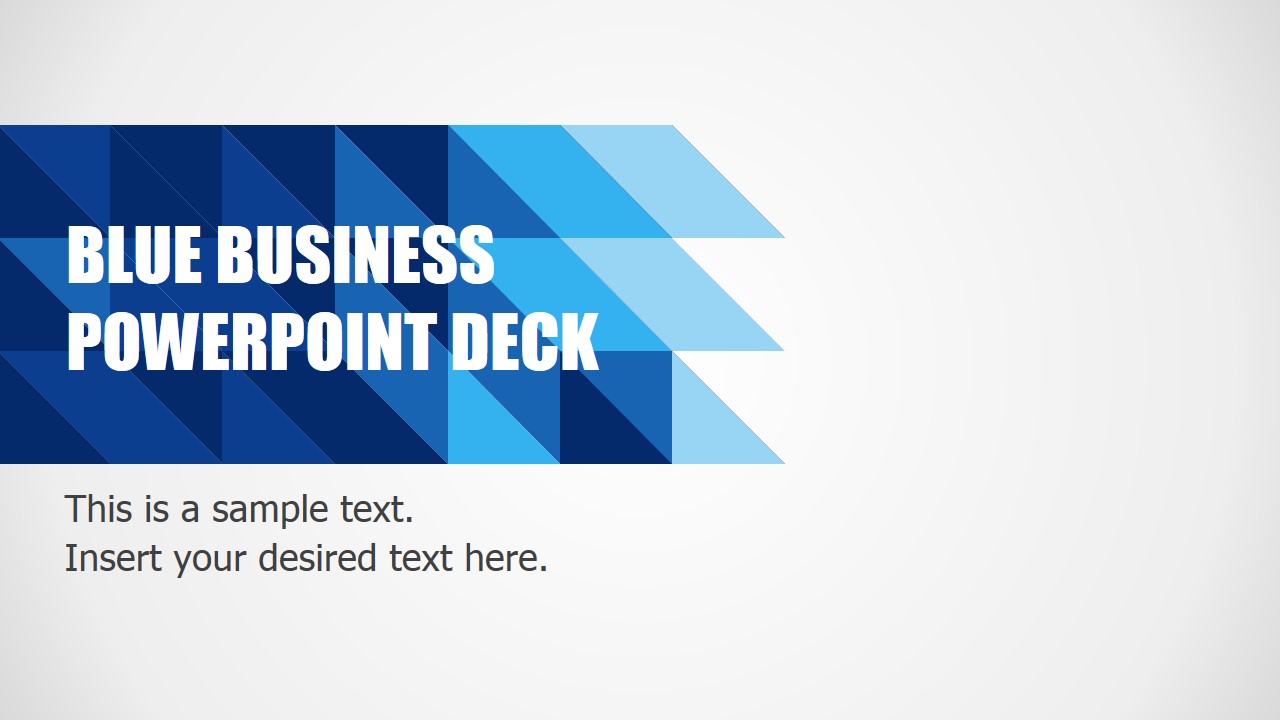 Are you thinking of starting a new business? Not sure about how to pitch your small business or start-up to your clients? Then this template is just rendered for you. It encompasses a comprehensive bundle of 40 slides hand-crafted to perfection. It includes everything you need to polish a stellar pitch deck.
About us, services, our team, our clients are just the tip of the iceberg of vast slides in it. Designed with contemporary style, the blue theme of the template will leave a soothing effect on your clients. You can use this PowerPoint Templates Free Download and make use of numerous data visualizations in it.
The Clean Business Presentation Template from SlideModel is perfect to showcase your company's productivity, human resources, and services. With ready-to-use layouts, this slide deck consists of 19 slides. Demonstrate details about your company with performance charts and illustrations.
It also contains a splendid collection of 96 infographic icons with personalization options. It proves to be the perfect one-stop for all your business presentation needs. This template is vibrant and elaborate to cater to all your company needs. Leave your clients speechless with this template by exhibiting all the aspects of your business.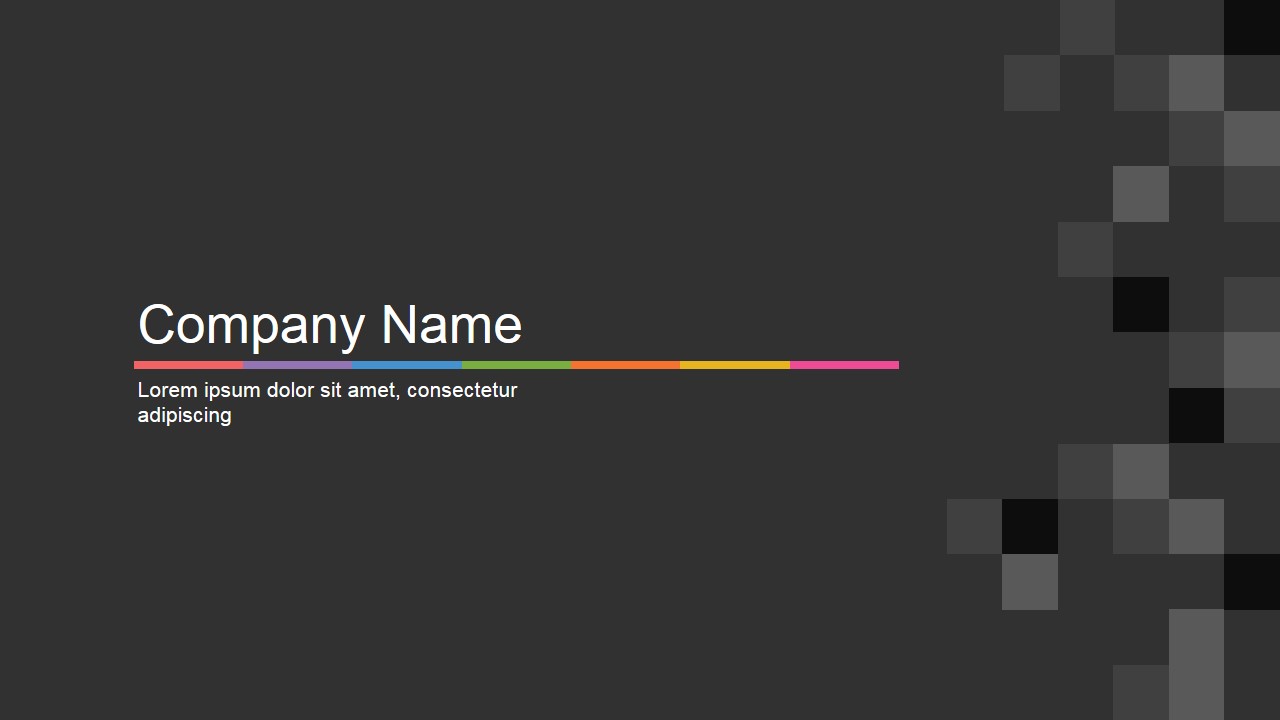 This aesthetically pleasing business slide deck will infuse your presentation with the highest levels of professionalism. It is perfect for displaying a predefined agenda and compilation of business information in a professional deck. Business decks like these have taken over the corporate world for content sharing in a modern way.
If you're a sales executive, you can choose to utilize it for marketing practices for sealing the business deals. This template contains a total of 13 slides to render all your business needs in one design. Edit it in any software of your choice like Google Slides, PowerPoint, or Keynote.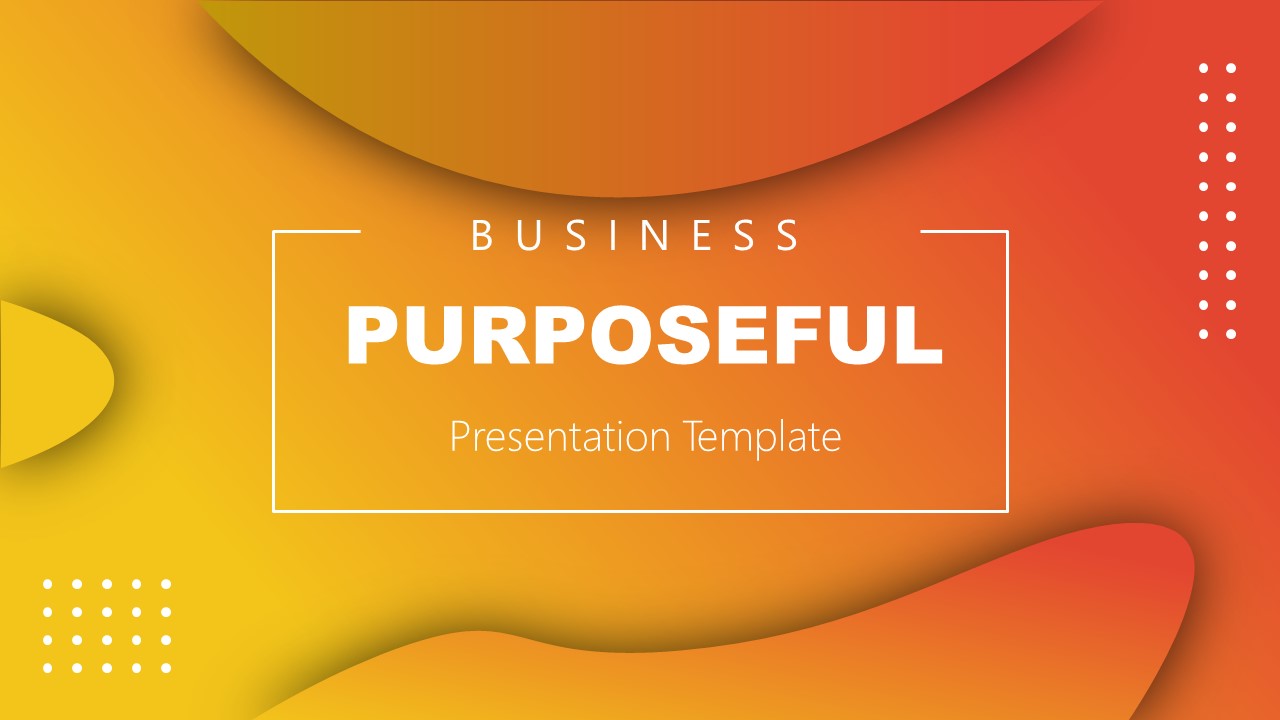 SlideModel's Business Purposeful PowerPoint template is one of the best business presentation templates. This vibrant slide layout models essential slides for an effective and impactful business introduction. It is short and precise containing 8 slides with features like About us, Our Team, Company Timeline, Global Reach, and much more.
Its gradient yellow-orange theme will make your presentation look lively and appealing to your clients. Possessing 100% editable features, you can personalize the colors and images in the desired way. This presentation template is ideal for you if you're looking to express your company profile with minimalism and grace.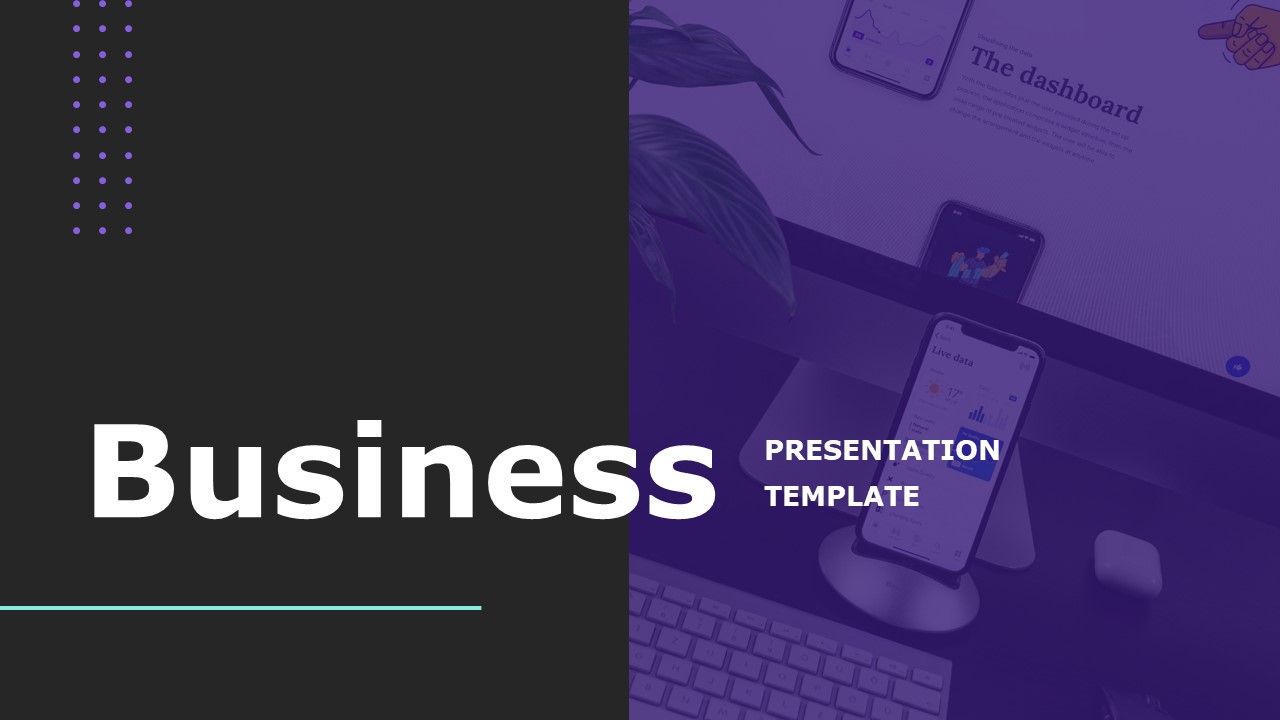 Business Proposal PowerPoint Template is a power-packed slide template consisting of 7 slides apt for all industry niches. It will guide you in developing a crisp company portfolio and expertise. It incorporates slides containing bullets, timelines, statistics, and comparison slides.
Innumerable pitch decks get designed every day by industry professionals. With a number so high, you sure want yours to have an edge over your competition. Its eye-catching backgrounds and modern design will win the hearts of your clients in no time. You can Leverage this slide template to compare timelines and market growth as well.
Wrapping It Up:
The business world today is changing and adapting to new ways of working every single day. PowerPoint presentation templates come to you as a boon if you do not possess any graphic designing skills. Plus, they save you invaluable time as well. Pick these professionally tailored templates from SlideModel for your next business presentation and leave an irrevocable mark.
The presentation templates are useful in building your brand imagery along with other graphic elements. If you want to sell your work read our article on how to make money as a graphic designer online.