Learn how to create a stunning Netflix home screen for your designs with our online graphic design template. Our step-by-step video tutorial shows you how to customize the template to suit your needs, giving you complete control over the layout and design. Impress your friends with a professional-looking home screen that's sure to grab their attention. Watch the tutorial now!
Netflix Home Screen Template - Video Tutorial
What You'll Need
To follow along with this tutorial, all you need is a free MockoFun account and the Netflix Template, which is available for free on the MockoFun website.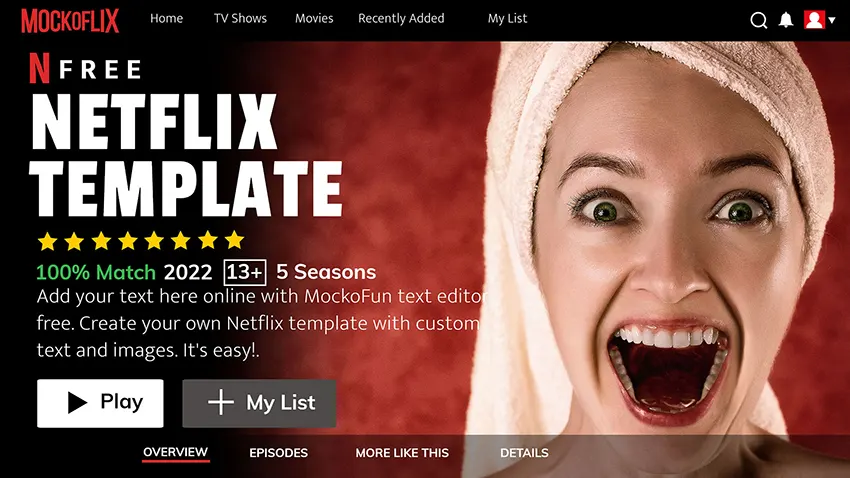 Registration for a MockoFun account is quick and easy, and you'll have access to a range of design tools and templates once you've signed up. You don't need to worry about Photoshop versions or even having Photoshop. To access the Netflix Template, simply visit the MockoFun website and follow the link to the template page. From there, you can customize it to your liking and download the result as a JPG, PNG, PDF or even PPT if you want to make a Netflix PowerPoint presentation. By using the Netflix edit template PNG result from MockoFun, you can create stunning designs that can be used as transparent overlays for your social media or promotional content. With these two resources in hand, you'll be ready to create your very own Netflix-style home screen design in no time!
Customizing your Netflix Home Screen Template
In this step-by-step video tutorial, you'll learn how to create a unique and personalized Netflix home screen using a free online Netflix template from MockoFun. The template is highly customizable, allowing you to tailor it to your preferences. Here are all the customization options available:
Add your own photo or select one from MockoFun's elements and photos menu.
Edit and add text over the image and change menu items at the top and bottom of the screen.
Choose from a range of smart non-destructive photo filters to enhance your photo.
Apply duo tone effects to your photo to make it stand out.
Edit the size, font, and color of the text using the toolbar.
Change the color of the play button to match the overall theme.
Customize the color of the profile icon.
Download the final result in either JPG or PNG format.
The Netflix template from MockoFun is designed to make customization easy. All the design elements are separated into different layers, so you can easily manipulate them using simple clicks. The template comes with preset styling, making the editing process minimal. You can even hide the background image and download the PNG image with transparency for use in further edits.

Follow this tutorial, and you'll have a unique and personalized Netflix home screen in no time! The Netflix template is available for free download on the MockoFun website.
Ideas for Using the Netflix Template
This Netflix edit template allows you to easily create professional-looking designs for your social media or promotional materials. Here are some ideas on how to use the Netflix template: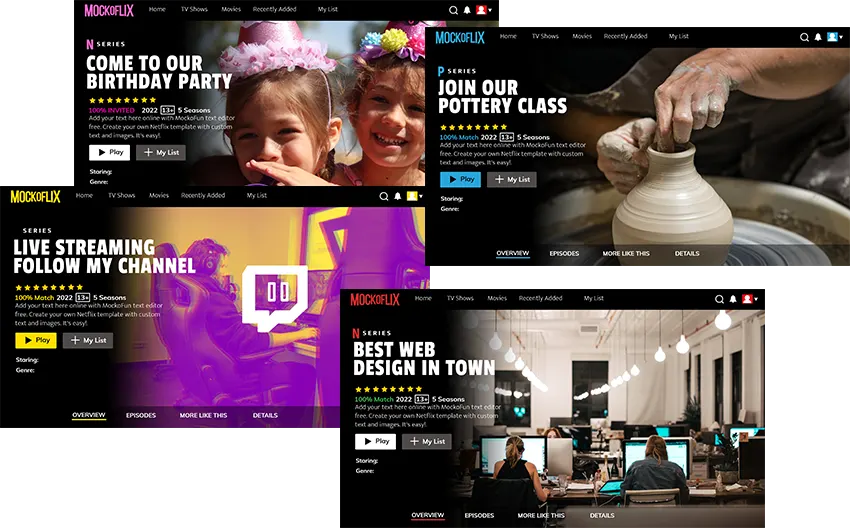 Create a personalized Netflix intro for your own YouTube channel or video content.
Use the template to promote your own original TV show or movie concept.
Create a fun Netflix-themed birthday invitation or party decoration.
Customize the template to use as a digital marketing tool for your business or product.
Design a mockup of a new Netflix series or movie idea to pitch to potential producers or investors.
Create a personalized Netflix home screen for a virtual watch party with friends or family.
Customize the template for a school project or PowerPoint presentation on the history and impact of streaming services.
Use the Netflix template to create a unique cover photo for your social media profiles.
Create a personalized Netflix-themed desktop wallpaper or screensaver.
Customize the template to create your own fictional Netflix streaming service with unique content and branding. You can also check out a few cool streaming overlays.
In Conclusion
The Netflix template for home screen provided by MockoFun is an excellent resource for creating a customized home screen for your own show or movie. With its easy-to-use interface and extensive customization options, anyone can create a professional-looking design without the need for graphic design experience or expensive software. Whether you're a content creator, a marketer, or simply looking to create a fun project, the Netflix template is a great tool to have in your arsenal. So why not give it a try and let your creativity run wild!