Resources / Custom Shapes , September 7th, 2011
14 Heart Shapes in one great collection of Photoshop custom shapes. This heart vector shapes are made with Adobe Photoshop CS4. So they can be used in CS4 version and also on newer versions.
The heart shape can be used in so many ways for creating love letters or cards, for making wedding invitations or for designing scrapbook themes. Because they are vector shapes can be re-sized or reshaped so easily.
We have here on our blog many Photoshop heart related articles so maybe you want to check them out also. So learn how to draw a 3D heart in Photoshop from this easy to follow tutorial or bookmark this collection of amazing Photoshop heart brushes.
Heart Photoshop Shapes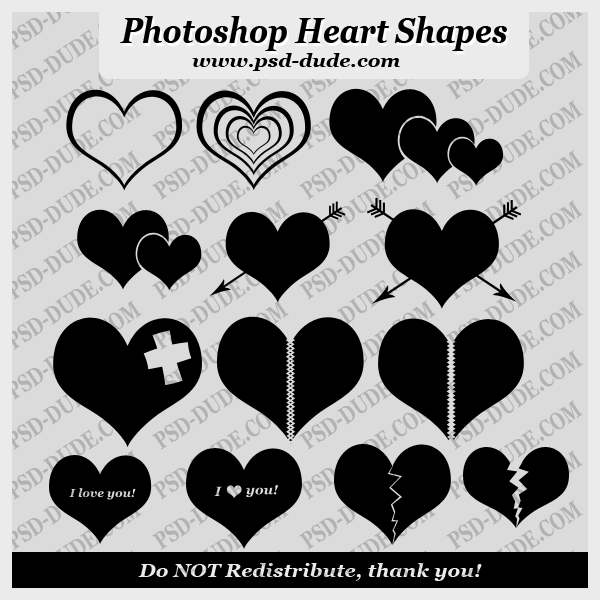 License
Free for personal non-commercial use only for all our registered users. Do not redistribute, sell on other websites. If you feature this set or use it you have to give us credit by adding a link to our blog.
DOWNLOAD!(21.6KB)
Find more Photoshop resources...
Recent Posts
Stitching and sewing can be created also in Photoshop with very realistic results. So in this tutori...
Check out these amazing cartoon and comic book styles that you can use in Photoshop for any text or ...
This is a new list of sticker PSD files that you can download for free. Most of these stickers come ...
Today we'll learn how to create a flat long shadow effect for text, shapes, graphics. You can create...