This is a set of free Christmas Photoshop vector silhouettes that I hope you will enjoy using. These Christmas custom shapes are made after Xmas popular symbols like reindeer, x-mas tree, fir branch, candy cane, icicle, Santa hat, etc. The pack includes 12 Christmas vectors each with a layer style attached.
This is a free custom shapes CSH file that contains 12 Christmas vector silhouettes that you can use in your designs. The CSH file has to be installed in Photoshop. The pack also contains a PSD file with all the 12 Christmas shapes with some layer styles attached.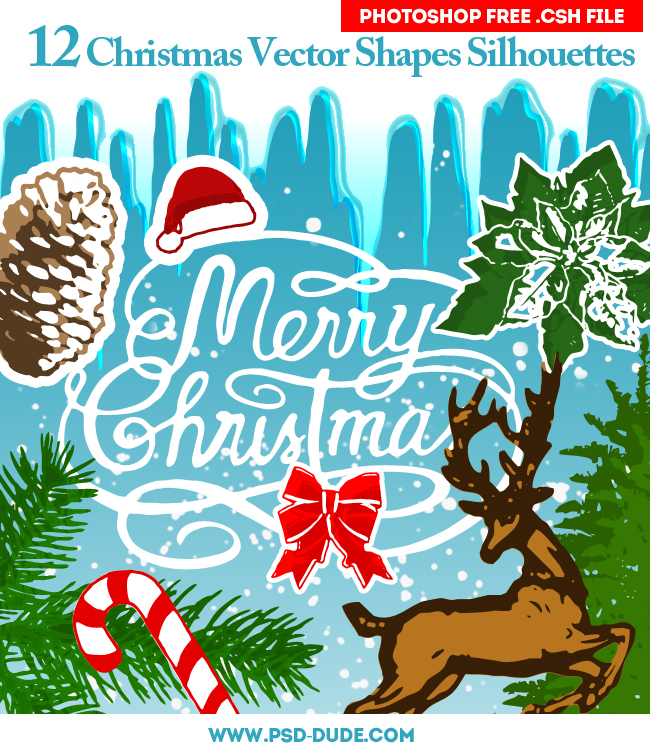 How to Use
To install the CSH file you have to go to Edit>Preset Manager and choose Custom Shapes from the Prest Type dropdown box. You can either use the X-mas custom shapes from the .CSH file or you can use the Christmas vector shapes inside the PSD file.
License
This CSH and PSD files are free for personal non-commercial projects. Do NOT redistribute on other websites the source files.
DOWNLOAD!(481 kb)
Next Post
Stitched Knitted Social Icons Free Download