A comprehensive guide for graphic designers comparing Canva vs Photoshop - features, costs, pros and cons, and use cases of these two graphic design tools.
⚡ Canva vs Photoshop: Which Tool is Better in 2023 [Guide for Students]
Canva and Photoshop are the two titans in the world of digital design. These tools are available to students who want to make captivating presentations, interesting social media posts, or visually spectacular work for a class assignment.
In this article about "Canva vs. Photoshop in 2023", I will make a comparison between these two graphic design tools. Let's examine the features, functionality, and ways these apps can best meet your goals. You will see the difference between Canva and Photoshop and choose the right tool for you.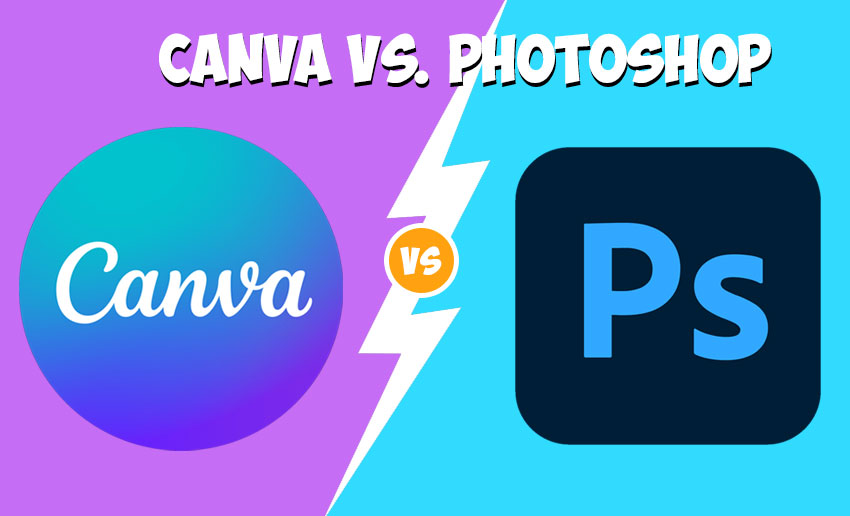 In writing the Canva v. Photoshop article I had some professional help, especially for the research part. If you also need help to write a reasearch paper, you can pay for college essays and get quality essays delivered to you when you need them. Nevertheless, for students, it is crucial to employ such services ethically, utilizing them to complement learning rather than replacing academic efforts. Collaborating with professionals can enhance the value of your project.
1. Overview of Canva vs Photoshop
What is Canva? Canva is a user-friendly graphic design platform that democratizes design by providing accessible tools and templates for creating visual content.
Canva is known for being approachable and having an intuitive UI. It is a great option for anyone looking for simple and rapid design solutions because it offers many pre-made templates, including presentations and social media posts.
What is Photoshop? Photoshop is a powerful graphics editing software used for image manipulation, design, and digital art.
When it comes to sophisticated image editing and modification, Photoshop is a powerful tool. Its toolkit caters to professionals in graphic design, photography, and compositing, offering everything from accurate retouching to complex photo compositing.
2. History of Canva vs Photoshop
Canva History: Canva was founded in Perth, Australia, by Melanie Perkins, Cliff Obrecht, and Cameron Adams. The Canva online graphic design platform was launched on 1 January 2013. In its first year, Canva had more than 750,000 users.
In 2023 Canva is a major player in the graphic design space, impacting individuals, businesses, and creative professionals alike. Canva is used by 150 million people each month.
Photoshop History: Photoshop 1.0 was released in February 1990, marking the initial introduction of the software as a standalone product accessible to the public.
Due to its innovative features and continuous updates Photoshop has been a leading product in its category for over 30 years since its initial release in 1990. In my previous article you can find a list with all the Photoshop versions and other interesting facts about Adobe Photoshop.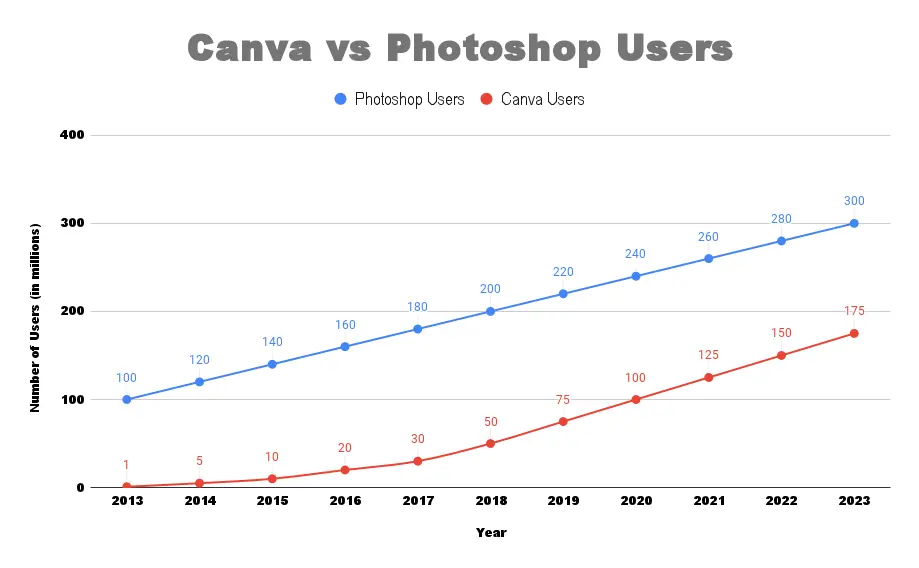 Over the years, Photoshop has evolved to include advanced capabilities like layers, filters, and a wide range of tools for photo editing, graphic design, and digital art. Its impact spans various creative fields, from photography to web design, solidifying its position as an indispensable tool for visual content creation.
In 2023 Adobe Creative Cloud, which includes Photoshop, had over 22 million subscribers.
3. Cost and Pricing Model (2023 Update)
💰 Canva provides both free and paid versions.
Canva Free Plan: Canva's basic version is free and provides access to a wide range of design tools, templates, and elements. It's great for casual users or those exploring Canva's features.
Canva Pro Subscription is 14.99$ (monthly subscription) or 119.99$ (yearly subscription). The Canva Pro version offers additional features such as a larger library of templates, advanced functionalities like background remover, resizing tool, and access to premium elements. It's suitable for professionals and businesses. .The premium edition unlocks more tools and assets, making it suitable for those looking for a more comprehensive design toolkit.
Canva for Enterprise is 29.99$ (monthly subscription) or 300$ (yearly subscription). Designed for larger teams and organizations, Canva for Enterprise provides advanced features like team functionalities, brand kits, and administrative controls to manage design workflows effectively. This plan is tailored for businesses requiring collaboration and branding consistency across teams.
💰 Adobe provides both free and paid versions.
Single App Plan is 17.23$/month. This plan provides access to Photoshop as a standalone application along with 100GB of cloud storage. It's suitable for users who primarily need Photoshop and don't require other Adobe apps.
Photography Plan is 19.99$/month. Ideal for photographers, this plan includes both Photoshop and Lightroom, Adobe's photo editing software. It also offers 20GB of cloud storage and is geared toward those who work extensively with images.
All Apps Plan is 59.99$/month. Adobe's comprehensive plan includes access to the entire Creative Cloud suite, which encompasses Photoshop, Illustrator, InDesign, Premiere Pro, and more. This plan suits professionals or creatives who work across multiple Adobe applications.
The prices for business are higher. Check out the Adobe website for more details about Photoshop pricing.
Adobe offers Photoshop Express, a simplified version of Photoshop, as a free app for mobile devices. It provides basic photo editing capabilities. Also Adobe Express (an online tool) is available for free and includes thousands of templates, Adobe Stock photos, videos and music, Adobe Fonts, design assets, quick actions, and amazing features.
4. User-Friendliness of Canva vs Photoshop
Canva: Due to its simple design, users can start working immediately without facing a challenging learning curve. Its user-friendly menu, pre-designed themes, and drag-and-drop interface make it suitable for beginners.
Photoshop: Although Photoshop is an incredibly powerful tool, its usability can be complex. Its plethora of options can be daunting for novice users.
5. Design Features of Canva vs Photoshop
✨ Canva Features: It assists users in quickly creating visually appealing graphics, infographics, and social media posts.
Eventhough it lacks the advanced design capabilities required by professionals, Canva offers a diverse range of design features, including:
Templates: Extensive library of templates for various purposes like social media posts, presentations, posters, infographics and more.
Elements: Access to a vast collection of graphics, icons, shapes, and illustrations to enhance designs.
Text and Typography: Tools for adding and customizing text, with various fonts, styles, and formatting options.
Backgrounds and Images: Ability to upload images or choose from Canva's extensive image library.
Photo Editing: Basic photo editing tools for adjustments, filters, cropping, and effects.
Collaboration: Features for team collaboration, sharing, and commenting on designs.
Brand Kit: Functionality to store brand assets like logos, colors, and fonts for consistent branding across designs.
Animations (Canva Pro): Animated elements and templates for creating animated designs.
✨ Photoshop Features: Photoshop provides a wide range of professional-grade design features.
Users can modify photos, construct detailed compositions, and develop high-quality graphics. Adobe Photoshop is a powerful software offering an extensive array of design features, including:
Layers and Masks: Advanced layering capabilities allowing precise editing and manipulation of elements without altering the original image.
Selection Tools: Diverse selection tools for isolating and working on specific parts of an image.
Brushes and Painting: A wide range of brushes, gradients, and painting tools for artistic creation and editing.
Filters and Effects: Extensive collection of filters, effects, and adjustments for enhancing images and achieving various looks.
Typography: Tools for working with text, including advanced typographic controls and text effects.
3D Tools (Extended version): Capabilities for creating and editing 3D content.
Image Correction: Precise color correction, retouching, and image manipulation tools.
Smart Objects and Smart Filters: Non-destructive editing features preserving original image quality while applying changes.
Basic Animation: Create simple animations through the Photoshop timeline feature. Create frame-by-frame animations, basic video editing, and GIFs.
6. Templates and Assets Canva vs Photoshop
Canva: Canva has an extensive template library. Users do not have to start from scratch due to the variety of pre-made designs, graphics, and stock pictures.
Photoshop: Photoshop begins with a blank canvas. It's like a painter standing in front of an empty easel. While it allows for the creation of unique designs, it needs users to have a greater level of design expertise and creativity. However, you can find lots of PSD files online with different templates for posters, flyers, text effects, mockups, etc.
7. Collaboration Canva vs Photoshop
Canva: When it comes to teamwork, Canva reigns supreme. It's an excellent option for students working on group projects or teams wishing to interact remotely.
Photoshop: Photoshop is primarily intended for personal use. While Adobe offers collaboration tools through Adobe Creative Cloud, they are more complex than Canva.
8. Image Editing & Manipulation Canva vs Photoshop
Canva: Canva can't match Photoshop's depth and complexity, but it can offer some basic image editing features. It works well for basic image edits and has some photo filters that you can use.
Photoshop: Photoshop has an unparalleled toolset that can be used for any kind of picture editing, from photo enhancement to complex composition creation. Professionals use it for advanced digital painting and photo manipulations. It has non-destructive photo filters that are great for photo edits.
9. AI Graphic Design Tools of Canva vs Photoshop
Canva: Canva's Magic Resize feature uses AI algorithms to automatically adjust the size and dimensions of your design or image to fit various formats. Canva uses AI to suggest templates based on the type of design you're working on.
Photoshop: Photoshop already includes some AI-powered features like Content-Aware Fill, Content-Aware Move, AI Generative Fill and Select Subject. These features use machine learning algorithms to analyze and manipulate images.
Photoshop Neural Filters uses AI to apply various effects to images, such as changing facial expressions, age progression/regression, and more. These filters use machine learning models to achieve realistic results.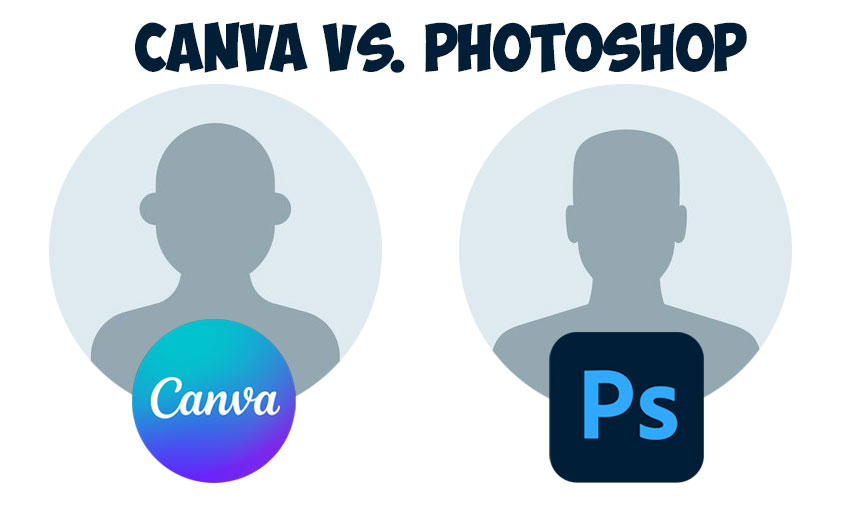 10. User Profile of Canva vs Photoshop
Canva: For teachers, students, and small company owners who want to create high-quality images without having to go through a steep learning curve, Canva is the ideal solution.
Photoshop: Photographers, illustrators, graphic designers, and many other creative professionals rely on it as their go-to partner. Almost all careers in the creative field require proficiency with Photoshop.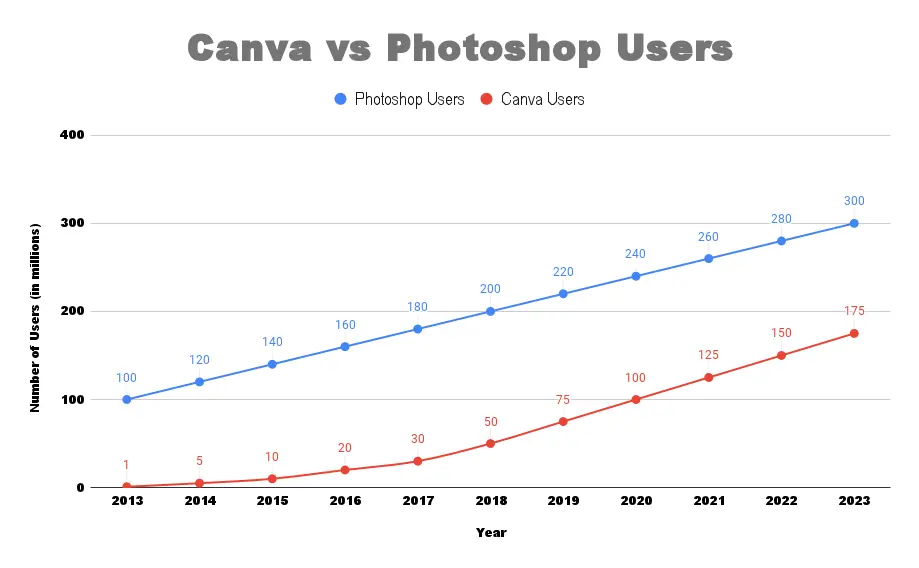 11. Pros and Cons Canva vs Photoshop
Below you have a list of pros and cons of Canva in comparison with Photoshop:
✔️ Pros of Canva:
Easy to use and perfect for beginners
An abundance of ready-made design elements and templates
Helpful when working on tasks in groups
Economical with both free and paid choices
❌ Cons of Canva:
Limited ability to design at a professional level
Unsuitable for intricate projects
Online dependency: requires an internet connection for access
The export options are limited
Below you have a list of pros and cons of Photoshop in comparison with Canva:
✔️ Pros of Photoshop:
Unmatched ability to edit and manipulate images
Many tools for expert photography and graphic design
Unparalleled control and precision
Supports multiple file formats
❌ Cons of Photoshop:
12. Download & Export Options Canva vs Photoshop
Canva: Canva provides users with export options that allow them to save their designs in various formats. Here are some of the Canva export options: JPG, PNG, PDF (for print), SVG (vector file), PPT (PowerPoint file), GIF (animated images), MP4 (video).
Photoshop: Adobe Photoshop provides users with export options that allow them to save their designs in various formats. Here are some of the Photoshop export options: JPG, PNG, TIFF, PSD (Photoshop File), PDF (for print), SVG (vector file), EPS, AI, GIF (animated images), MOV & MP4 (video files).
13. Installation of Canva vs Photoshop
Canva Installation: Installing Canva is relatively straightforward. For the web version, simply visit Canva's website, sign up for an account if you don't have one, and then log in. You can start using Canva directly from your browser without any downloads required.
Since Canva is primarily web-based, it doesn't consume much disk space on your device. The web version of Canva operates directly through your browser, so it doesn't require a substantial amount of space on your disk.
The Canva Desktop App is available for Windows and Mac. The desktop version provides similar functionalities to the web-based platform but allows you to work offline and offers some additional features tailored for desktop use.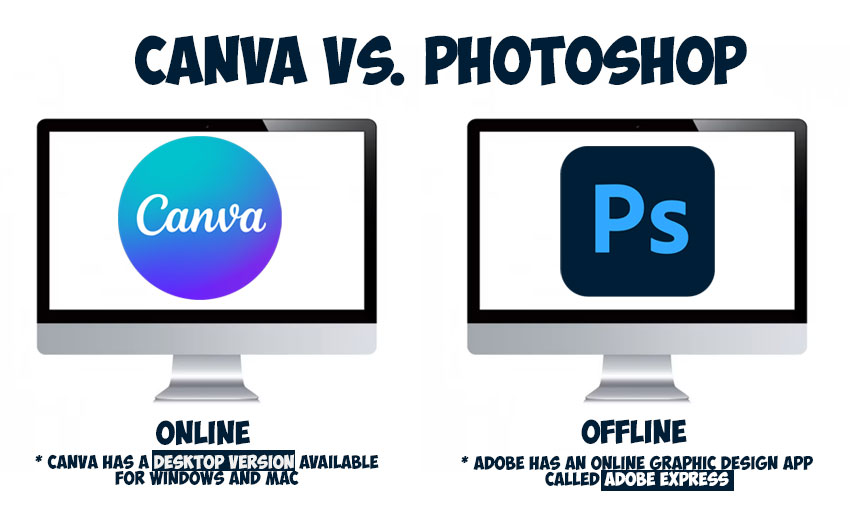 Photoshop Installation: Photoshop is installed directly on your computer, so you won't need an ongoing Internet connection to use them on a daily basis. Great for privacy not so great for space on disk.
To install Photoshop, first purchase a subscription or license from Adobe's website and sign in to your Adobe account. Download the Creative Cloud installer from the Adobe Creative Cloud website and run it. Within the Creative Cloud app, select Photoshop and follow the prompts to install it on your computer. Once the installation is complete, you can launch Photoshop and sign in using your Adobe credentials to start using the software.
It is recommended to have minimum 20 GB of free space on your OS hard drive while working with Photoshop. Additional free space may be required based on the file type you're working with. Photoshop lagging is a common problem that PS users encounter.
14. Money Making Opportunities Canva vs Photoshop
Making money with Canva is quite easy and here are some examples that you can try:
Create And Sell Canva Templates
Design and Sell Printables (posters, flyers, cards, etc.)
Create eBooks for Amazon Kindle
Design Logos for Small Businesses
Offer Online Canva Courses
Become a Canva affiliate: earn commissions by promoting Canva's products, Canva Pro Sign Up, other services, etc.
Making money with Photoshop is also easy, in fact I am doing it for more than 15 years. Below you have some examples:
Create And Sell PSD Files
Design and Sell Printables (posters, flyers, cards, etc.)
Create and Sell Photoshop Actions on GraphicRiver, CreativeMarket, etc.
Create eBooks for Amazon Kindle
Create and Sell Photoshop Presets (brushes, styles, patterns, gradients, etc.)
Offer Online Photoshop Courses
Offer Photo Retouching Services
Become a Photoshop affiliate: share custom affiliate links or codes for Adobe Creative Cloud subscription, which includes Photoshop and other Adobe software.
Learn how to make money as a graphic designer from our previous article. Great tips for students that want to make a passive income from their graphic design skills.
15. Software Alternatives Canva vs Photoshop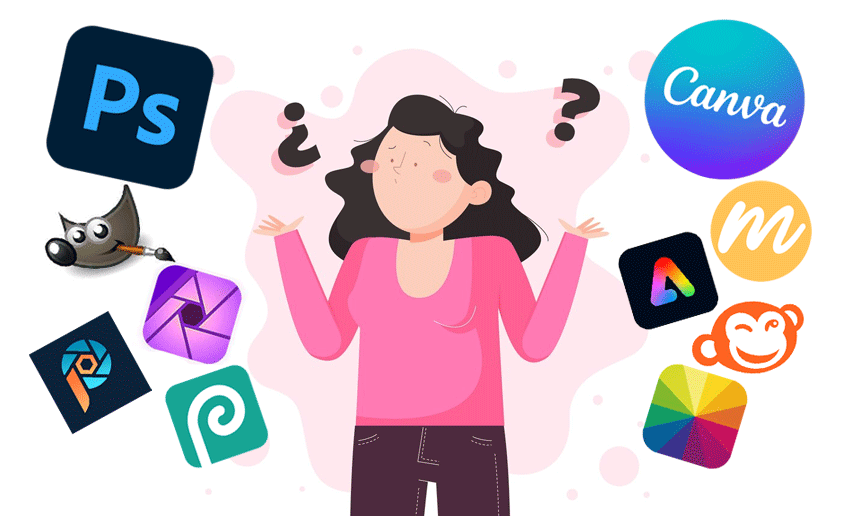 Canva Alternatives: Here are some of the best Canva alternatives in 2023:
Adobe Express: Adobe Express offers a user-friendly platform for creating graphics, web pages, and video stories. It integrates well with Adobe's suite of creative tools and provides a range of templates.
Crello: Crello is a design tool that allows users to create social media posts, presentations, and other visual content. It offers a vast library of templates and design elements.
MockoFun: MockoFun is a graphic design tool that allows users to create various designs, including social media graphics, posters, and logos. It offers a range of features such as text effects, animated GIFs, photo filters, AI image editing, etc.
PicMonkey: PicMonkey is an online design and photo editing tool that simplifies the creation of visuals for social media, marketing, and other purposes. It provides a variety of templates and design options.
Fotor: Fotor is a versatile online design and photo editing tool that includes features for creating collages, social media graphics, and more. It provides both free and premium options.
Photoshop Alternatives: Here are some of the best Photoshop alternatives in 2023 that you can try:
GIMP (GNU Image Manipulation Program): GIMP is a powerful open-source alternative to Photoshop, offering advanced image editing capabilities. It's free to use and runs on multiple platforms.
Affinity Photo: Affinity Photo is a professional-grade photo editing software with a one-time purchase model. It provides advanced features for editing and retouching images, making it a popular choice among professionals.
Corel PaintShop Pro: PaintShop Pro by Corel is a versatile photo editing and graphic design software. It combines powerful tools with a user-friendly interface and is available through a one-time purchase.
Photopea: It is an online photo editing application that closely resembles the Photoshop interface and functionality.
Conclusion and Recommendations
Canva is user-friendly, web-based, and offers a vast library of templates and design elements suitable for quick and easy creation of graphics, presentations, and social media content. Canva is great for non-professional designers and businesses. Canva is a great option for students seeking a tool that facilitates teamwork and provides a variety of pre-made designs and ease of use.
On the other hand, Photoshop is a powerful, feature-rich software that provides extensive editing capabilities for professionals and advanced users, allowing intricate photo manipulation, graphic design, and detailed editing with a steep learning curve.
💥 Your goals, skill level, and financial constraints will determine whether to choose Canva or Photoshop.
Credit: Images from Freepik, MockoFun AI Generator