Adobe products shouldn't cost a fortune. Read this post and learn how to obtain access to these innovative tools with the help of coupon codes.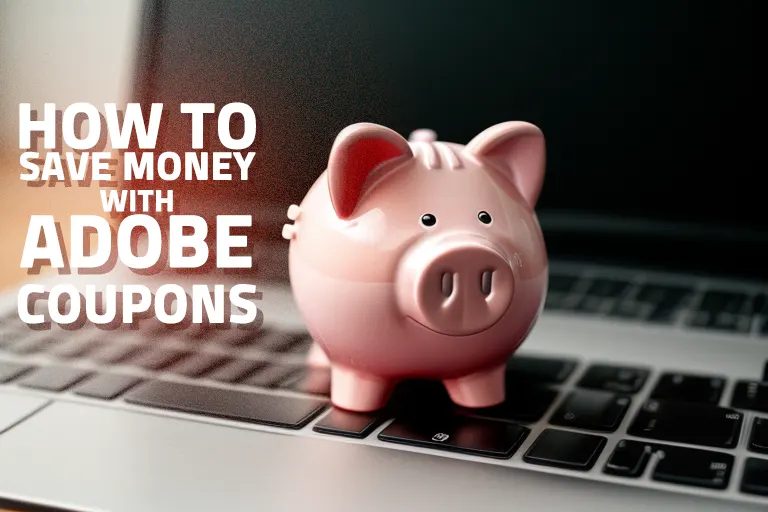 Adobe is a renowned software company that specializes in developing multimedia and creativity applications. It has established itself as a leader in the industry, offering a wide range of products at various price points to cater to the diverse needs of customers.

This article will delve into Adobe's pricing options and highlight the benefits of using coupon codes when purchasing the company's products and services.

Hopefully this will give you an idea about how to buy Adobe cheap and how to find the Adobe cheapest plan that is perfect for your needs.
Understanding Adobe Pricing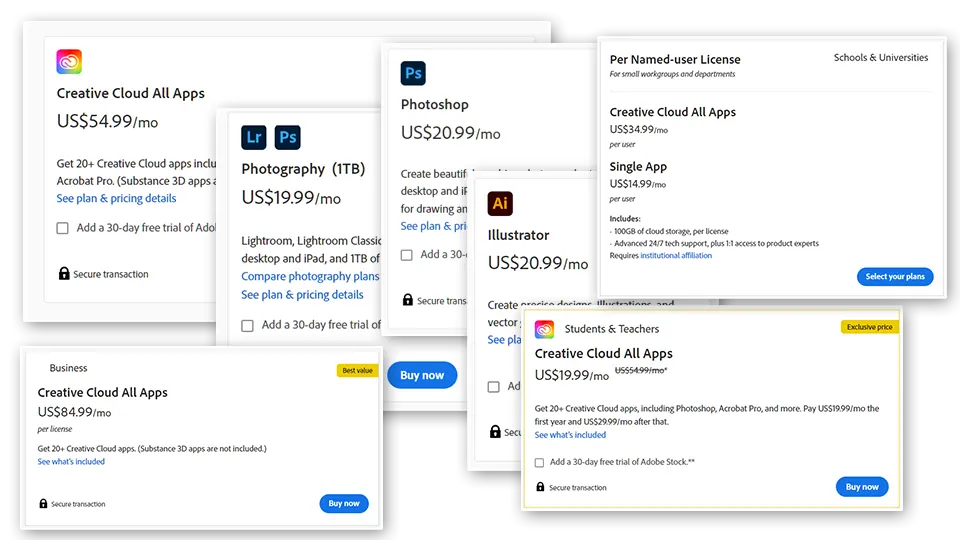 Adobe's software suite - Photoshop, Illustrator, Premiere Pro, and Lightroom - is key for graphic design, video editing, and photography. Photoshop takes care of graphic jobs, Illustrator is for vector art illustrations, Premiere Pro manages video editing, and Lightroom helps with photo organization. Together, they allow professionals to produce high-quality output.

Moreover, Adobe now offers these tools through a subscription model with different pricing plans to suit your needs. Here's a brief overview of the pricing list and the Adobe plans:
The Creative Cloud All Apps Plan: This is the most comprehensive plan, offering access to over 20 apps and 1TB of cloud storage for USD$54.99/month.
Photography (1TB) Plan: Ideal for photography enthusiasts, this plan provides access to Lightroom, Lightroom Classic, and Photoshop on desktop and iPad, along with 1TB of cloud storage, all for USD$19.99/month.
Single App Selection: For customers who only need one app, like Photoshop or Illustrator, there are also other options, including Acrobat Pro, After Effects, Animate, Dreamweaver, InCopy, Adobe Stock, and more. Prices range from USD$4.99/month to USD$29.99/month.
Education Plan: Students and teachers have access to an Education Plan, which includes the Creative Cloud All Apps. Prices start at USD$19/month in the first year and then increase to USD$29/month in the following months. Bear in mind that you can also get Substance 3D apps sans additional cost. Note that K-12 customers have limited options.
How To Get Adobe Promo Code 2023
Finding coupon codes for Adobe Cloud can be a great way to save money on your subscription. While specific sources may vary over time, here are some common places where you can search for Adobe Cloud coupon codes:
Adobe's Official Website: Check Adobe's official website or Creative Cloud page regularly. They often run limited-time promotions and offer coupon codes directly to their visitors.
Email Newsletters: Subscribe to Adobe's email newsletters to receive updates on special offers, discounts, and coupon codes. They may send exclusive deals to their subscribers.
Third-Party Coupon Websites: Visit reputable coupon websites that specialize in providing discounts and promotional codes.
Social Media: Follow Adobe on their official social media accounts, such as Twitter, Facebook, or Instagram. They may occasionally share coupon codes or promotions with their followers.
Special Events and Holidays: During special events or holidays, Adobe may offer limited-time discounts or coupon codes. Keep an eye out for Black Friday, Cyber Monday, or other seasonal sales.
Educational Institutions: If you are a student or educator, your educational institution may have access to exclusive Adobe discounts or coupon codes for Creative Cloud subscriptions.
Partners and Affiliates: Some companies or organizations partner with Adobe and may offer discounts or coupon codes to their customers or members.
Forums and Online Communities: Check forums or online communities where Adobe users gather. Members may share coupon codes or information about ongoing promotions.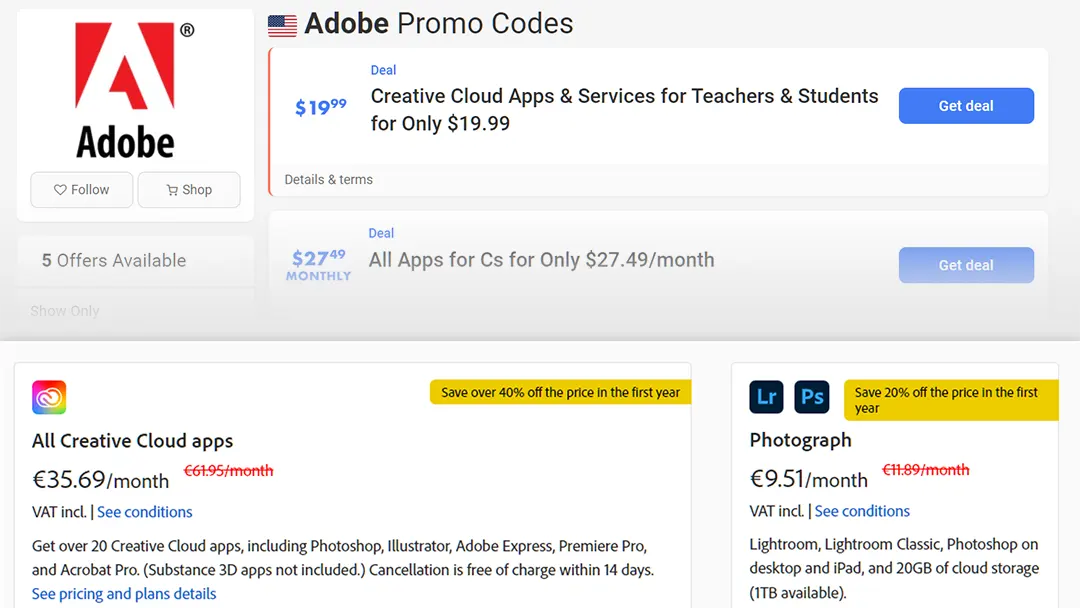 Remember, while taxes may be added and prices are variable, coupon codes on DontPayFull.com can provide significant discounts. Some of these can even cut costs by 50%. However, it's crucial to verify your eligibility before utilizing an Adobe coupon code.

You can effectively minimize expenditure on essential creative tools by thoughtfully reviewing Adobe's pricing structures and using discounts and Adobe coupons.
To switch Adobe plans and apply a promo code, log in to your Adobe account, navigate to the subscription settings, and select the desired new plan. At the payment section, enter the promo code to avail the discount. In some situations you might consider cancelling Adobe subscription first. To do that go to the account settings, find the cancellation option, and follow the provided steps to confirm the cancellation. Once you choose the cancel Adobe plan option, you can proceed with the switch to the new plan with the promo code applied.
Is There A Free Adobe Creative Cloud Subscription?
Yes! You can sign up for a free Adobe Creative Cloud membership wich will grant you access to a minimal set of Adobe applications. In addition, with the free membership you can download & use a free Photoshop version called Adobe Photoshop Express.

Other free Adobe cloud apps include Adobe Express, Lightroom for Android and iOS, Adobe Character Animator, Adobe Premiere Rush, etc.
Why You Should Use Coupon Codes for Adobe Products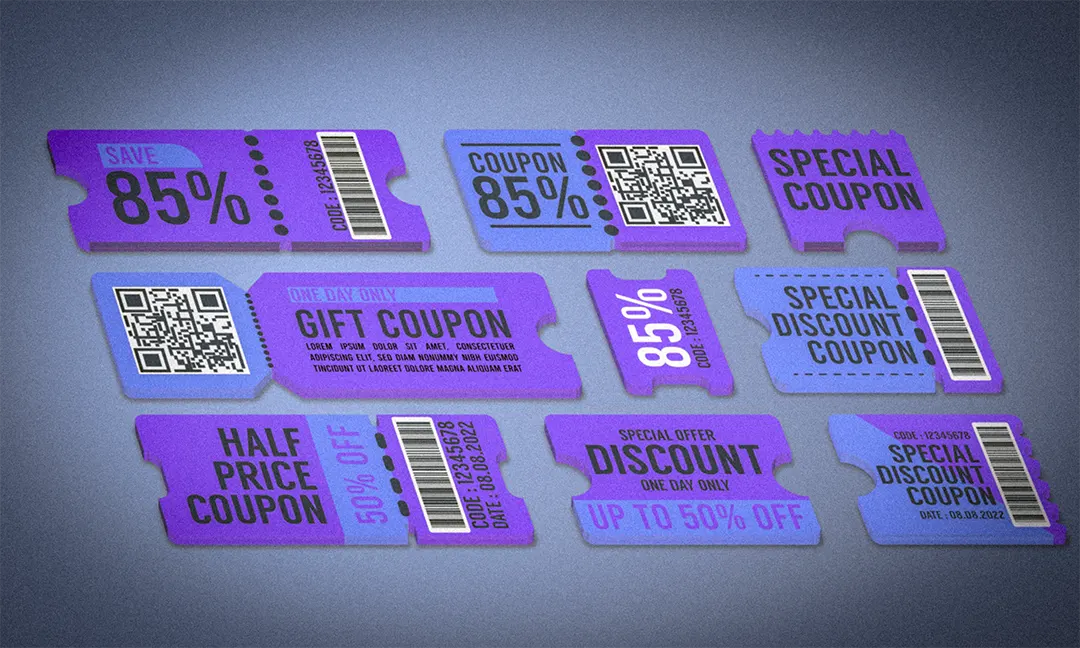 Here are the numerous benefits of using coupon codes when purchasing Adobe products:
1. Saving Money on Subscription Costs
If you want to save as much as possible, you should always be on the lookout for Adobe discount codes. These can bring significant savings on many Adobe products, particularly during the subscription. Also, a subscription will ensure that you always have access to the latest version of Photoshop for example. Small monthly savings add up over time, lowering the annual cost to help you manage your budget better.

But the deals aren't only for monthly subscriptions. There are special offers for long-term plans like yearly or multi-year ones. These can boost the total savings even more.

It pays to look out for these deals. Using them well can ensure you get the best value for your investment.
2. Upgrading to Better Adobe Packages for Less
By upgrading to better Adobe packages, users can access other experimental options unavailable with other plans while also obtaining considerable savings. For example, the Creative Cloud All Apps package allows access to all of the Adobe products and services at a discounted rate compared to buying them separately.

Additionally, this package includes multiple options for payment, such as annual or monthly subscriptions, with discounts of up to 10-25%, depending on how much is paid in advance. Furthermore, users are often able to take advantage of special offers and promotional codes that allow for additional savings on their subscriptions. Be on the lookout for Adobe promo codes.

In addition to these cost-saving opportunities from Adobe itself, a variety of websites offer coupon codes that can be used when purchasing Adobe software or subscribing to its services. These range from offering cash-back rewards after purchase to providing discounts on certain types of packages or products.

However, always verify the validity of these coupons to secure the best deal.
3. Reducing Business Expenses Through Better Adobe Service Prices
Many companies offer coupon codes that can be used to purchase Adobe products and services at a lower rate than their standard prices. Signing up for subscription plans can provide businesses with discounted rates on Adobe services over time. Additionally, availing of deals that offer extra features or add-ons when buying certain Adobe products can be beneficial.

By staying informed about the latest promotional offers and discounts, businesses can save money on their Adobe purchases.

Adobe also provides special pricing for educational institutions, government bodies, and non- profit organizations. Educational institutions can receive a discount on certain Adobe software packages when purchased in bulk amounts for classrooms or labs. Government agencies have access to specialized pricing options for their specific needs, while non-profits are eligible for heavily reduced rates on most major purchases from the company.

These programs allow organizations to significantly lower their Adobe service costs without sacrificing quality or features.
4. Chance of Receiving Free Trials or Access to Exclusive Features
Several discount codes offer not only financial savings but also additional perks, improving their overall worth. For example, Adobe product codes can extend the trial period. Users can test the product longer before deciding to subscribe, helping them determine if it's suitable for their needs.

Moreover, some codes grant access to features usually not included in regular packages. Users can get these premium features without additional costs. These can include advanced customization or heightened security, which improve user experience.

Therefore, looking out for such deals is important as they typically offer the highest return on investment. In a time where every dollar counts, these discount codes can make a significant difference in your financial management and product usage experience.
In Conclusion
In this highly digitized and innovative world, utilizing tools such as Adobe software is a must to succeed in any creative pursuit and stand out in a sea of fascinatingly unique ideas. But who said it can't be done without causing a dent in your wallet? Fortunately, applying discount codes lessens the cost of Adobe products significantly, leading to sizable savings over time. These perks allow you to enjoy Adobe's features in a budget-friendly way.