How To Draw Straight Lines In Photoshop With The Brush Tool Or The Pencil Tool
The easiest way to draw a line in Photoshop is using the Brush Tool. Pick a small size, hard round brush and simply draw a line. To make a straight line in photoshop you have to keep the SHIFT key pressed and draw. That way you will obtain straight lines. For perfect horizontal or vertical lines hold down the SHIFT key and draw the line horizontally or vertically. For angled lines hold down the SHIFT key and click to add the end points for the lines. Photoshop will connect the dots with perfect lines.
In a similar way you can use the Pencil Tool. It's easy!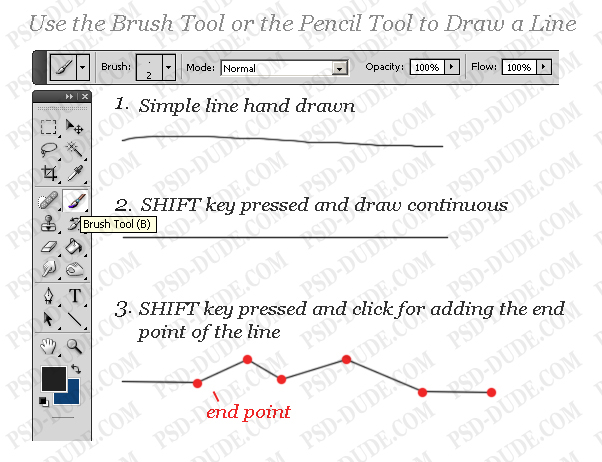 How To Draw A Straight Line In Photoshop Using The Line Tool
Another method will be to use the Line Tool available on the Photoshop Tools bar. This line is a vector shape so you can easily modify its shape, color, dimension without loosing quality. You can use the SHIFT key also for straight lines. If you want to download already made vector lines you can check out my Line Custom Shapes (coming soon...).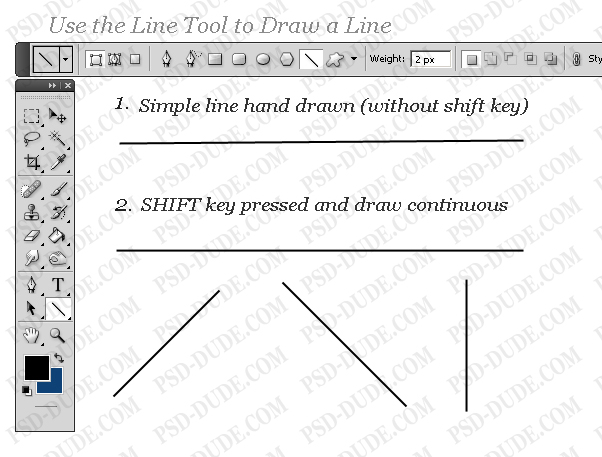 How To Use the Pen Tool To Draw A Line In Photoshop
The third and last method(as far as I know) is to make a line using the Pen Tool. First you have to check the Paths option and click to add the first point and then click somewhere else on the canvas to add the second point. The same rule, for straight lines keep the SHIFT key pressed and add the second line.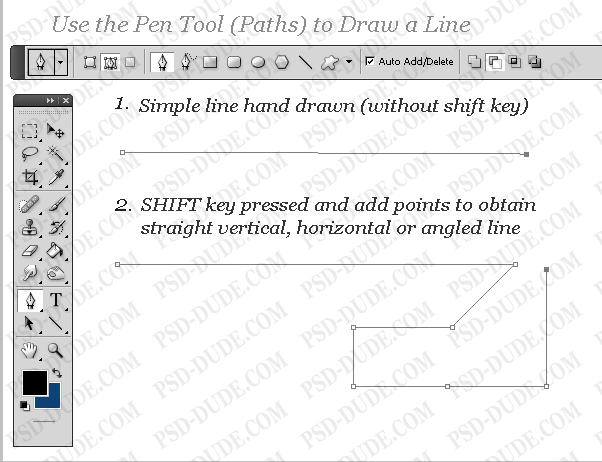 So let's make someting really easy. First go to the Brush Tool and select a Hard Round brush, size 3px, black. Now take the Pen Tool(select Paths) and draw a line with 2 points that is now a working path. You can see on the Layers window that we also have a Path tab. If you check it you will notice that our line is now added as a Work Path.
To draw a line just right click on the Work Path and choose Stroke Path. From the list choose the Brush Tool. And our continuos line is done. You can now delete the Work Path, if you want, or use it to draw other lines. You can move the work path, resize it, change its shape, rotate it, etc. Just remember you have to have an empty layer selected before you add Stroke Path action otherwise it might not work.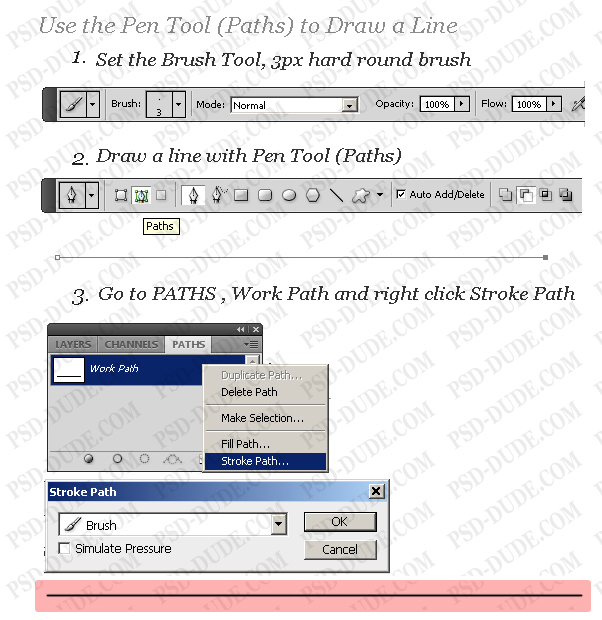 Now That You Know How To Draw A Straight Line In Photoshop...
You might think that only knowing how to draw a straight line in Photoshop is not a big deal. But, this is the basic skill you need for vector drawing.
Here's a quick video tip about how to draw straight lines, sharp corners and rounded corners using the Pen Tool
That's really all you need to know to start drawing vector art like a pro. I've used these techniques to very quickly draw this cool mountain vector landscape in Photoshop: