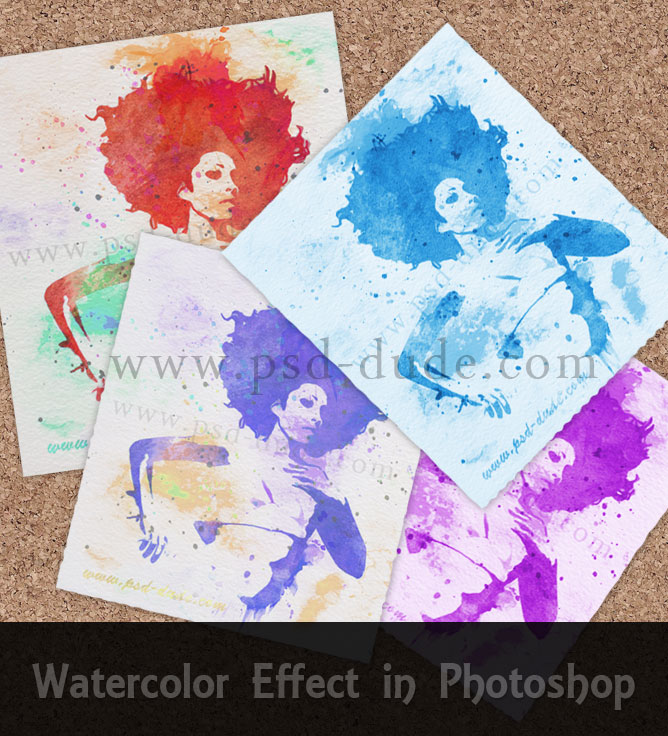 Let's find out how to create a watercolor effect in Photoshop using some simple Photoshop filters and textures, especially watercolor textures. I am not going to add splatter brushes but you can experiment with brushes if you want.
In the first step I wll add a corkboard texture in the first layer that will act as background for the watercolor that we are about to create. Just copy this corkboard texture in Photoshop. Reduce the saturation of this texture using the Hue/Saturation adjustment layer.
Now I am going to add this beautiful stock image that we are going to transform. Place it in the center of the canvas and crop it like in the image below.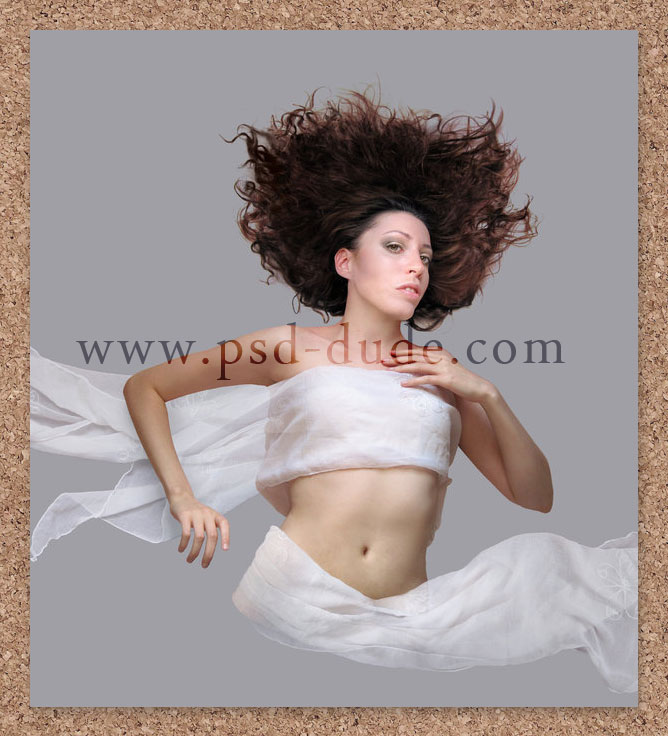 Go to Image, Adjustment menu and choose Threshold and set the threshold level to around 135. You might have to adjust this level for other images that have a different brightness/contrast balance.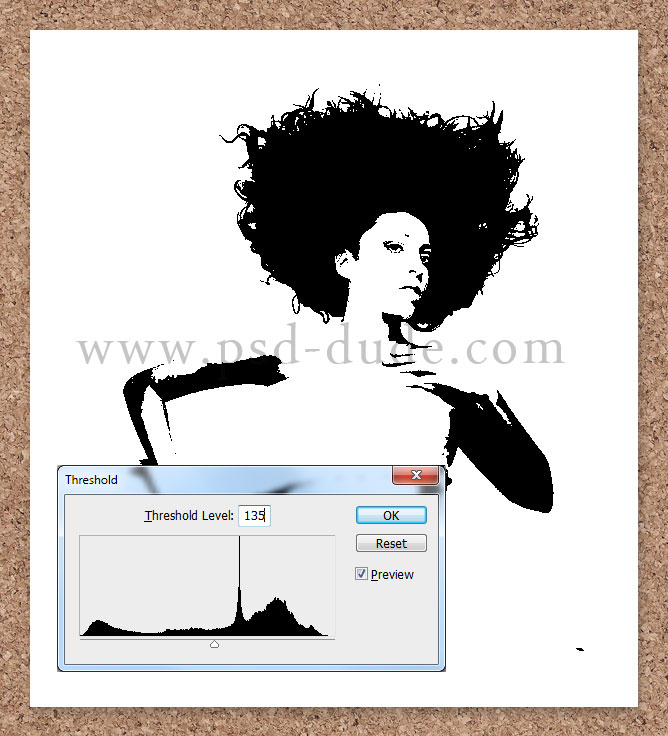 Go to Filter, Stylize menu and choose Diffuse. From the options list I am going to ckeck Anisotropic. As as result you see that the image has a much smooth look.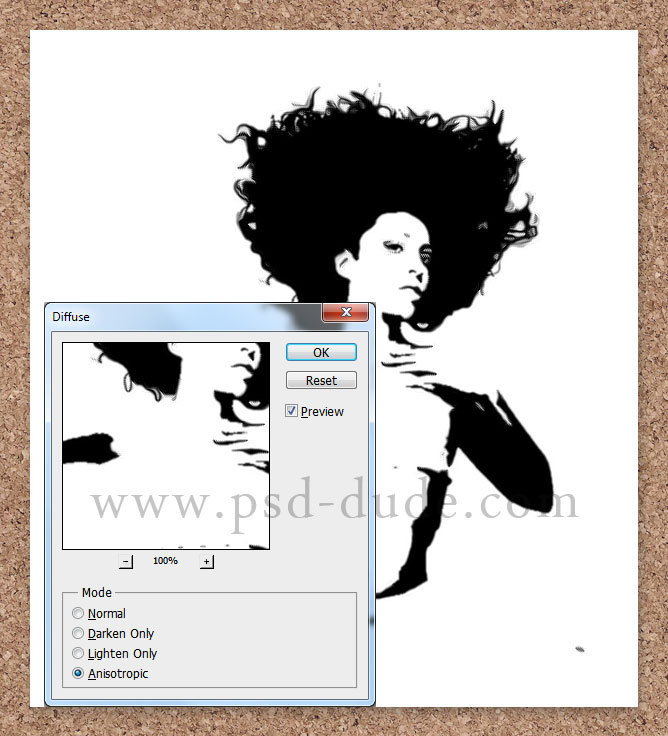 To create this effect we have to use a realistic watercolor texture to make the watecolor paint effect look authentic.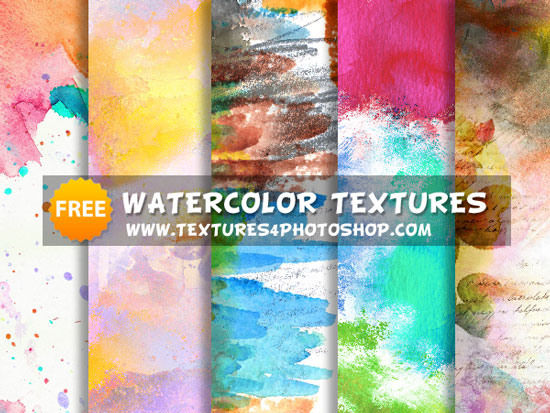 For this watercolor effect I will use this watercolor texture; place it above all the other layers. Change the blending mode of this watercolor texture layer to Lighten.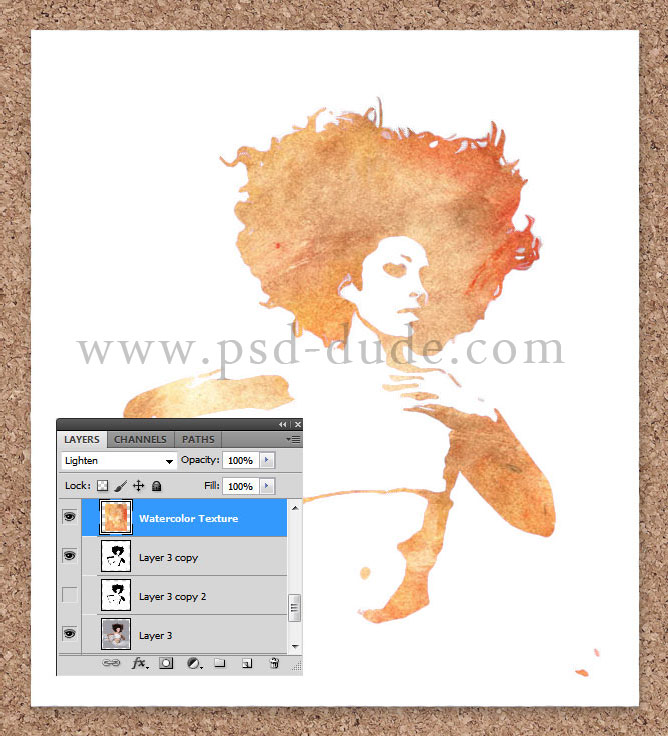 In a new layer above all the other layers, copy this splatter texture, resize it to around 30% and change its blend mode to Multiply. Use the the Brightness/Contrast to adjust the splatter and to blend it perfectly with the rest of the image.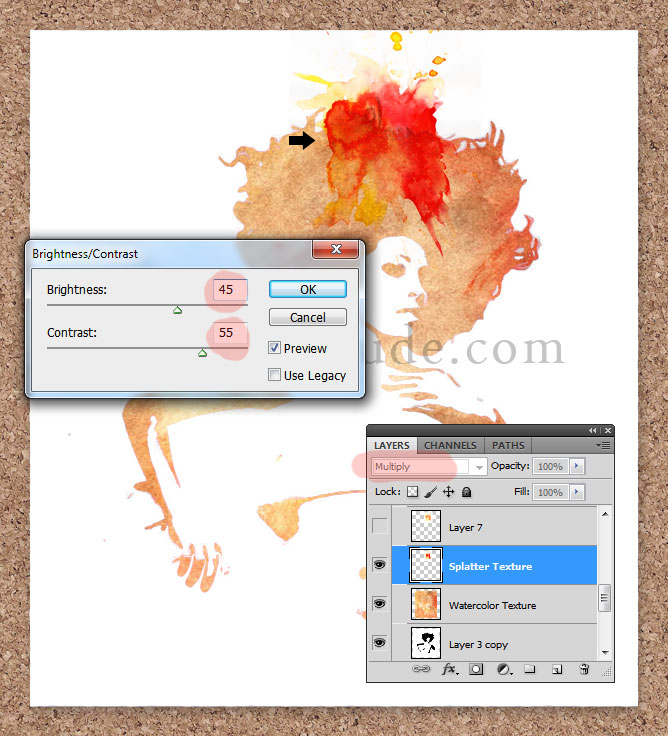 Add a Color Balance and a Hue/Saturation adjustment layers, and make the following settings for the splatter texture. Make sure to check the Click to Clip to Layer button so that the adjustments to affect only the splatter texture. The initial image had way too saturated colors and different color tones. The adjustments help us blend the two textures together.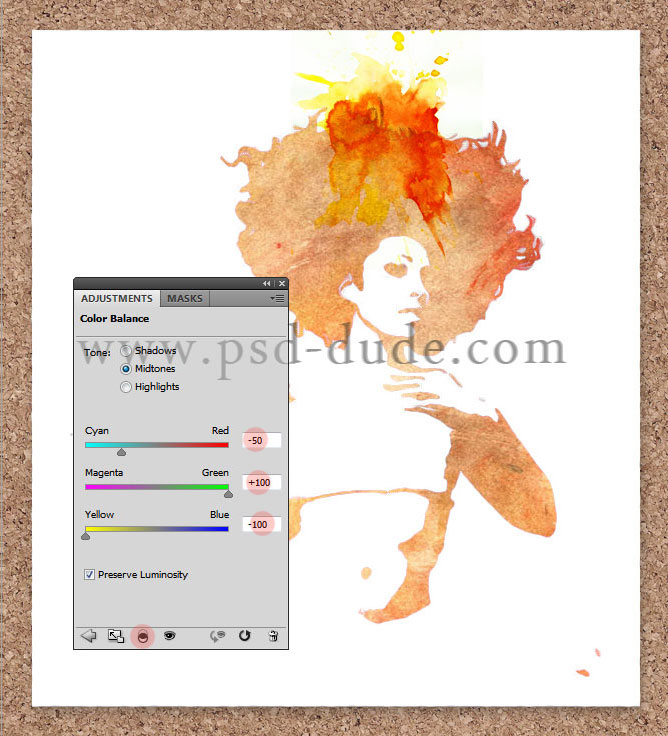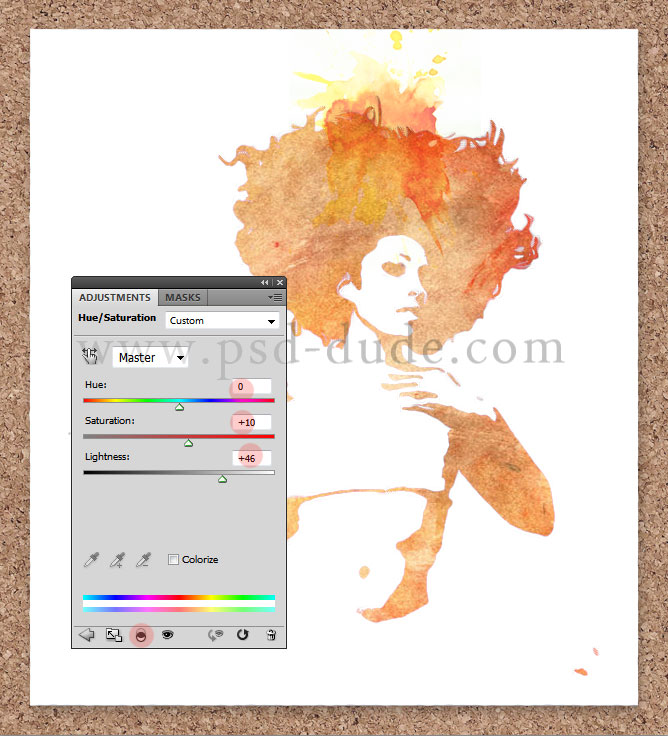 You can copy this splatter, rotate, resize and place in different areas of the image if you want. You can even experiment with splatter brushes.
Now let's add this rough paper texture just to change a little the paper texture for this watercolor painting. Set the blend mode to Linear Burn. If you want to make it darker and more visible, simply reduce the brightness a little and increase the contrast of the rough paper texture.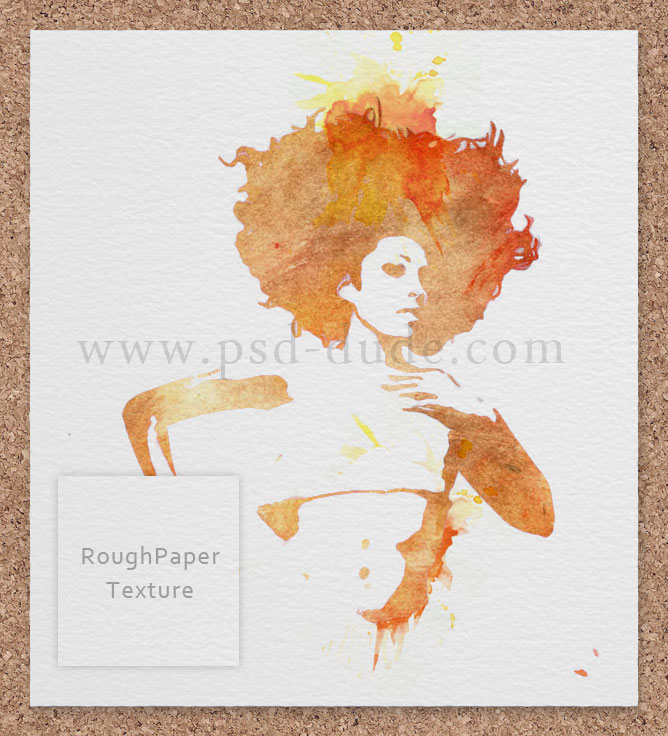 For the final touches I have added another watercolor splatter texture this time it is a texture with different colored splatters. Set the blend mode of this new texture to Color Burn, 50% opacity level. Add a simple signature and your watercolor effect in Photoshop is ready.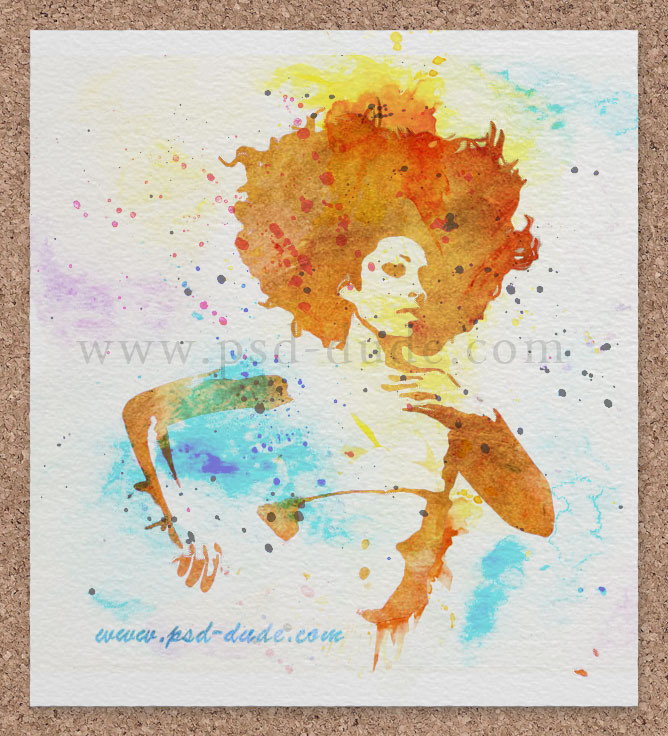 You can merge all the layers and add a Hue/Saturation adjustment layer if you want to obtain different color effects. You can check the Colorize option for monochromatic effect. Here are some samples of watercolor effects that I have made. I am really waiting to see your results so upload them on our comments section :)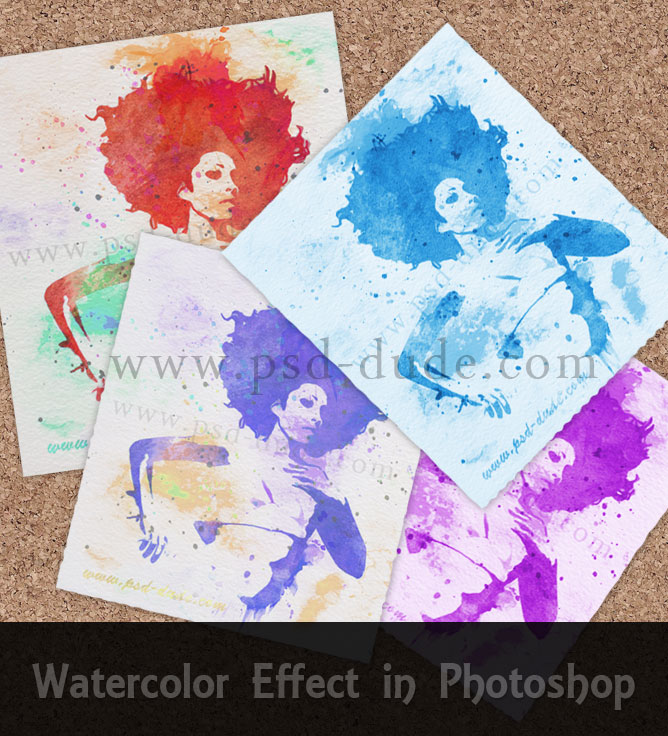 You can try our brand new Photoshop action for creating sketch drawing with watercolor effects out any photo or image. The result is fully customizable.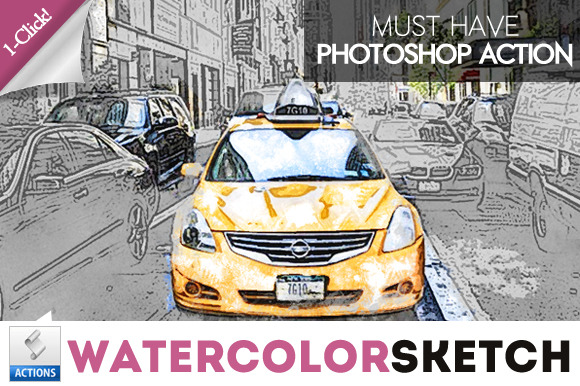 You can try also these Photoshop actions for creating different stain effects like coffee, watercolor, ink, water, wine or blood out any photo or image. The result is fully customizable.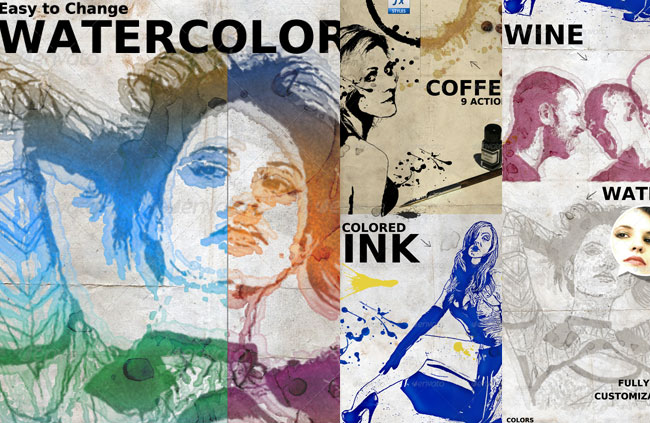 Are looking for watercolor textures and watercolor PNG images? Then, you really have to check out this Watercolor Textures Photoshop pack that you can download for free.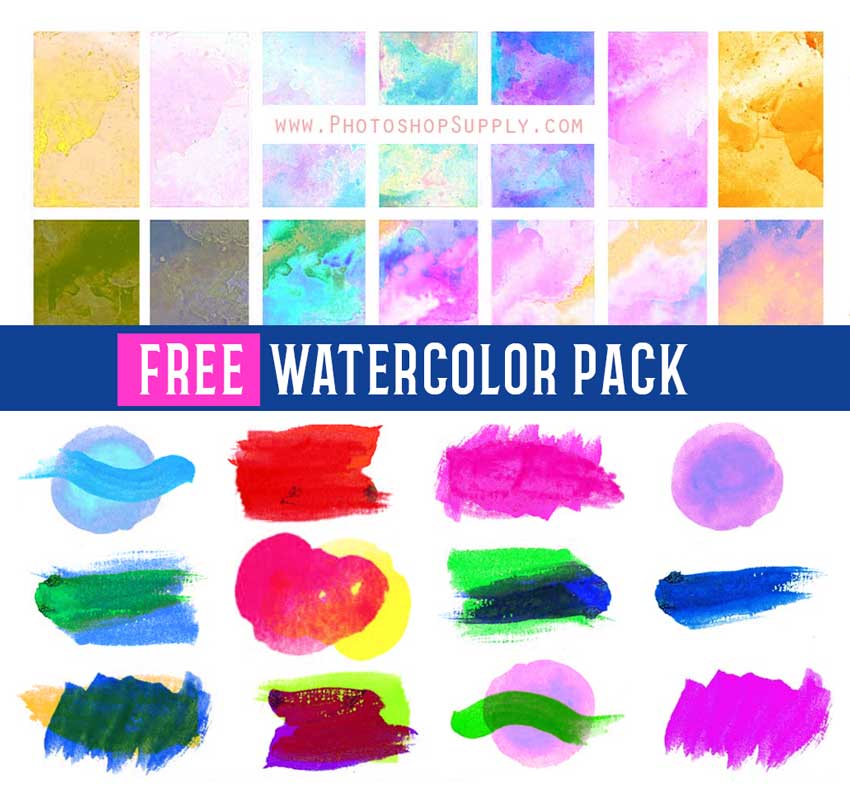 To create watecolor paint effect that looks authentic, you need to use realistic watercolor textures and combine them with your pictures. You can find all kinds of free textures for photoshop on this site.
For those of you that don't have Photoshop, there are lots of online tools that you can use to create a realistic watercolor effect online with 1-click.