The sunburst effect is commonly used by artists in their designs. Adding rays of light you can obtain cool effects in Photoshop. There are so many ways in which you can use this effect, for example it can be used in creating backgrounds, wallpapers, etc. So it's great to have lots of sunburst brushes and to constantly increase your collection of Photoshop resources.
To create a sunburst in Photoshop (or a Photoshop rays of light) is not hard but it can take you a while. That is the main reason why many people tend to use custom made sunburst brushes or sunburst shapes instead of making them from scratch.
So I hope my new set of sunburst brushes for Photoshop is an useful resource for all of you. Free download for our registered users.
Some of you probably read my tutorial on how to create a sunburst in Photoshop, so no need to explain it again. Today I am giving you a freebie pack with beautiful rays of light Photoshop brushes. The pack contains 20 sunburst brushes made with Photosho CS4.
Download for free, install and use them in your Photoshop designs. You have to be registered to download this set of free brushes.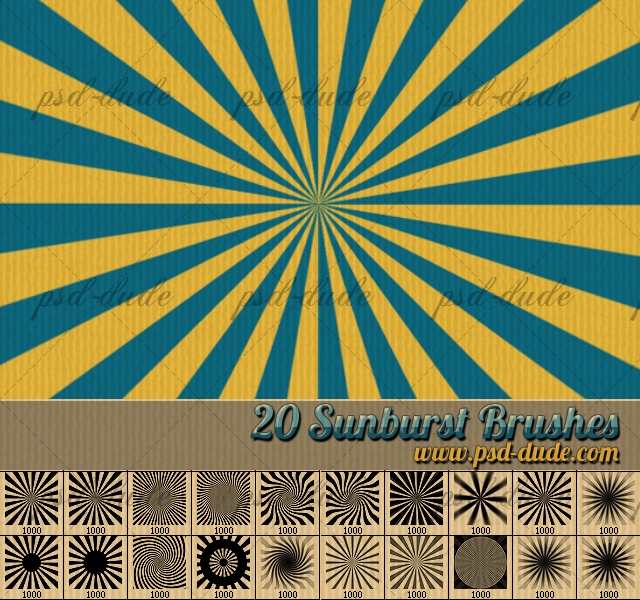 License
This ABR file is free for personal and commercial use with attribution to our blog. You are not authorized to redistribute, resell without our written agreement. If you feature these shapes on your website, you have to put a link to this page, not a link to the ABR/ZIP file. Do not claim this file as your own.
Rays of Light Photoshop Brushes

This file contains 1 ABR file (20 rays of light for Photoshop) and a TXT license file. I hope you find it useful enough to share it with your friends. .
Free Download