Transform your image into a flag in Photoshop in just a few seconds using this easy to use Flag Generator. It is actually a Flag Action that gives a waved, flag look to your image. It works with any JPG image and all you have to do is play the action.
Because there is only one version, you will have to adjust the layers styles to match with your flag colors. You will obtain three layers with the layer styles intact. That means you can customize the flag elements: the Folds Contrast/Color, the Gradients and the Shadow/Reflection to match with your background.
If you want to create a flag in Photoshop and don't have time to make all the steps, you can follow the easy way and use our Flag Generator. This Flag Photoshop action can be downloaded for free by all our registered users.
To make a flag in Photoshop has never been easier. You will obtain a vertical waved flag with a nice shadow reflection. Almost all the elements are customizable except the Bend of the flag. I hope you will find it fun to use!
Flag Generator Photoshop Action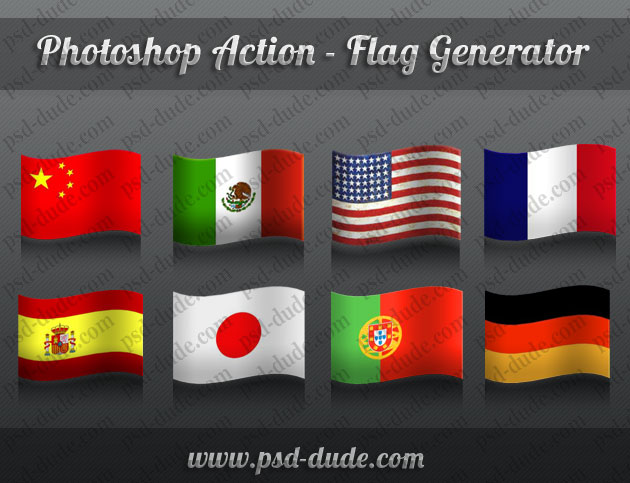 License
This ATN file is free for personal, non-commercial use only. You are not authorized to redistribute, resell without our written agreement. Do not claim this file as your own. Because many of our resources are free for download, we ask that you give us proper credit with a link back to our blog.