Download for free our new PSD file that includes 6 tag clouds in 6 different color variations. All the layer styles are intact and the tag itsef is a vector shape, so in terms of color and shape you can make all the changes that you want with little effort.
I will write a tutorial explaining how exactly can a tag be used in an website and how to integrate the PNG image(s) with html and css. I honestly prefer to make all the styles settings for buttons and tags directly in CSS, to decrease the loading time.
These tag clouds can be downloaded for free by all our registered users and the file is kindly offered by our friends from shapesforphotoshop.com. The tag clouds are very popular among website designers so, hopefully, you will find them really useful.
The PSD file contains 6 tags, each ordered in a group named after its color. The only differences between the vector tags are the Color Overlay and the size. If you don't like the shape of the tag you can choose one of these tag custom shapes and simply apply the layer style again. All the tags can be easily customized in terms of color, size, textures and so on. We really hope you will enjoy using our new tag clouds.
Tag Cloud PSD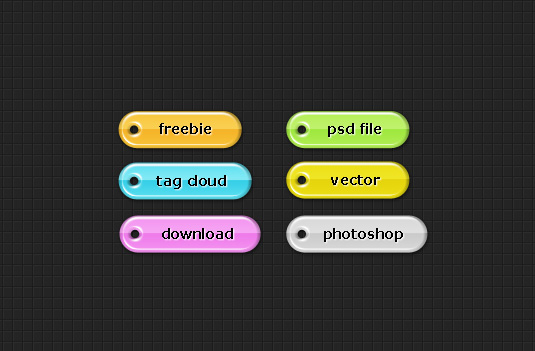 Word Tag Cloud License
This PSD file is free for personal, non-commercial use only. You are not authorized to redistribute, resell without our written agreement. Do not claim this file as your own. Because many of our resources are free for download, we ask that you give us proper credit with a link back to our blog.