I've posted many free Photoshop resources for this time of year. Here is another set of Christmas patterns perfect for creating package designs, Christmas backgrounds, text effects and many more. They are all seamless patterns so you can use them for any image size. You can also resize them but they always look good in their original size.
I use stripe patterns all the time and I have a really big collection of Photoshop stripes in different sizes and colors. Vertical or horizontal stripes are really easy to make in Photoshop. That is way this set contains only oblique stripes that are harder to make. Hope you put them in good use!
After releasing the Christmas Patterns for Photoshop last year, here is another free pack with different stripe patterns for Photoshop made by psddude.
Stripe Patterns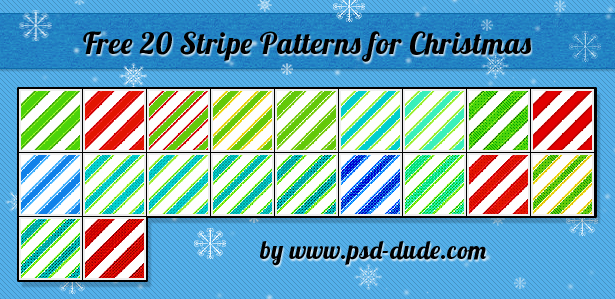 This pack contains 20 stripe patterns and a TXT license file. I hope you'll find them cool enough to share it with all your friends.
Download for free but you have to register first to download this set of stripe patterns.
License
These PAT file is free for personal, non-commercial use only. You are not authorized to redistribute , resell without our written agreement. If you feature these patterns on your website, you have to linkback to our blog.
Did you know you can use online tools like MockoFun to combine Christmas vector shapes with text and create some amazing Christmas cards? MockoFun provides pre-made templates for Christmas cards and even an awesome list of over 50 Christmas fonts that you can use online or download for free to use in Photoshop. Combine Christmas fonts with text symbols like a star symbol for example.
Check out this tutorial on how to use the online Online Christmas Card Maker and all the awesome features that MockoFun has to offer.