I have recently posted a tutorial on how to create a mail stamp in Photoshop. If you read that tutorial you saw that it's not hard to transform an image into a photoshop stamp and the result looks pretty nice. But what if we need to apply the same effect to lots of images? We then have a big problem because we will loose a lot of time with this process. The solution is really simple, we need to use a stamp maker.
So, I have made a stamp photoshop action and it can be downloaded for free by all our registered users. It comes with two versions, a simple stamp and the other version, a stamp with a discreet shadow.
Give your photos a Photoshop Stamp Effect in just a few seconds using this quick stamp generator. This ATN file was made with Photoshop CS4 and it was inspired by one of my previous tutorials, Photoshop Stamp Tutorial. Below you can find all the informations on how to use it. Hope you like it!
Stamp Generator Photoshop Action
How to Use This Action
Creating an action can be difficult sometimes because you have to make it work on different Photoshop Versions and languages. So I hope that my stamp action is created good enough to work. Simply download the ZIP file and open the archive. All you have to do is to drag and drop the ATN file into your already opened Photoshop application to load the action. If you go to Window, Actions (or simply press ALT + F9) you can see that the list contains also my stamp action.
To make sure your action will work, you have to download the ABR file also included in the archive. Simply drag and dro like you did with the action file. The reason you do that is to create the stamp brush used in this action. Sometimes creating a brush within an action can not work so that is, I hope, the safest way.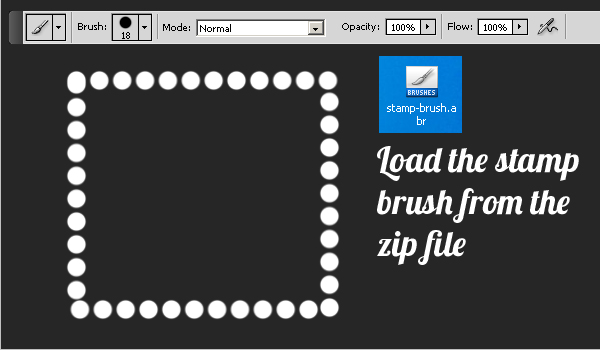 After loading the stamp brush all you have to do is to press Play Section from the stamp action like shown in the image. And you will probably obtain a nice looking mail stamp. This action works only for JPEG images and you have to make sure that the initial layer is Locked Background.
You have two mail stamp versions one with and one without a shadow.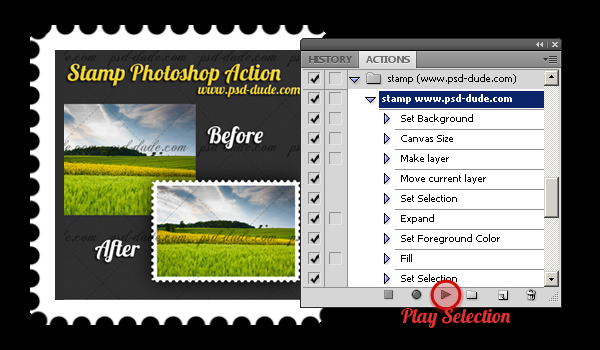 License
This is free for personal non-commercial use for all our registered users. If you want something for commercial use or if you need want another type of stamp we can deliver it for a small fee. So don't hesitate to contact us. Redistribution/Selling this file on other websites is NOT allowed.
The photo used in the preview images is taken from Shockmotion's photostream.
DOWNLOAD!(2.83KB)
You Might Also Like
How To Create Custom Postage Stamps
Here are some premium resources that you might want to try to create a great stamp effect customized and unique. Download the vector postal stamps in PSD fully layered formatand also the great rubber stamp generator.
Previous Post
Amazing Digital Artworks of Talented Artist Larissa Kulik