These are free actions for creating fur and furry effects in Photoshop that can be downloaded by all our registered users. The pack includes 2 fur action that are fully editable, fully customizable so you can play with the final result. You can easily add any fur texture that you like with the help of smart objects.
You can always try these fur brushes if you are not quite pleased with the result.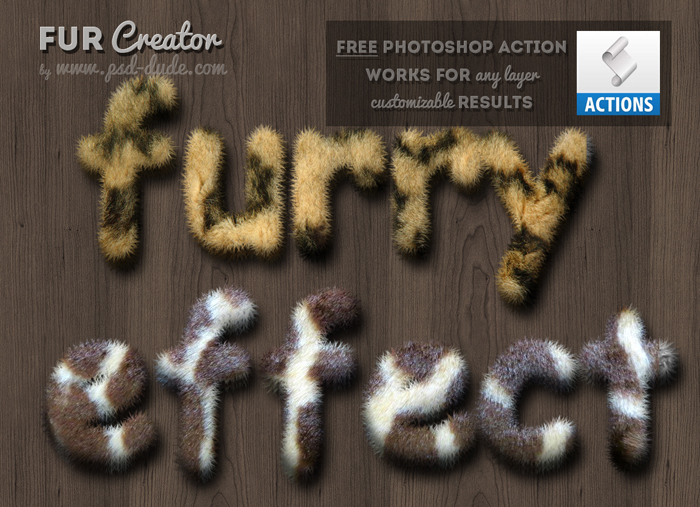 This free Photoshop ATN file contains 1-click actions that will help you create realistic fur and furry effects out of any text, shape or raster image. As you can see in the preview you can use any fur texture like giraffe, zebra, feline fur and so on.
Here are the 3 simple steps that you must follow in order to make the Fur Photoshop Creator work:
Install the two files that are included in the ZIP file: brush.abr and pattern.pat ; these files must be installed first otherwise the action will not work properly.
Load the FUR-CREATOR-BY-PSDDUDE.atn file in Photoshop
Open a new file and add a text, shape or raster layer
Click the Play action button and wait for the result.
The images used in the preview are giraffe fur and feline cat fur that you can download from deviantart for free.
These Photoshop actions are free for personal non commercial use only; you can not redistribute it on other sites. Hope you like it, enjoy!
DOWNLOAD!(99.7kb)
Next Post
Displacement Map Filter Photoshop Tutorials