Download for free the neon style Photoshop mock-up file and use it to create interesting light signs. You can add anything inside the smart object: text, vector shapes, hand drawn objects, raster images like signs, etc. It's easy to change the neon color and all the other layer styles like outer glow, shadow effect and so on. Grab this great looking freebie and create your own neon sign.
Since it was first invented in 1915 by Georges Claude, the neon sign became more and more popular. In 1923, Georges Claude introduces his neon signs to the United States. Through the 1920's and 30's extravagant neon signs and neon displays began to dominate American down towns from New York to California.
In the 40's and 50's Las Vegas was light up by lavishing neon signs with impressive animations. In the 50's was the peak of the neon signs that were used almost everywhere from discos, motels, highways, etc. The 1960's was a steep decline in the use of neon signs.
But, the neon continued to be present in the 70's and the 80's. Even today the vintage neon signs remain popular. If you want to learn more about the 1980s, check out my article about 80s font used in movie posters, video games, music album covers and so on.
Neon Text Photoshop Style | Free PSD Mockup
Download this free neon Photoshop style and use it to create realistic neon lights with just 1-click. Easy to edit and customize. Well organized PSD file with layer styles intact so that you can customize pretty much everything. You can choose from 5 neon colors: red, orange, geen, purple, green and blue.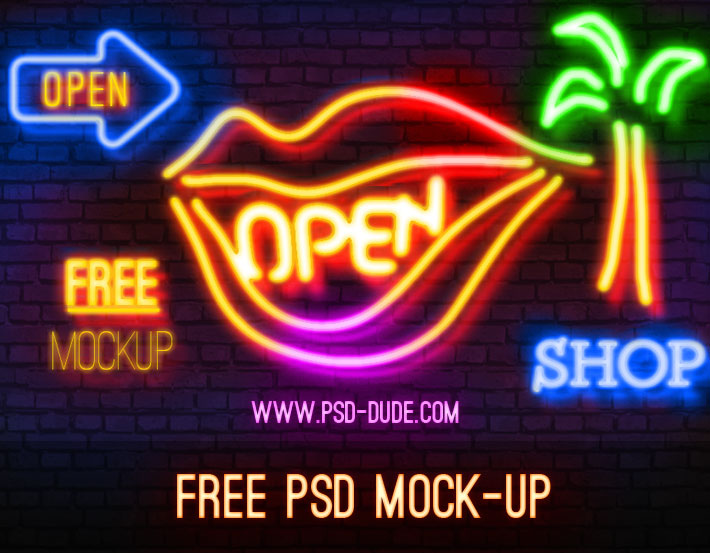 Free Neon Photoshop text style
fully layered PSD file
add your own text inside the smart object
works for any type of layer(text and shapes)
Simply add your text inside the smart objects called "ADD YOUR WORK INSIDE". To open the smart object you have to double click on its thumbnail. To see the result you have to save and close the smart object.
License
This PSD is free for personal and commercial projects with atribution. All you have to do is to link back to our blog. You can NOT redistribute this file on other websites.
DOWNLOAD!(3MB)
You might also like