Create a kaleidoscope effect in Photoshop with this Photoshop action generator in just a few seconds. All you have to do is play the action and make some customization for different effects. You can use this Photoshop tool to create photo collage for scrapbooks for example. You can also create abstract photo effects that are 300 DPI, print ready.
1. Kaleidoscope Photoshop Action
Create interesting kaleidoscope effects using your photos with this one of a kind Photoshop action. The kaleidoscope Photoshop action works with any type of image, with photos, textures, patterns, vector graphics, etc.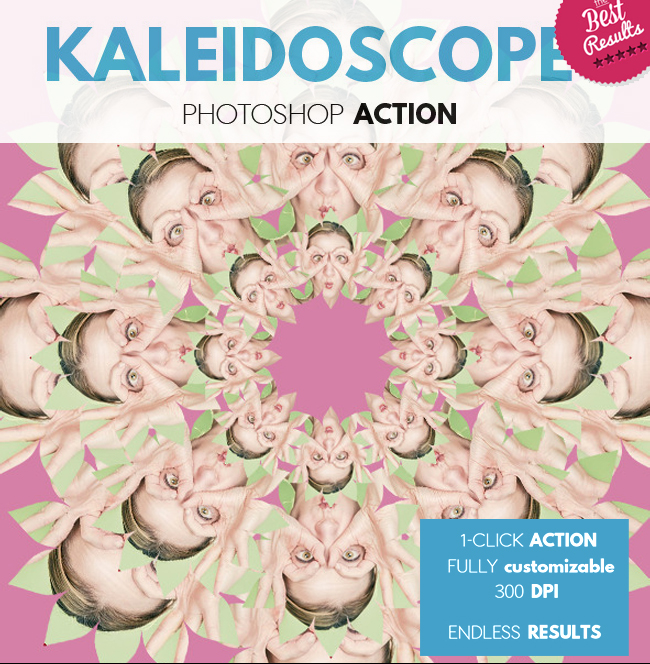 Kaleidoscope Photoshop action
the result is fully layered with styles intact
editable images
CSH file with vector shapes included
easy to edit smart objects
300 DPI print ready
Simply add your photo, select a vector shape mask, for example an arrow, and play the action. For more details read the PDF Help file that is found inside the pack.
Check out this video tutorial if you want to learn how to create surreal portraits using this action.
If you like the kaleidoscope effect, check out the action below that adds an animated effect to your kaleidoscope picture.
2. Animated Kaleidoscope Generator for Photoshop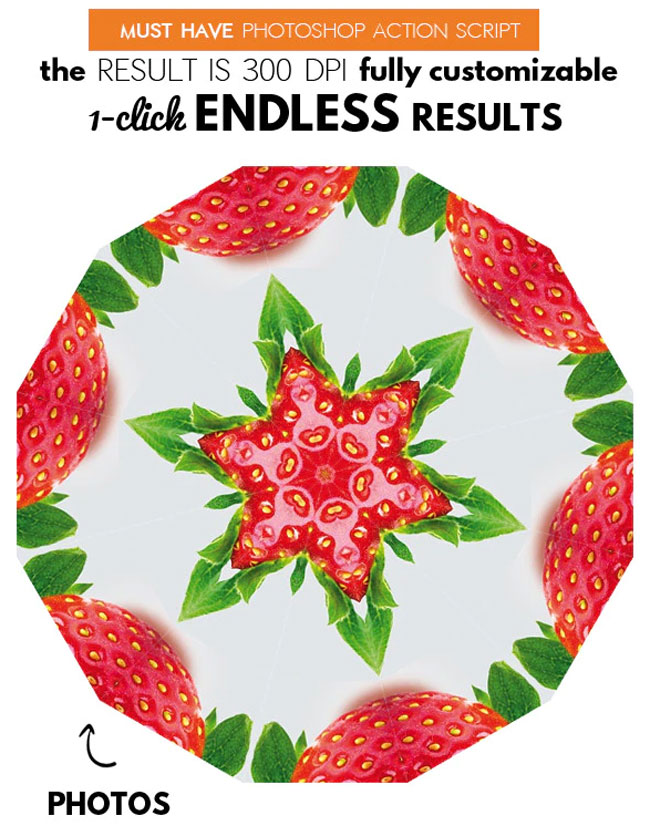 This set contains a Photoshop action script that will allow you to create realistic kaleidoscope effects and also kaleidoscope animations out of any type of image. You can also create mandala in Photoshop with this action script. Create unique mandala photo with 1-click.
The kaleidoscope effect is very realistic looking. You can change the final result using the customization section. Use the Offset to move the image vertical or horizontal. Also you can use the Animation settings to create an animated kaleidoscope GIF.
Realistic Kaleidoscope Effect – up to 24 mirror sides
With Animation Effect included
Requirements: RGB color, 8 bit, 72 DPI recommended
You can save the result as JPG or animated GIF
Endless Combinations – Unbeatable results
Easy to Edit and Customize
No Photoshop Skills Required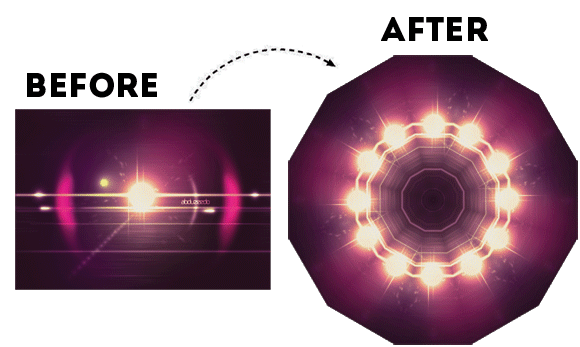 If you're looking to download pre-made free kaleidoscope background images, check out Textures4Photoshop.

How to Make Kaleidoscope Effect Online?
You can also create your own kaleidoscope design online with MockoFun. MockoFun is an online graphic design tool with a very powerful photo editor. The MockoFun photo editor comes with many free and premium photo filters. One of the premium filters is the Kaleidoscope effect filter.