Learn how to design effective university posters or university posters that grab the attention of your audience and effectively communicate your message. Follow these eight tips to create an impactful university poster, including utilizing strong typography, choosing bold color schemes, and incorporating relevant images. If you're short on time, consider using Edu Birdie's professional poster creation services.
What are University Posters?
A university poster is a poster created by an academic institution to promote a certain event. A good example of a university poster is the university admission poster template.
In this category we can also put academic posters, research posters, admission posters, TED talks, etc. The university event posters must contain the university name & logo, the name of the event, the location and date of the event. Also, the poster for university must contain other important details about the event in order to attract more people.
Print the university posters or use them online on social media networks to promote your events. Good poster design helps establish university brand recognition.
Making a poster can be an effective way for college students to present their research.
Posters are visually appealing and make it easy for viewers to quickly grasp the main points. Posters can also be used to showcase projects, highlight accomplishments, display artwork or simply spread awareness about certain topics.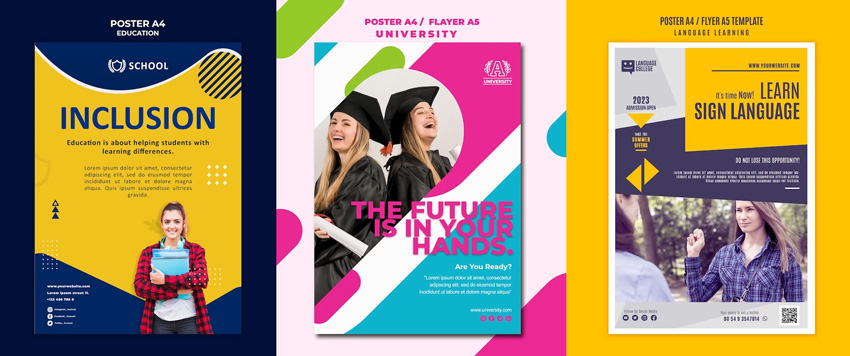 But, for students with busy schedules, finding time to make a poster can be difficult.
If you find yourself in this situation and don't have enough time to create a poster, you can always rely on the services of Edu Birdie to help you with your writing assignments. Their team has highly skilled professionals with experience in creating stunning written works, while you will have the opportunity to be creative on the poster. They work quickly, efficiently and strive for excellence in every project they undertake.
If you decide to make your own academic research posters, read the article till the end. To make a poster for university that will impress your audience, follow the tips offered below.
1. Choose a Bold Color Scheme
When selecting colors for your university poster, opt for bold hues that will stand out and draw the eye. Limit yourself to no more than three colors in order to maintain a cohesive look and create contrast between design elements.
You can either choose your university colors or, you can use the colors that match with the event theme.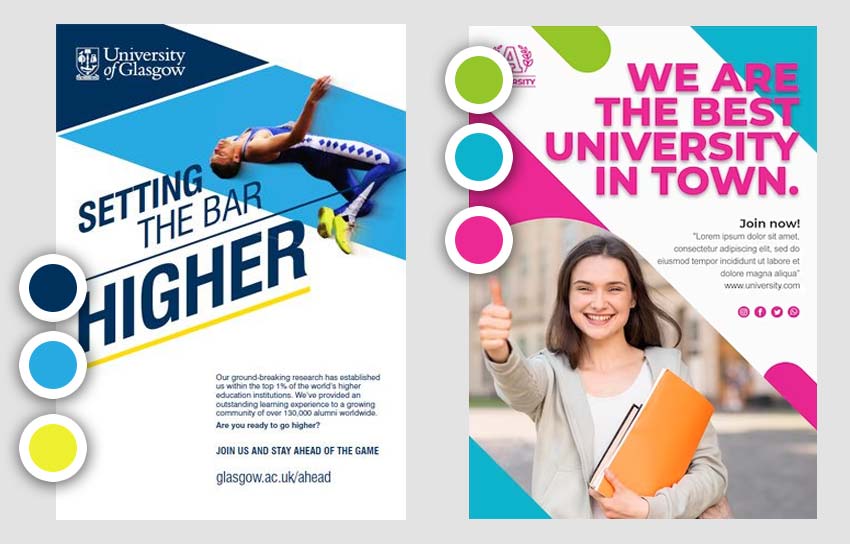 Academic posters and research posters must present the information in a structured manner. The design of a scientific poster template comes second.
The best color combinations for posters in the education field are the ones that contain different tones of blue and brown with strong color accents of orange, yellow, red, etc.
Top universities have long established color tones and logo designs. For example, Oxford Blue is the official color of the University of Oxford. This very dark tone of azure has the hex code #002147. The Harvard university colors are Harvard Crimson color which is a tone of red (hex code #A41034) and Black.
2. Use Strong Typography
Typography is an essential element of any university poster, so be sure to choose fonts that are legible and on-brand. Stick with two different types of fonts: one headline font and one body font.
University fonts differ from one university to the other. Some institutions use sans serif fonts while others use serif fonts. For posters use bold fonts for the titles and headlines. Check out our text graphics design article if you want to learn more things about poster typography.
The poster title should be short to draw attention immediately. Aim to communicate a clear message through your typographic choices by making them readable and appropriate for the audience you're targeting.
Use bullets and numbering to summarize the information. In this way the poster design is more effective & easy to read.
3. Include Relevant Images
Stock images can help make your university poster template more visually appealing and memorable. Pick images that are relevant to the message you're trying to convey, but be sure they aren't too complex or busy. Aim for a clean, simple look to ensure your message is the main focus of the poster.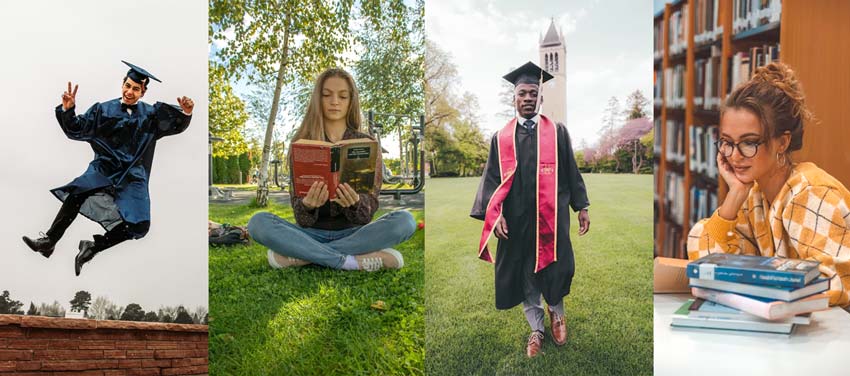 4. Feature Your Logo
Your university's logo should always be prominently featured on your poster. It not only helps to establish brand identity but also makes it easier for viewers to recognize and remember your school in the future when they may need it. Place your logo in an eye-catching area of the design so that it can't be missed by passersby. Here are some logo design secrets that you should know.
It's important to create a university brand imagery so that people remember and associate you with a world-class university that has the best proffesors and students.
5. Utilize White Space
In university poster design, white space is essential for creating a balanced and clear design. It helps to draw attention to the main elements of your poster, while also giving viewers some breathing room from all the visual clutter. Be sure to leave enough space between text and images for readability and a pleasant viewing experience.
6. Incorporate Accents
Accents are great for adding texture and interest to your university poster designs. Consider incorporating accents such as bold colors, arrows, frames, or lines into your design in order to break up large blocks of text or visuals. Accents can also be used to attract attention and direct viewers' eyes toward important information on the posters.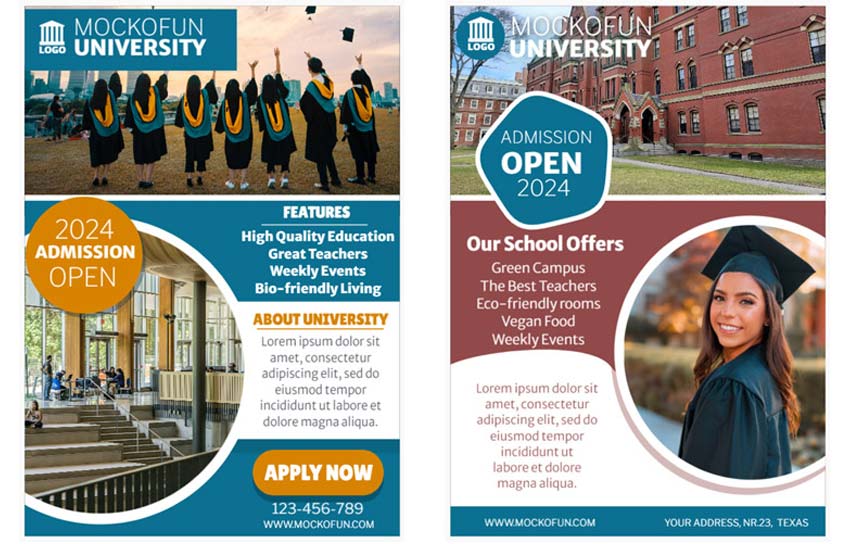 Here are some university flyer templates that you can use as inspiration. An academic flyer design must contain the name and the logo of the university as well as other details about the even that it promotes.
7. Keep It Clear & Concise
When it comes to creating an effective university poster, less is more. Keep your message short and to the point, so that it can be easily understood by viewers. Avoid overcrowding with too many design elements or too much text – instead, aim for a simple yet impactful layout that communicates your message quickly.
8. Proofread & Make Adjustments
Before printing out your university poster, make sure to proofread every element of the design for any typos or errors. Once all of the necessary adjustments have been made, print out a test copy before committing to large-scale printing. That way, you'll be able to check the accuracy and quality of the design in person before making any final decisions on how to proceed with printing.
9. Consider Printing Options
Depending on your needs, you may want to consider printing options such as large-scale posters or vinyl banners. For example, if you're creating a university poster that will be displayed outdoors, a waterproof and weatherproof material like vinyl is best. And for indoor displays, a glossy paper stock is ideal for giving the design a professional finish.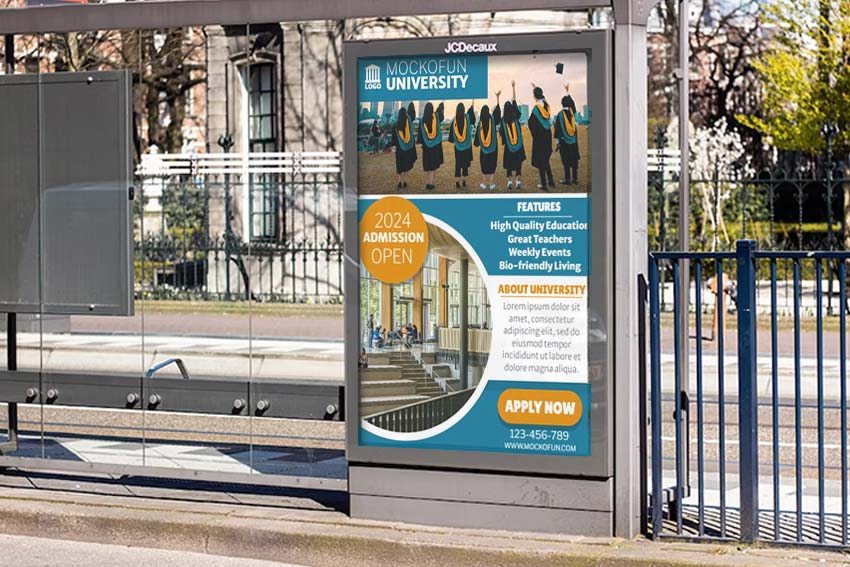 10. Hang Your University Posters Properly
Finally, make sure to hang your university posters properly in order to maximize their visibility and impact. If they're being hung indoors, use double-sided tape or adhesive tabs so that they won't damage the walls when removed. And if they're going up outdoors, be sure to use high-quality materials that will withstand the elements.
In Conclusion
Follow these 10 tips for making posters and you'll be well on your way to creating an effective and eye-catching university poster. With careful planning and thoughtful design, you can ensure your message is conveyed loud and clear in a visually appealing format.
With academic posters, there's no need to worry about fitting all the information into one page—they offer plenty of space for details and visuals that would otherwise not be included in a typical paper-based presentation. Plus, since they are larger than papers, viewers can easily see them from afar and gather a better understanding of the topic at hand.