If you want to obtain a beautiful 3d shape in Photoshop in just a few seconds, you can download this Photoshop action. My 3D action for Photoshop is free for all our users and it has the advantage of being really easy to use. Make sure you have an initial layer named "Shape 1" and that is all. With just one click you will obtain a realistic 3D look.
This 3D generator action works well for any kind of layers, text or vector shapes. I have tested it on some of my custom shapes with different colors and patterns. You can also make 3D text using any font type. All you have to do is be creative.
Assuming that you already know how to download and install a photoshop action, the next step is to open your Photoshop and to draw the shape you want to transform. It can be a vector image, a custom shape, a text or any other layer.
All you have to do is to make sure the initial layer is called "Shape 1" for the action to work properly. Open the Actions and click Play Selection. After the action is ended you will obtain 2 layers with all the layers styles intact. So if you want to change the appearance or add some extra effects you can do it easily by adjusting the layer styles.
Free 3D Action for Photoshop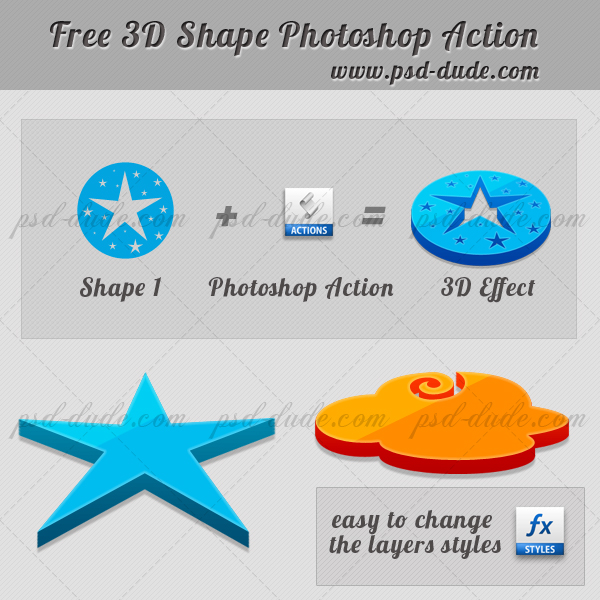 Info and License
This is an ATN file made with Photoshop CS4 so if you have this PS version or a higher versions, this action will probably work just fine. This action can be downloaded by all our registered users. The 3D action is free for personal non-commercial use only and you must to credit us and put a link back to our blog. The redistribution/selling this file on other websites is not allowed.
NEW Updated Version
This new updated version contains easy to replace smart objects that you can replace after the action has ended playing. You can also change the light and shadow effect with Global Light option (Go to Layer>Layer Style>Global Light).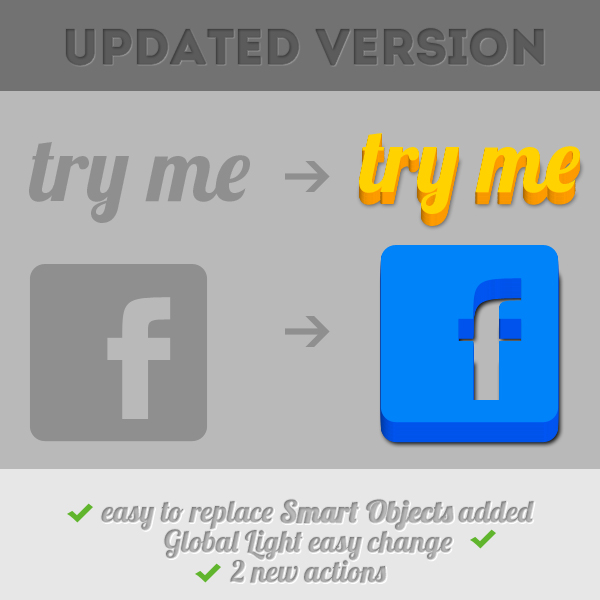 DOWNLOAD!(1.91KB)
Next Post
Create Photoshop Rain Effect Tutorials