Let's take a quick look at the final image that we are about to create for the 2013 New Year. This is actually a 3D text effect that we'll create using a nice 3D action generator from www.actions4photoshop.com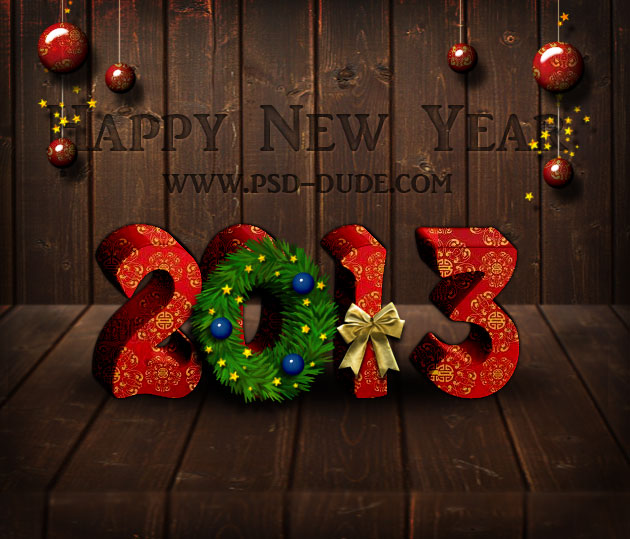 First we I will add a nice and warm wood background using this wood texture but you can of course use another one from this list of free wood textures but I suggest you to use dark wood. First use this texture to create a nice rustic wooden wall like in the image.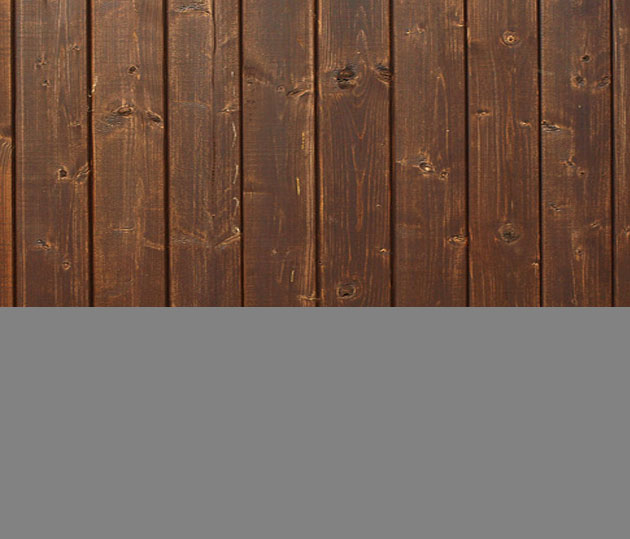 Add a Gradient Overlay to create light and shade using these settings: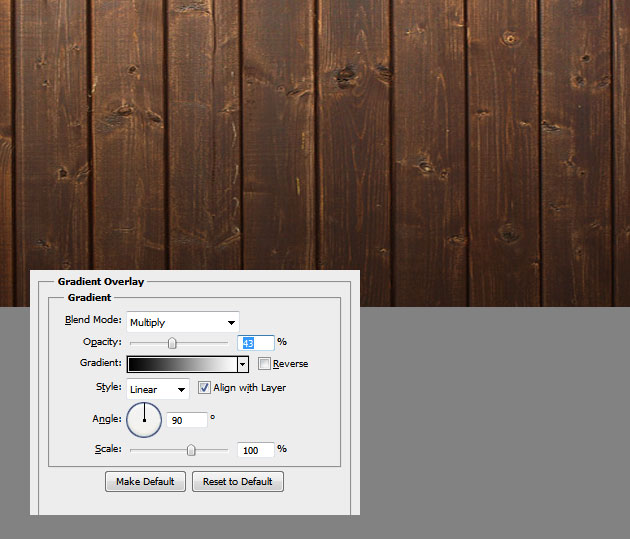 Use the same texture but scale it to around 30% only on the vertical scale and use the Perspective Tool to create a horizontal wooden surface.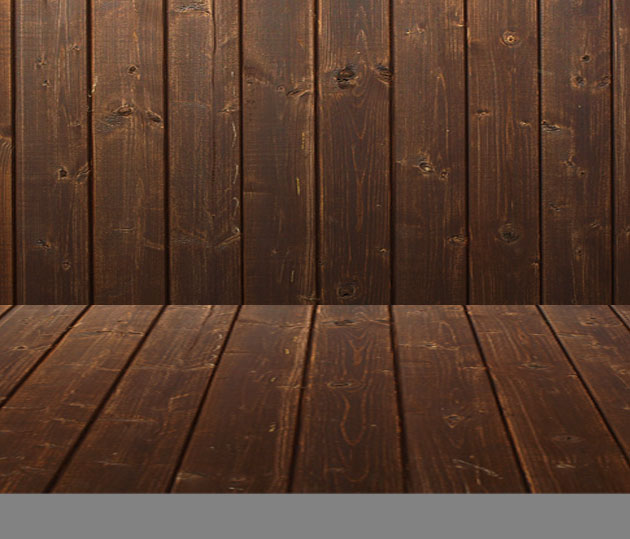 Convert the surface into a Smart Object and add a Gaussian Blur smart filter with the following settings. Add a Layer Mask to the Smart Filter to blur only the back part of the horizontal surface like shown in the image.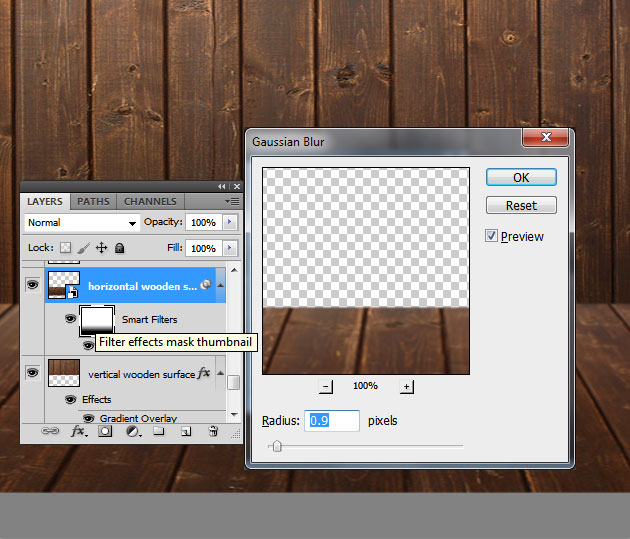 Use another piece of the texture to create the third wood surface. Add also a Gradient Overlay to create a realistic look. Use the Transform Tool to align the wood stripes for all the three surfaces.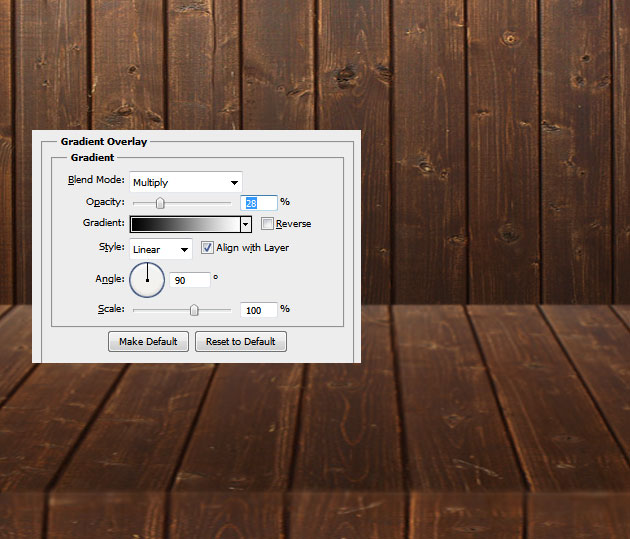 You can engrave a text on the wood wall with a nice message; I will simply write "Happy New Year" and also I will add watermark with www.psd-dude.com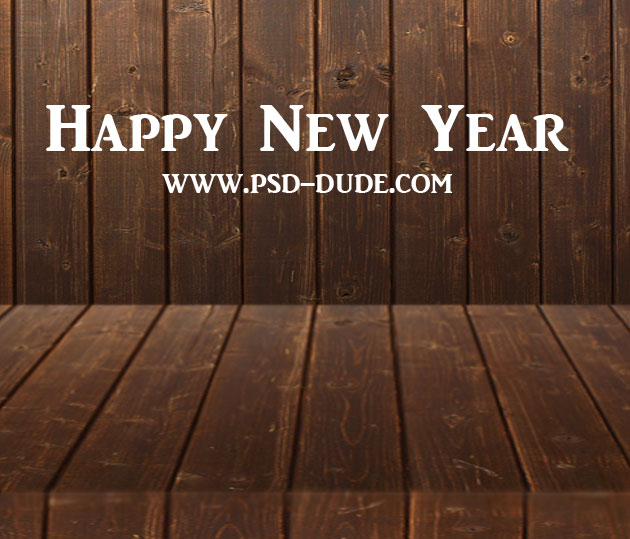 To create the engraved pressed text effect simply add these layer styles to your text. By the way I used the font "AR JULIAN" but you can use any font you like.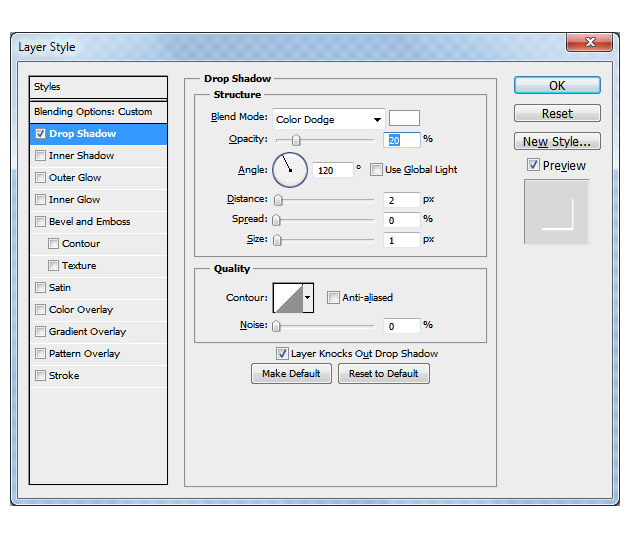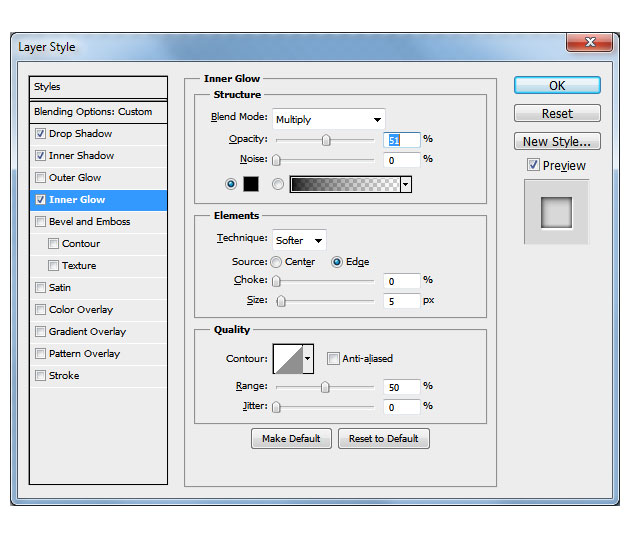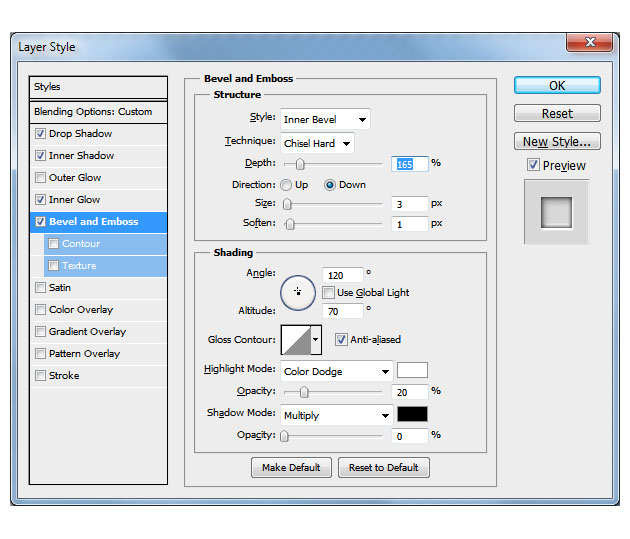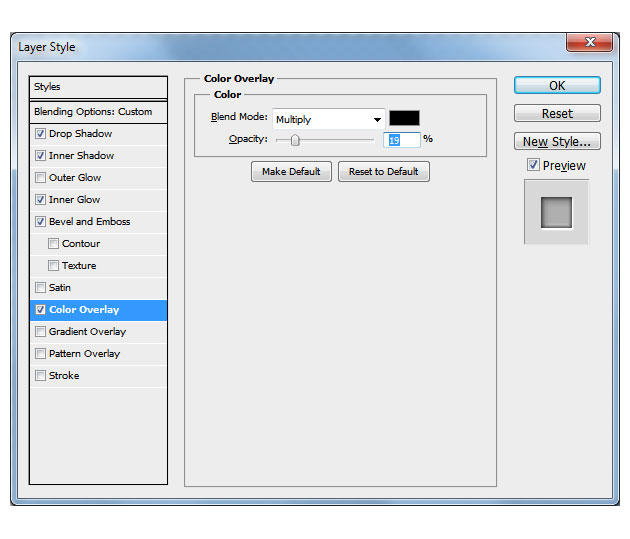 So here is how the engraved wood text effect looks like. If you want to try more effects you can download these amazing Letterpress and Emboss Photoshop Styles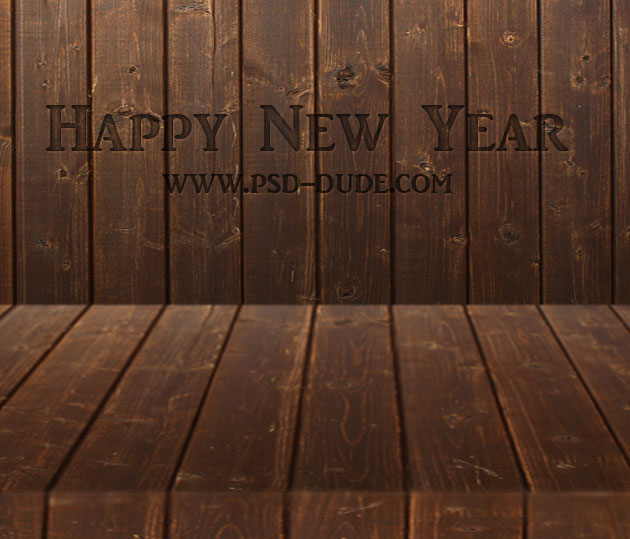 Now I will add a "2013" text in the middle of the image; this text will be the focus point after a few changes and Christmas decorations.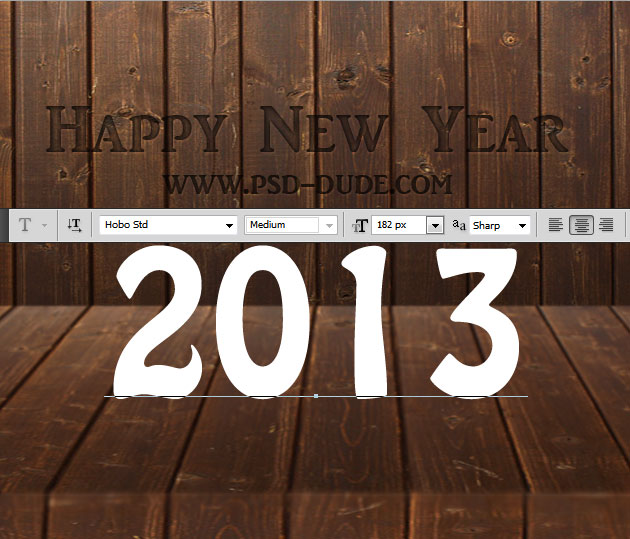 Important! Move this text layer in a new document. Download this 3D Photoshop action, load it in Photoshop and click play to add a 3D effect with just a single click. You can use this 3D generator for any text, shape or raster shape.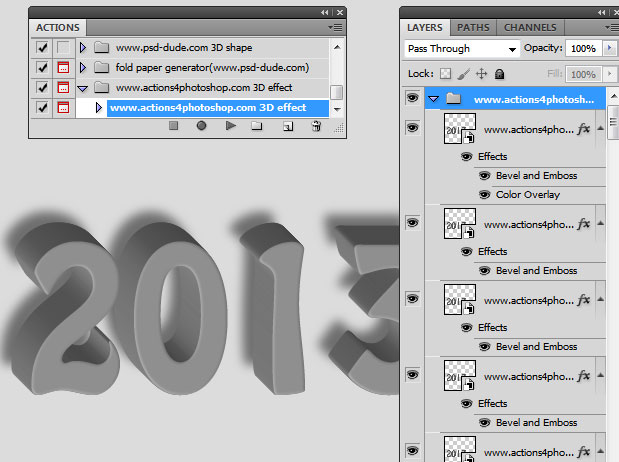 I have replaced the 3D action with a new improved one that can be customized more easily in terms of shadow and light, color, etc. The action generates an aproximate 60 copy layers. Select one of the layers and go to Layer>Layer Style>Global Light and from there you can change the light direction as you like.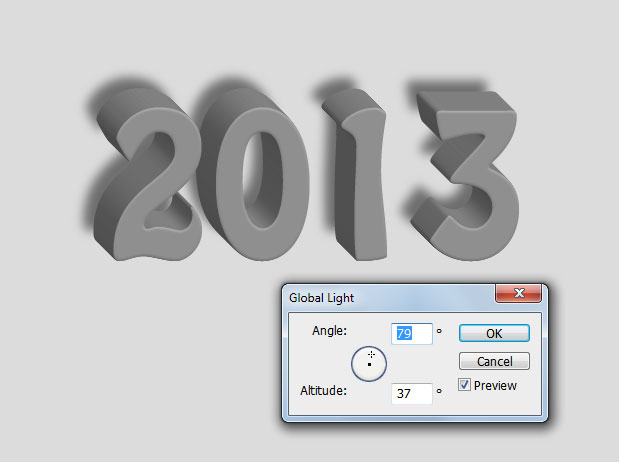 You can even change the Color Overlay of the www.actions4photoshop.com top layer if you want to obtain more contrast.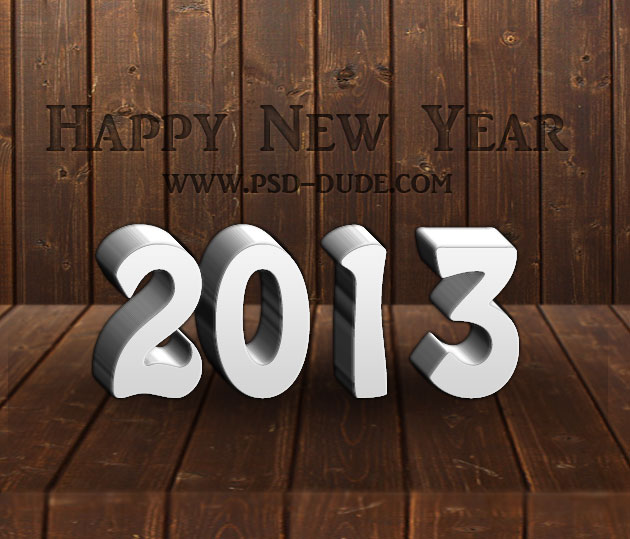 Now you have to hide the first layer www.actions4photoshop.com shadow and to convert the Group named www.actions4photoshop.com 3D effect into a Smart Object(right click on the Group name and choose Conver to Smart Object). Add a Pattern Overlay to this new layer/smart object using one of these beautiful Christmas patterns or any other gift wrap paper that you like. I will choose this beautiful red chinese pattern for this tutorial.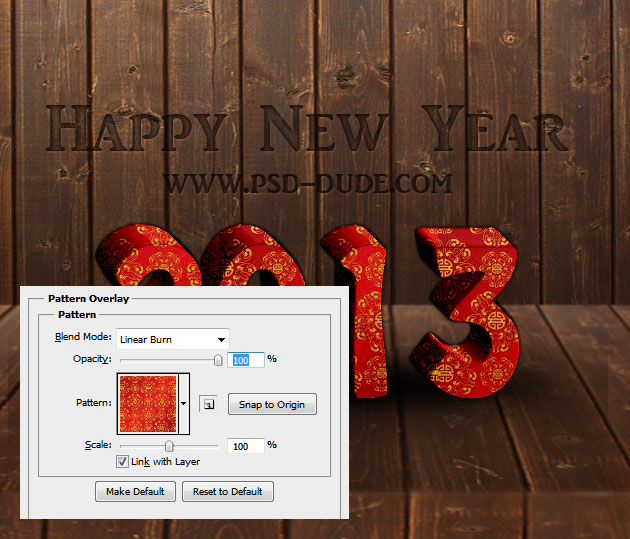 To make the New Year 2013 text effect look more festive I will add a nice Christmas wreath. Download this useful Christmas tree brush. Create a new layer called Christmas wreath and use the Ellipse Tool with Paths selected to create the Christmas wreath shape.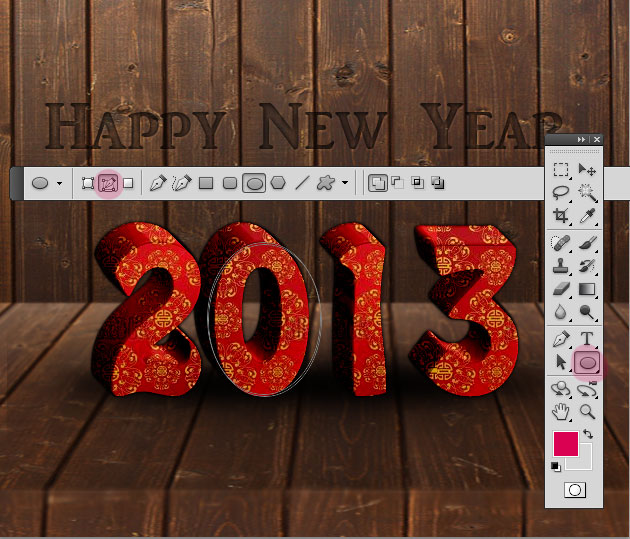 Pick the Brush Tool and with the new Christmas tree brush selected Stroke Path. Use these nice tones of green #1d6400 and #173f03 as Foreground and Background colors.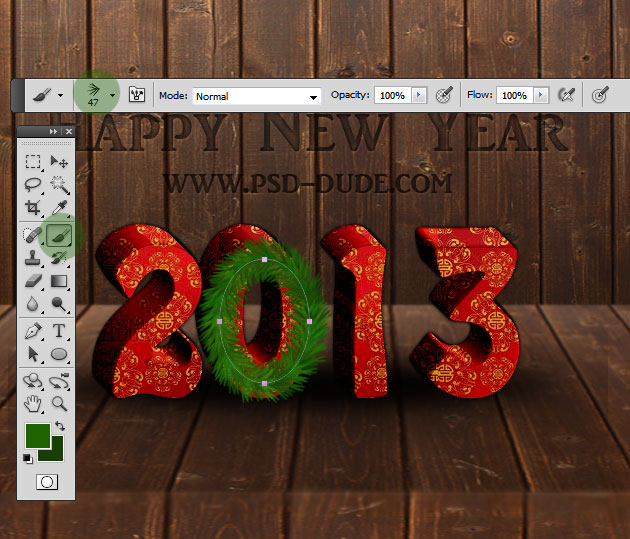 Add a Smart Sharpen filter effect with the following settings.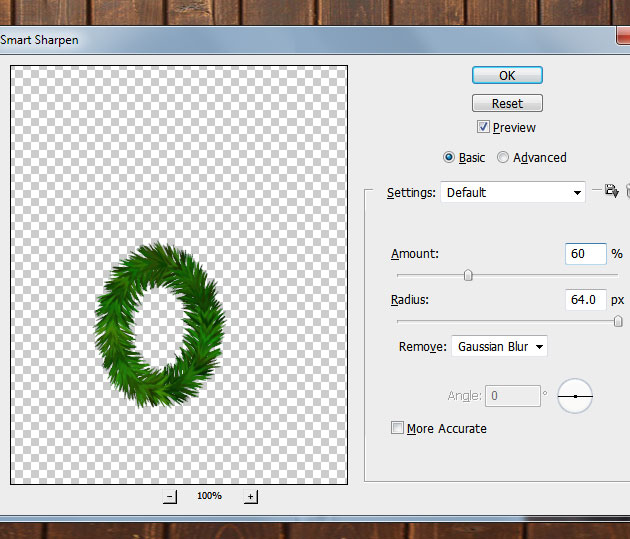 Add also a Drop Shadow effect and you can even add one or more layers using the Christmas tree brush and with different colors for example. Add some simple Christmas decorations like Christmas balls, stars, tinsel and so on. You can see in this Photoshop Christmas text tutorial some of the decorations that I have used.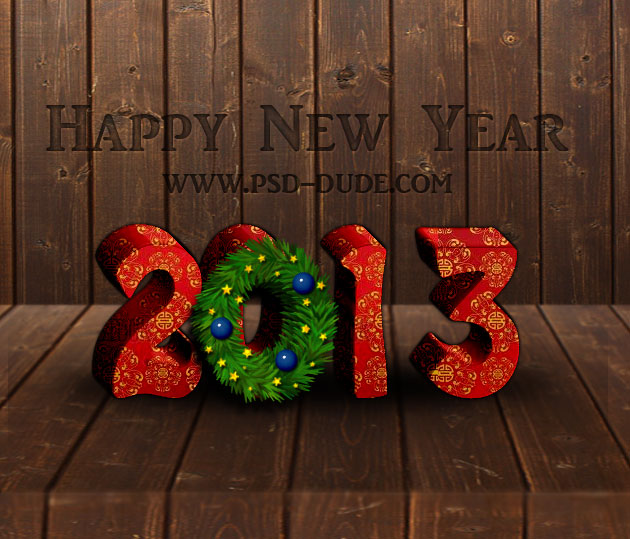 Download these amazing Gold Silver Bow PSD file and choose the golden bow, resize and place it like in the image. Add also a simple Drop Shadow effect and also an Inner Shadow effect to add some depth to the bow.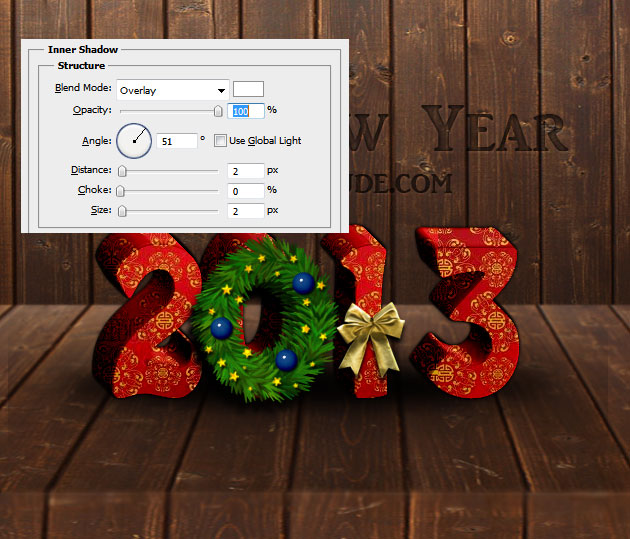 As final touch I have added some Christmas balls hanging using the same gift wrap paper that I have used for the 2013 text and also some gold stars.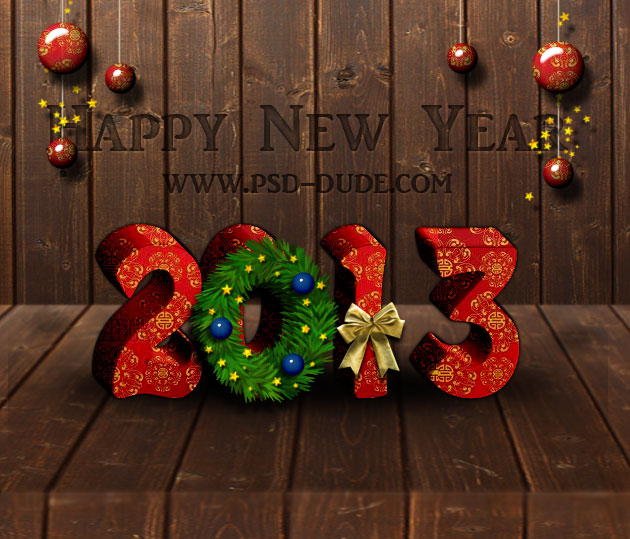 Add a new layer; set the Fill to 0% and create a soft Vignette effect using an Inner Glow with black as color. And here is the final result for the 2013 Photoshop text effect. I am waiting to see your results so add your work inspired by this tutorial at our comments section.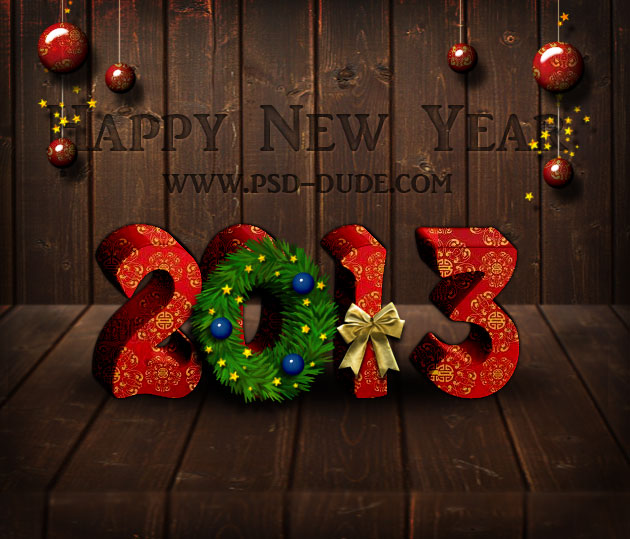 If you are not really sure about the settings and layer styles used you can download the PSD FILE(2.98 MB) for free. Download now the updated PSD file with the 2014 Wooden Horse Year design. Please do not redistribute on other sites.