These Twitter Bird Icons are free to add on your blogs and websites, to get people to follow you on your Twitter account. I made the twitter bird wear a tall hat because I thought it looks very funny this way! The twitter icons are in PNG file format.
I hope you like it!
In today's freebie pack I have decided to give you 4 free similar twitter icons, available in PNG format. You can use it on your blogs or websites for convincing people to follow you on twitter. I am planning on creating other twitter birds if you give me a good feedback on these!
FREE License: We are giving away these icons for free, all we ask is to link back to our site http://www.psd-dude.com!
Enjoy!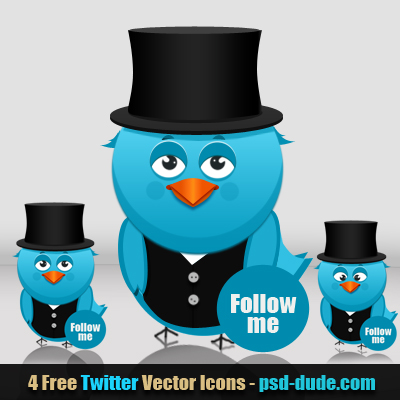 *Redistribution of These Files is Not Allowed!

Download Twitter Bird Icon Pack pack and don't forget to share
(274 KB)