Create your own film strip using this easy to use film strip Photoshop action. The pack contains 4 different actions that creates a horizontal film strip. If you want to create a vertical film strip using multiple photos you can use a little trick: rotate the photos by 90 degrees and you will obtain a vertical film strip. This is an one click action but you can also make small changes like adjusting the shadow or adding reflection after the action in ended.
Film Strip Photoshop Action Free Download
Another great Photoshop action from actions4photoshop.com that you can now download for free. You can create a film strip effect using your photo/photos with just one click using our film strip action. Simply download the ZIP file and extract the files. Install the PAT file in Photoshop and load the action.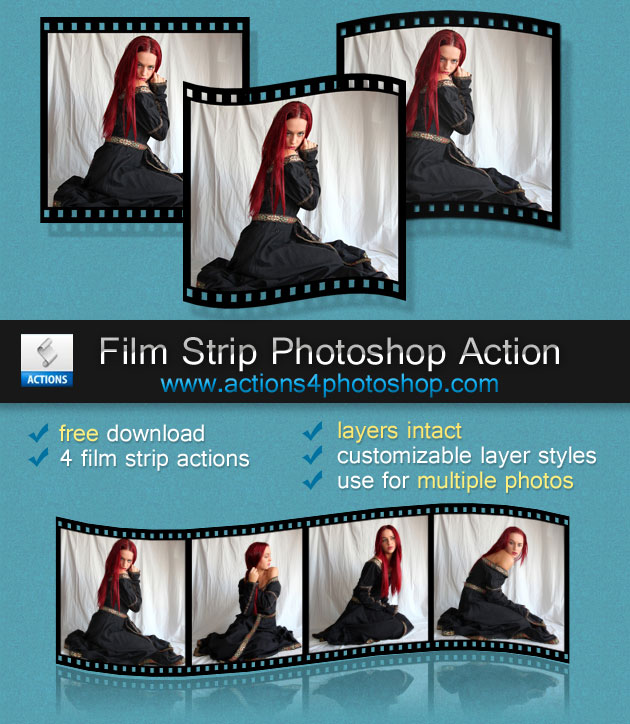 Inside the action ATN file you will find 4 film strip actions: film strip, film strip with shadow, film strip arch and film strip flag. All the action are customizable so you can change layer syles, etc. The last 3 actions use smart objects so you have to double click on the smart object thumbnail to see the layers.
The last 2 actions(film strip arch and film strip flag) have a Warp transformation; so if you want to change it simply go to Edit>Transform and choose Warp to modify the distortion.
To use this action for multiple photos (credit to faestock) simply add the photos into your canvas but make sure you arrange them on horizontal with a 20px space between each photo.
License
Free for personal non commercial use only; do not redistribute. If you feature on your blog or use it you must link back to us.
DOWNLOAD LINK
Next Post
3D Advanced Reflection Photoshop Tutorials