Discover the World of Comic Strips: From Print to Digital! Learn about the fascinating history of comic strips and how they have evolved from newspapers to online platforms. Explore editable comic strip templates, Photoshop actions, and an online comic strip maker. Unleash your creativity and start designing your own comics today!
Comic Strip Templates
Here's a quick preview of the comic strip templates contained in the package below. I find creating comic books very easy using these pre-made comic strips which you can download individually or as a ZIP package:
Comic Strip Template PDF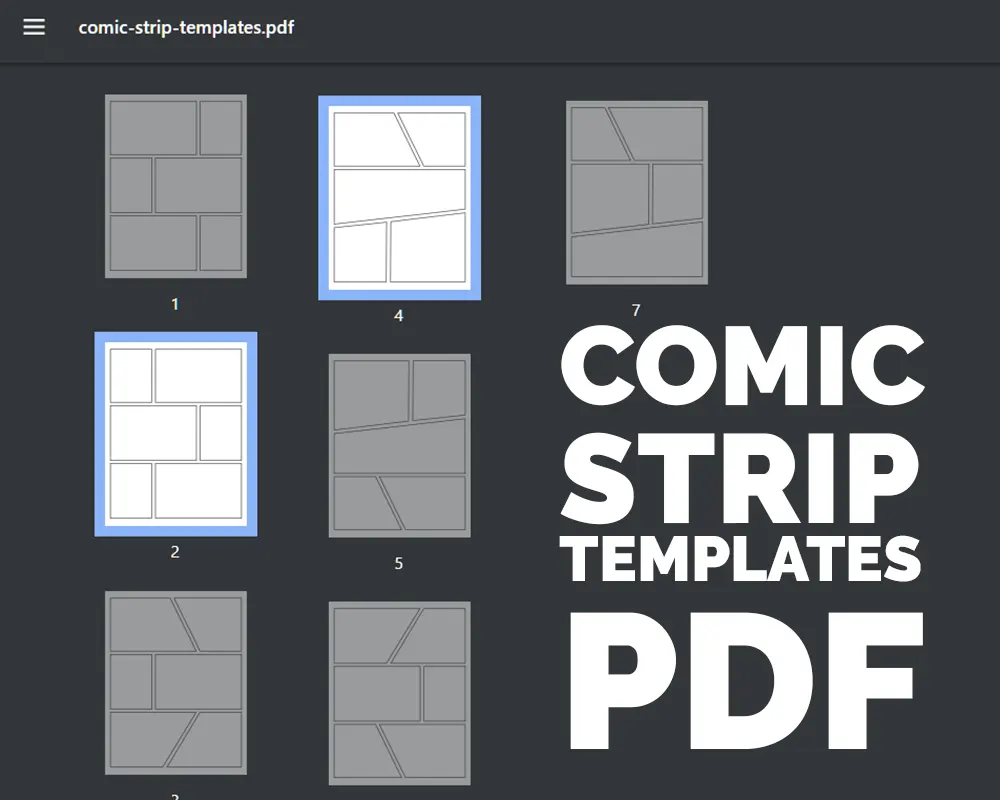 Comic Strip Template PDF
6 Panel Comic Strip Templates
What is a Comic Strip?
A comic strip is a series of one or more illustrated panels that tell a single story. As the name "comic strip" suggests, it is usually an amusing and/or adventurous story.
Originally the comic strips were printed on paper and published in a newspaper or magazine. But, now you can also find comic strips online on different websites, eBooks, etc.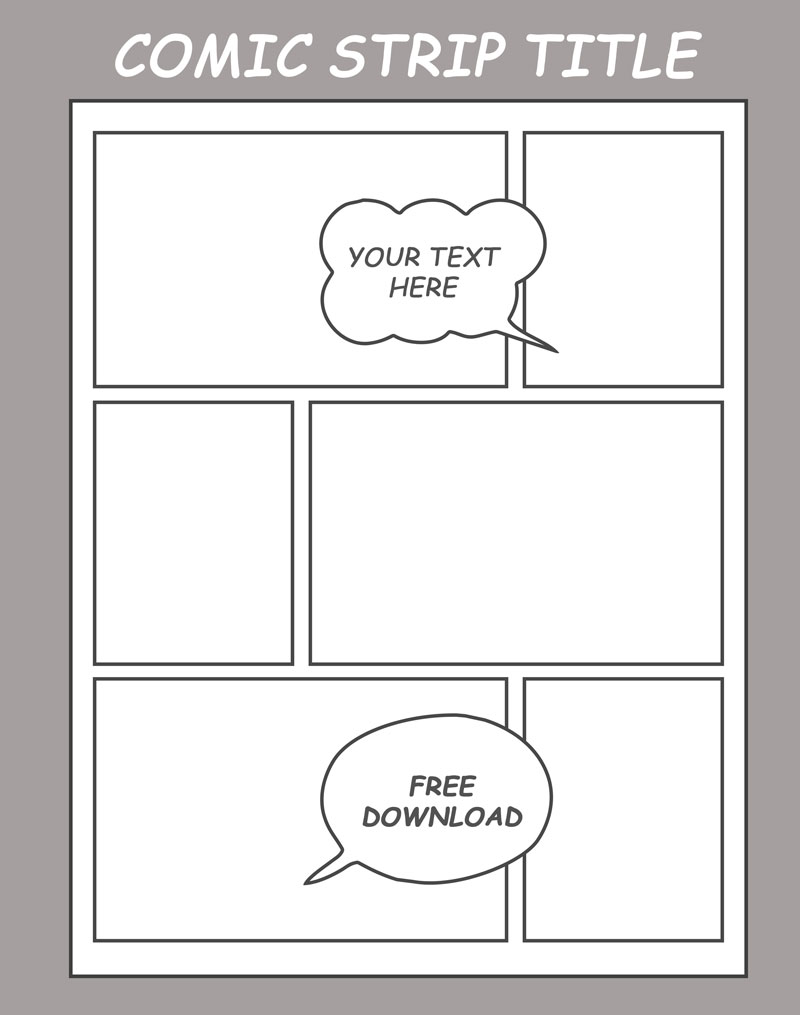 What is the difference between a comic strip and a storyboard? A storyboard is used to convey information, while comic strips are mainly humorous or just entertaining.
1. Comics Strip Template | PSD, JPG, PDF
The printable comic strip template is easy to edit and customize. Download the blank comic strip PDF for print. The 6 panel comic strip template PDF has a print resolution of 300 dpi. The comics size for this template is 8.5 x 11 inches. The comic page size in pixels is 2550 x 3300 px.
The PSD file includes 2 blank comic strip template versions with speech bubbles. In the preview you have some screenshots made with the comic storyboard template.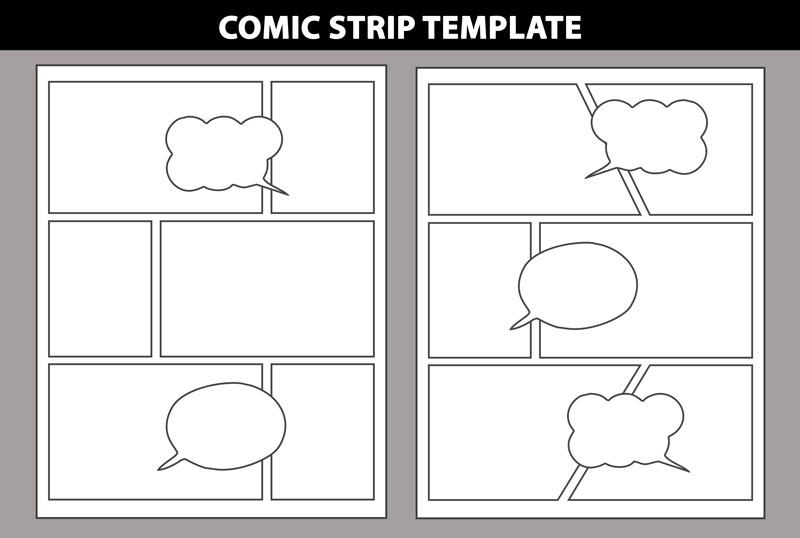 Use this comic book frame template to transform your images and to make cool photo collages. Use one of these comic book effect Photoshop tutorials to make realistic comics.
In my comic book designs I also use Photoshop comic brushes, images with comic PNG sound effects and of course halftone texture overlays.
Comic Strip Template with Pictures | HOW TO USE
To use the comic strip frame for your photos follow these steps:
Go to the Images folder
Inside the group you have 6 smart objects called "Add Image 1 Inside".
The editable comic strip template allows you to add 6 pictures inside the smart objects. So, double click on the thumbnail of the smart object to open it.
Add your photo inside
Save the Smart object and close it to see the result
Use the comic strip template to create comic book storyboards, free printable comic strips for teachers, comic strips for students, blank comic strips and other comic page templates.
Download the comic strip PSD file and open it with Photoshop. You get a comic strip blank dialogue that is fully editable, well organized in groups and has smart objects. The comic strip layout contains speech bubbles that are in separate layers. You can therefore move, rotate, resize, etc.
LICENSE: FREE for personal & commercial use with attribution
You can also adapt this design to create a manga panels template. Usually the manga layout template has a slightly different design and number of boxes. In the image below you have a list with all the comic page layout versions.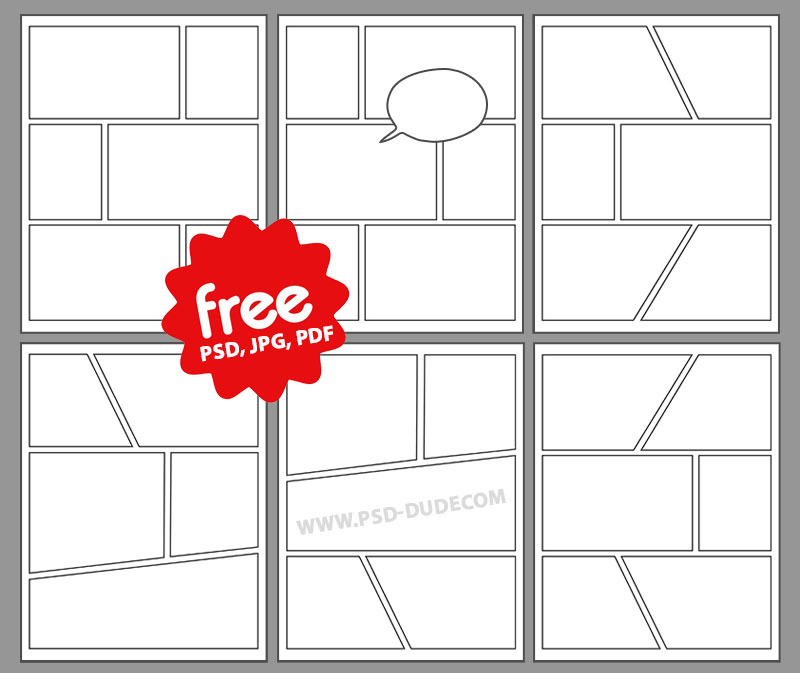 Now you know how to make comics on the computer using your own photos. The digital comic strip template is quite useful and saves you a lot of precious time.
Is this comic strip template editable? YES, the comic book layout is editable.
There are so many comic strip ideas to inspire you in creating an awesome design. If you want to use the image in another software, download the transparent comic template.
2. Comics Photoshop Action
If you want fast results use a comic effect Photoshop action. Below you have a comic book effect Photoshop action pack that you can use for awesome results.
The comic book filter Photoshop tool allows you to make all the customization that you want. A comic book Photoshop plugin usually can be used for multiple images with the Batch option.

Comic Book Photoshop Generator | ATN, PSD
The comic book Photoshop generator allows you to create comics in just a few easy steps. For only 7$ you get a Photoshop action to turn photo to comic book, plus 20 vector speech bubbles and 7 vector comic sound effects.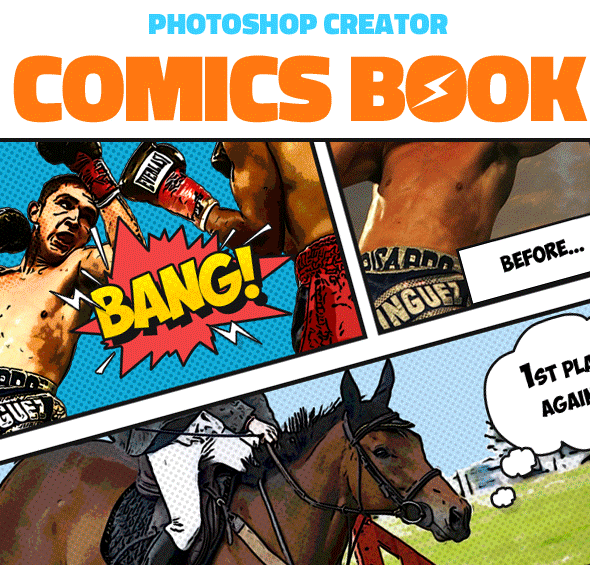 Try the comic book style Photoshop action and convert your photo to comic. Choose the comic filter listed above and create a ps comic effect. It's quite easy to convert photo to comic book style.
If you download the comic action Photoshop and you will also get comics elements like speech bubbles, comic sounds and comic panel templates.
3. Comic Strip Template Online
You don't have Photoshop? You can try the comic strips maker online available on MockoFun. This item contains a comic strip template 5 panels design. But, you can also create a 6 panel comic page if you modify the design. So, the PSD file contains a comic strip template 6 boxes design. The online version has only 5 boxes.
If you are looking for a comic panel layout generator that is available online, try MockoFun. You can download the blank comic storyboard in PDF format or you can add pictures and text.
AI Comic Generator Online
Upload your pictures and add them to the layout. If you have a premium user account you can use the AI image generator to add images to the comic book template. The images below are generated with the MockFun's AI tool. So, a blank comic book template is easily converted into a cool comics page with the help of artificial intelligence (AI). This story sequencing template is great for illustrating your comics.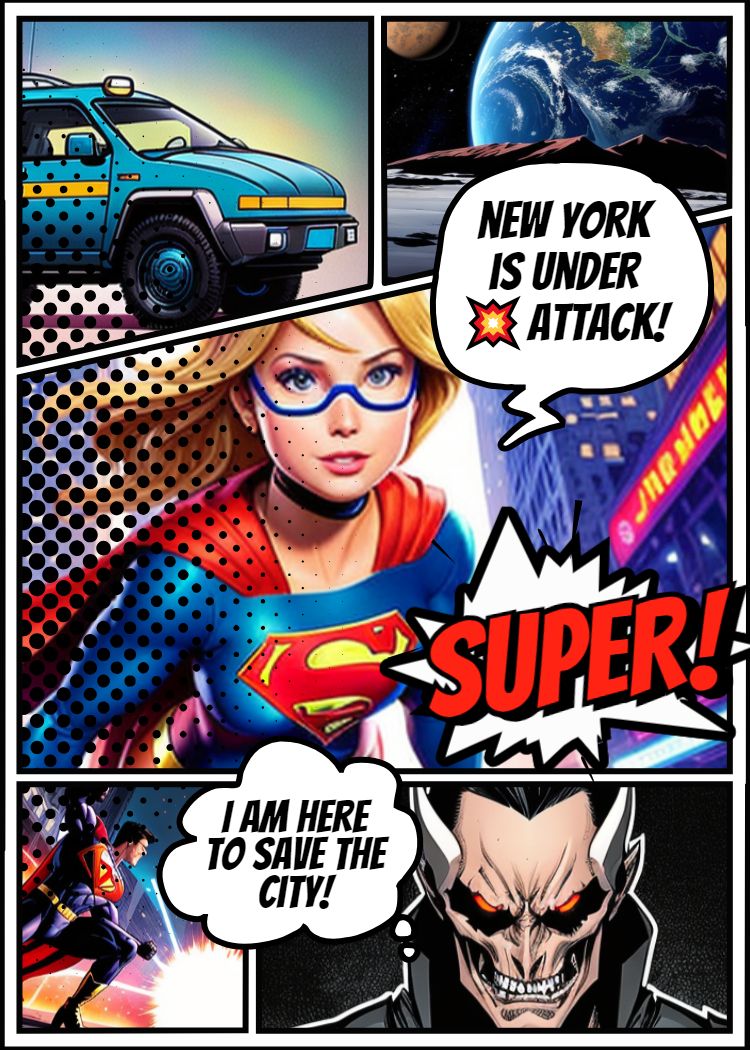 The comic strip template with speech bubbles has the elements in separate layers, similar to Photoshop. Go ahead and try the comic strip maker and all its cool features!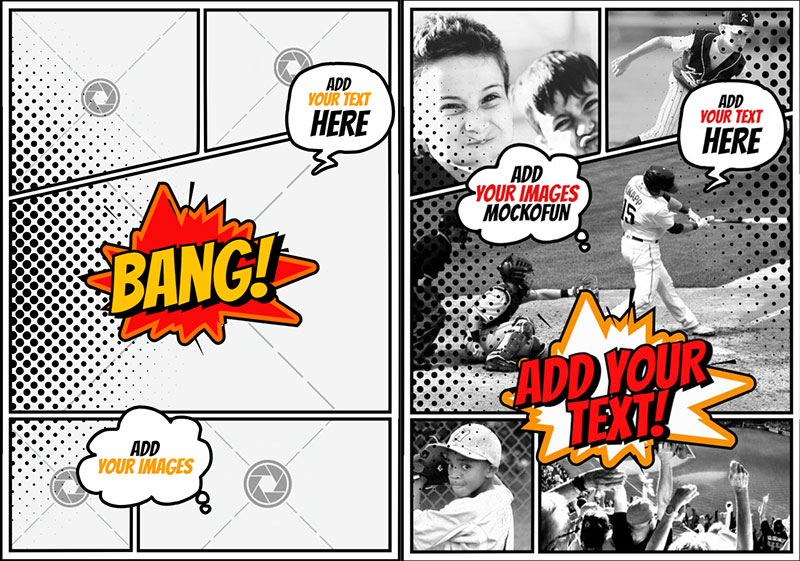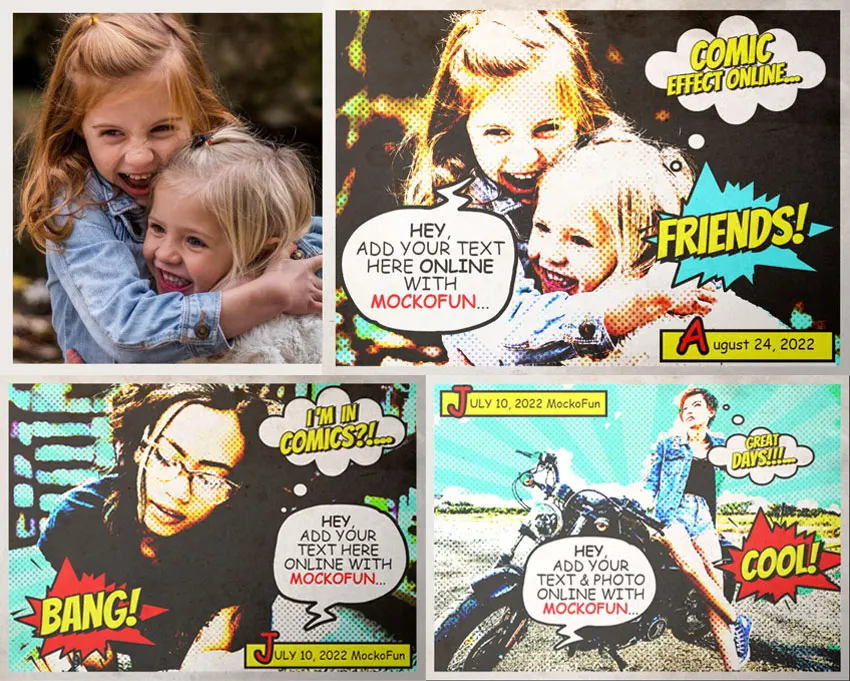 MockoFun Photo Effect Online: Photo to Comics
Types of Comic Book Panels
There are three main types of panels in comics that you can use:
Horizontal Panel: A horizontal comic strip template is a long and rectangular, often used to show a landscape.
Vertical Panel: A vertical comic strip template is a tall and skinny rectangle, often used to show simultaneous events like several character reactions side by side.
Inset Panel: An inset comic strip template is when one panel is within a larger panel.
In Conclusion
Now you know how to create a comic strip template using these cool graphic design resources. You can choose to use Photoshop or you can do all your design online with MockoFun. Download the comic strip pages and create a personalized book.
Next Post
How long does it take to learn Photoshop