Here is a brand new set of social media icons made as wood heart. The set contains 12 social icons for the most popular social networks: facebook, google plus, twitter, deviantart, and so on. The icons are saved in PNG format with transparent background so you can easily integrate them with any website design. The icons look very good on a dark background and also on a light background.
All our registered users can download the social icons for free and use them in personal non-commercial projects. A link back is required. I hope you like our new heart wood social icons and decide to use it for your website.
If you are interested in downloading other interesting social media icons check out our social media icon packs. If you are interested in a wood textured icons we could recommend you this set of Wood Icons for Website Design.
This pack contains 11 social icons for the most popular social networks. In this pack you will also find an empty
wood heart icon
so that you can create your own social icons for the social networks that are missing.
Wood Heart Social Networks Icons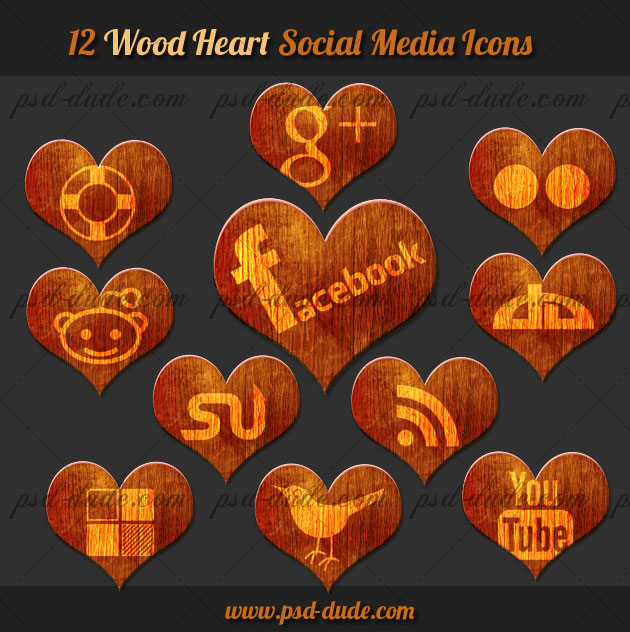 License
These PNG files are free for personal, non-commercial use only. You are not authorized to redistribute, resell without our written agreement. Do not claim these files as your own.
Because many of our resources are free for download, we ask that you give us proper credit with a link back to our blog. If you are interested in commercial license, contact us.
If you want to insert a heart symbol 💜💘♥💔❥❣ in your blog posts, text messages, social media, check out this list. Simply copy paste the heart text symbol.
To add text on photos and to write name on heart online check out these editable templates.