Grab this new Photoshop freebie and display your photos adding a retro vintage look. The freebie includes 2 PSD files with layers intact that you can customize as you wish. You can display up to 4 photos using the vintage photo frames but you can easily add more images by duplicating the smart objects.
This photo frame template is a absolute must have if you want to create that old aged photo effect in Photoshop with just a single image replacement. The grunge old photo effect can be also customized.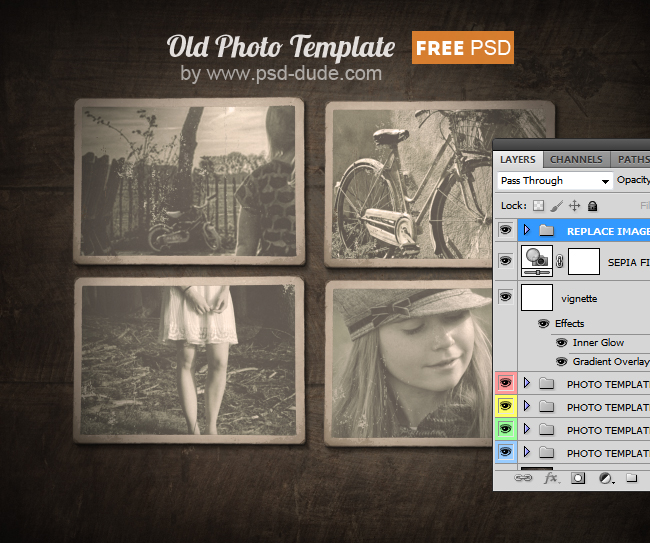 Vintage Old Photo Template - Free PSD File
The pack contains 2 old photo mockuups with free PSD files that you can use to display your photos. The PSD comes fully layered with layer styles intact so you can customize it to your liking. Here are just few of the features of this mockup:
2 Old Photo Templates (fully layered PSD files)
easy to edit and customize using non-destructive Adjustment Layers
change the color tones via Photo Filter
add your own photos inside the smart objects
move and rotate the photos to create different templates
size: 1300x1100px
To create an old photo effect in Photoshop you can use old paper textures, grunge textures, dust and scatches.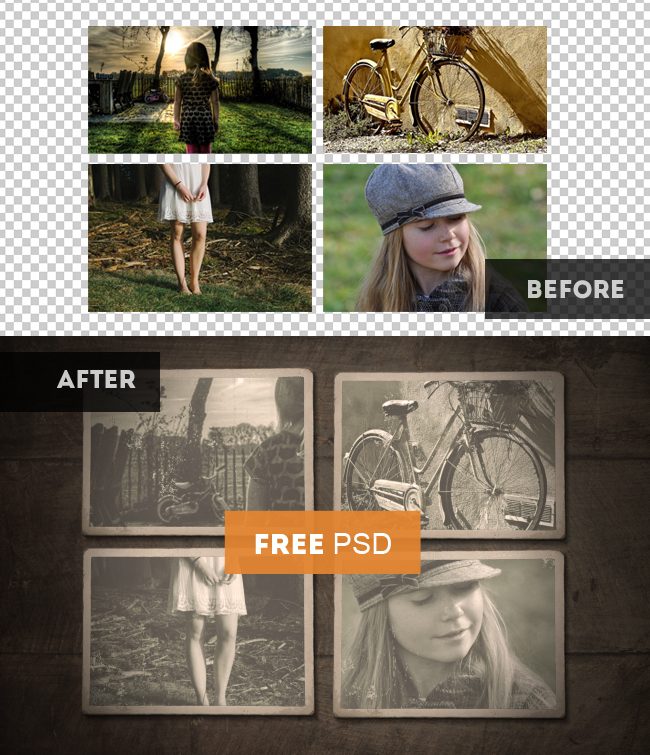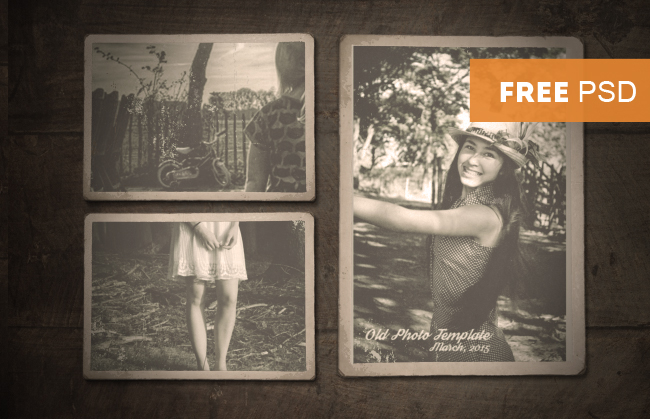 License
This PSD mockup is free for personal and commercial use with attribution. The PSD file can not be redistributed on other websites. Images used in this mockup by Diego da Silva
DOWNLOAD(25MB)
You can also check out this premium Photoshop actions for creating photo effects with 1-click. The vintage old photo include effects like vintage colors, dust and scratches, torn ripped paper, torn corner, etc.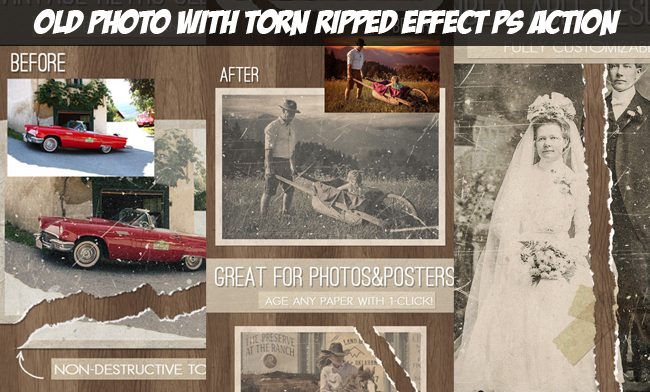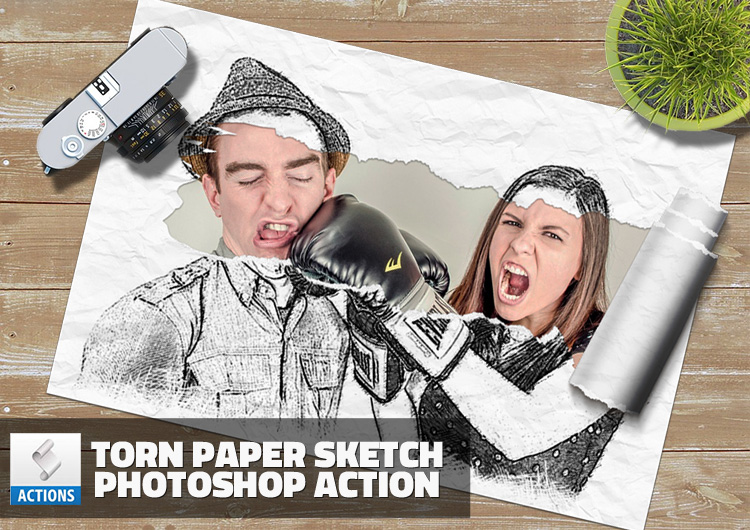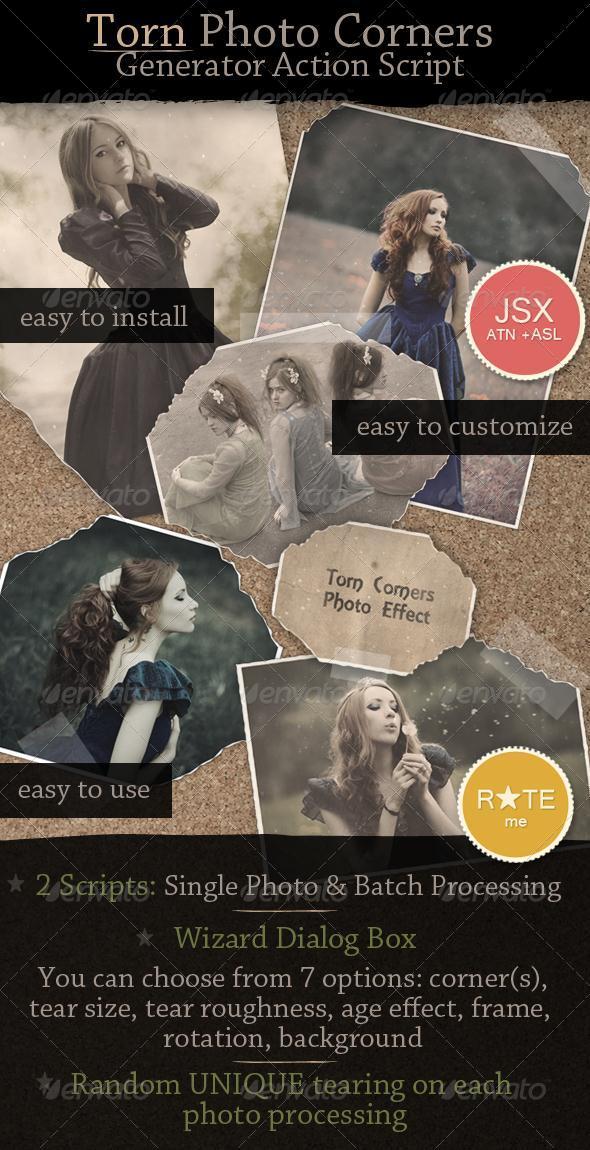 You can use vintage photo templates like this one to make old vintage photo effects. You can also check out these cool vintage effect Photoshop tutorials to see the process behind these actions.
You can check out this free Vintage Paper Texture pack from PhotoshopSupply if you want to create your own old photo effects. And if you are looking for more effects like this, download the Sepia Photoshop Filter action.
Vintage Photo Editor Online
So, if you don't have Photoshop, you can make old photo effects with MockoFun online photo editor quite easily. Check out the article about the photo editor vintage if you want to make old vintage images online.
If you are looking for other cool photo effects, check out this list of online photo effects that you can use for your pictures.
MockoFun is probably the best free photo editor online with more than 50 non-destructive photo filters, photo overlays and photo effects.
If you want to learn how to add border in Photoshop check out this quick tutorial for beginners.
BONUS: you get a free Photoshop frame action that includes 9 actions for framing photos.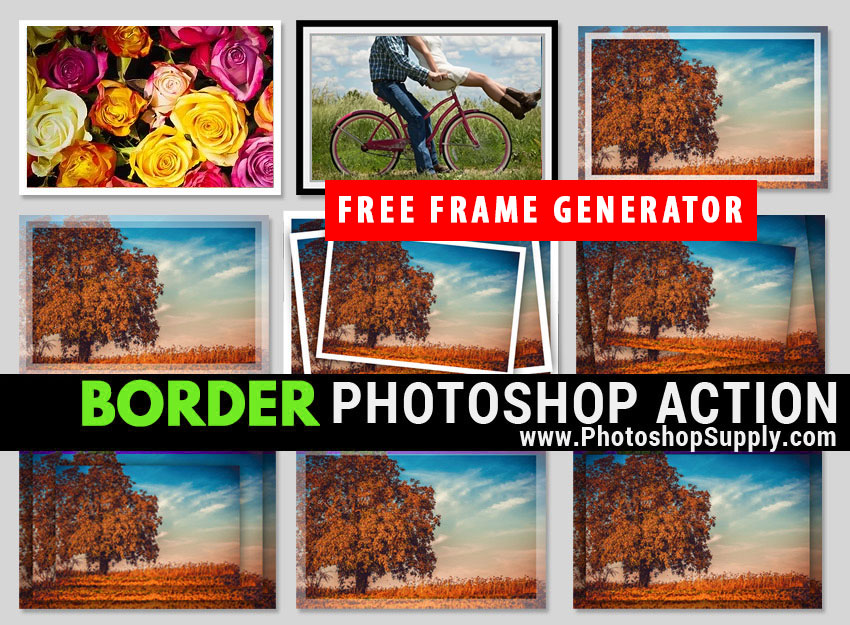 Frame Photo Online [FREE]
If you don't have Photoshop, you can try MockoFun online photo editor which is a free Photoshop alternative. MockoFun is a great tool for magical photo editing online. It has lots of cool features that you can use for free.
Make your pictures more creative in just a few easy steps! You don't need advanced photo editing skills to frame a photo online.
A photo in itself is a work of art, but there's just something about a framed photo that makes it even more impressive.
TUTORIAL: So, if you want to learn how to frame photo online check out this quick tutorial. It's really simple to add frame to photo online. You can do it in 3 simple steps without advanced photo editing skills.
Next Post
Retro Text Effect in Photoshop Free PSD Mockup