Resources / Icons , January 15th, 2011
These Twitter Bird Icons are free to add on your blogs and websites, to get people to follow you on your Twitter account. I made the twitter bird wear a tall hat because I thought it looks very funny this way! The twitter icons are in PNG file format.
I hope you like it!
In today's freebie pack I have decided to give you 4 free similar twitter icons, available in PNG format. You can use it on your blogs or websites for convincing people to follow you on twitter. I am planning on creating other twitter birds if you give me a good feedback on these!
FREE License: We are giving away these icons for free, all we ask is to link back to our site http://www.psd-dude.com!
Enjoy!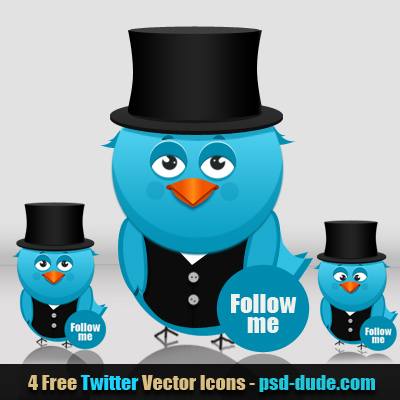 *Redistribution of These Files is Not Allowed!

Download Twitter Bird Icon Pack pack and don't forget to share
(274 KB)
Find more Photoshop resources...
Recent Posts
In this tutorial we are going to create a cartoon landscape with a cute Easter rabbit driving a carr...
I was always a big fan of fairy tales like the ones written by Hans Christian Andersen or Grimm Brot...
The best fantasy fairy tale inspired Photoshop tutorials that you might want to bookmark. This colle...
This is a new collection of free textures for Photoshop that you might want to have. The list contai...