If you want to create denim effect in Photoshop you can use this free action generator. With one click you can create jeans texture effects from text, shapes or any raster layer. The action includes a jeans pattern maker to create the denim texture. You can customize the result by changing the colors.
Stitched Jeans Photoshop Free Action
Our new Photoshop freebie is a free Photoshop action that will help you create realistic stitched jeans denim effect with just a few clicks .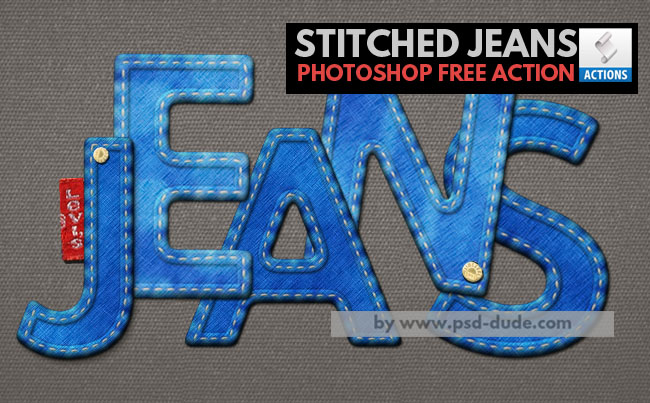 How to Use it
Login to download the ZIP file. Inside you will find an ATN and ABR file that you have to load in Photoshop.
Open a new PSD file and add a text or shape layer. Make sure you have only one layer. Play the "stitched jeans by psddude" action.
You have all the layers intact so you can customize the jeans effect by changing the color of the denim and the color of the stitch.
License
This file is free for personal and commercial use with attribution to our blog. Do not redistribute the file on other websites. You will have to join our community(free registering) to download the file(s) for free.
DOWNLOAD!(4kb)
If you are looking for a more detailed and realistic denim effect you can try this Photoshop premium action. The pack includes jeans effect, leather effect and also denim jeans metal accesories and labels.