Download this free icon collection with beautiful Sea Sand Beach Social Icons. It is a really sunny icon pack perfect for all kinds of website designs but especially for travel website templates.
I am waiting for your feedback and please share with your friends if you like it. They are free for personal non-commercial use with link back to our blog. For commercial license you have to contact us.
This is our second free social icons collection and I since PSDDude is going on vacation I thought that it would be a good idea to make a Sand Sea Beach theme inspired icon pack. Hope you like it and it would be nice to hear from you, if you use it in your web site designs.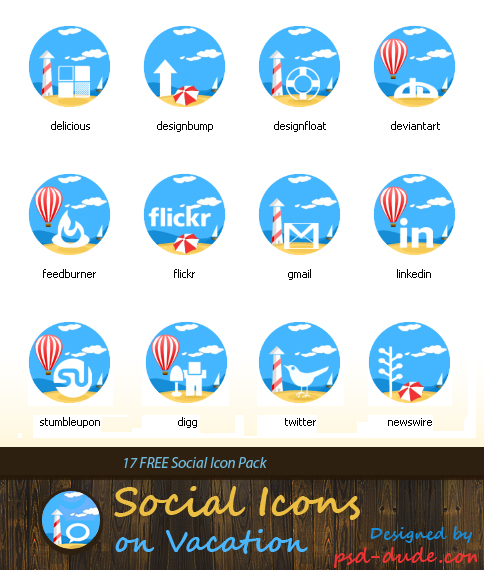 Here is a color theme suggestion that I propose. I think that it's very important to choose the right background color for certain icons in order to get the highest visual impact. These icons also work well with the colors bellow combined with various textures like in the presentation image.


PSDDude's color theme suggestion for Sea Sand Beach Vacation Social Icon Pack
This set contains 17 social icons in .PNG format, size 128 px, for the following social networks: Delicious, Designbump, Designfloat, DevianArt, Digg, Diigo, Facebook, Feedburner, Flickr, Gmail, LinkedIn, NewsWire, Reddit, RSS Feed, Stumbleupon, Technorati and Twitter
License: Free for personal and commercial use, you have to be registered to download. If you use it you have to put a link back to our site. Redistribution of this pack is not allowed.
Next Post
Amazing Collection Featuring The Most Beautiful Pattern Designs