A nice way to present your images is by using a display frame like a polaroid or a film strip. So to help you I have made this polaroid template which contains 6 individual polaroid frames. You can use the all 6 frames and maybe rearrange them(rotate/move).
Your image/photo is placed inside a smart object for easy editing. It has also a clipping mask so you can rotate, transform, move the image as you wish.
Download for free this polaroid PSD template. The PSD file has all the layers intact so that you can easily change the layer styles and customize it to your liking. Plus this is a vector polaroid template meaning that it has only vector shapes inside that you can resize easily without loosing quality.
After you give this polaroid template a try, make sure you check out this huge collection of free polaroid template PSD files.
Inside the file you will find 6 groups named polaroid by psddude; each group contains a smart object named your image. All you have to do is to open only one of the smart objects and to paste your image inside. The remaining 5 smart objects will automatically update. credit: image used in the preview.
Polaroid PSD Template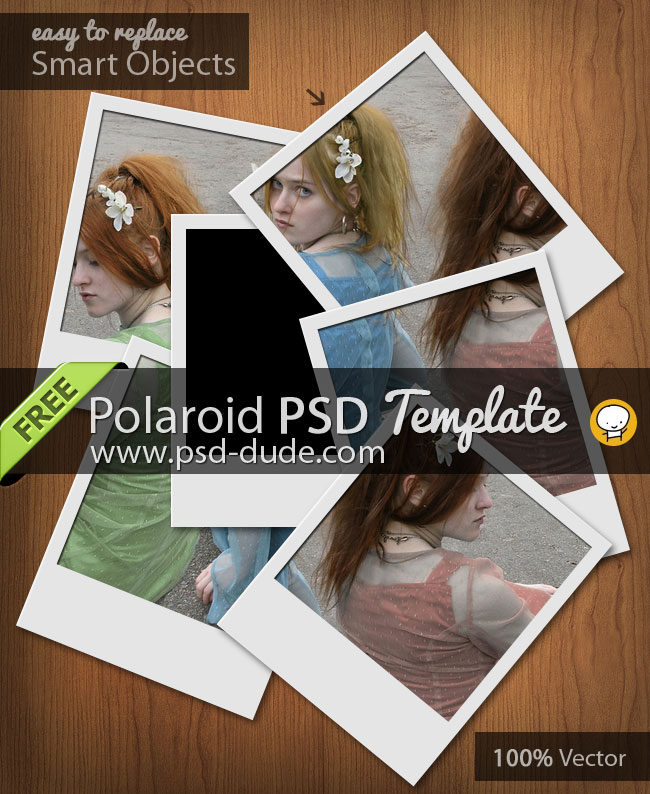 License
This PSD file is free for personal, non-commercial use only. You are not authorized to redistribute, resell without our written agreement. If you feature these shapes on your website, you have to put a link to this page, not a link to the PSD/ZIP file. Do not claim this file as your own.
You can also check out this awesome Photoshop effect with polaroid dispersion. This is an unique Graphicriver Photoshop action.