Huge collection of old vintage paper textures that every designer must have. The list contains free old paper textures that you can use in your projects. Crumpled and wrinkled paper, watercolor paper, ripped and folded paper, vintage and grunge paper, dirty aged paper and many more textures can be find inside this list. These dusty old paper textures are hand picked from Deviantart and Textures4Photoshop, so the quality is great and they are ready to be used in Photoshop.
These vintage textures are awesome design assets when you want to create old looking designs. Make sure you also browse our grunge texture collection as you might be able to use those togheter with the following old paper textures.
Download these old paper textures for free and use them in your projects. The paper textures are in JPG file format but you can also find some useful PNG textures with transparent background.
Use the old paper textures with these stain Photoshop brushes and these Signature fonts to make an old manuscript. If you don't have Photoshop, you can use MockoFun which is an online graphic design software that you can use for free. It's a great Photoshop alternative. There you can find lots of old paper textures that you can blend with your photos.
Create sepia tone in Photoshop with this free Photoshop action. With sepia filter you can create old vintage photo effects really quick and easy!
You can use old paper textures to make old vintage photo effects. Check out these cool vintage effect Photoshop tutorials.
You can check out this free Vintage Paper Texture pack from PhotoshopSupply if you want to create your own old photo effects. And if you are looking for more effects like this, download the Sepia Photoshop Filter action.
So, if you don't have Photoshop, you can make old photo effects with MockoFun online photo editor quite easily. Check out the article about the vintage photo editor if you want to make old retro images.
If you are looking for other cool photo effects, check out this list of online photo effects that you can use for your pictures.
MockoFun is probably the best free photo editor with more than 50 non-destructive photo filters, photo overlays and photo effects.
Scrapbook Backgrounds and Textures
Use these beautiful scrapbook backgrounds can be used to make a collage composition, a bullet journal background or a scrapbook template. In this article you will find lots of useful information on how to create a scrapbook from scratch.
To make the things easier, you can try this scrapbook template that you can edit online. Add your photos, change the text, choose the scrapbook fonts that you like and so on.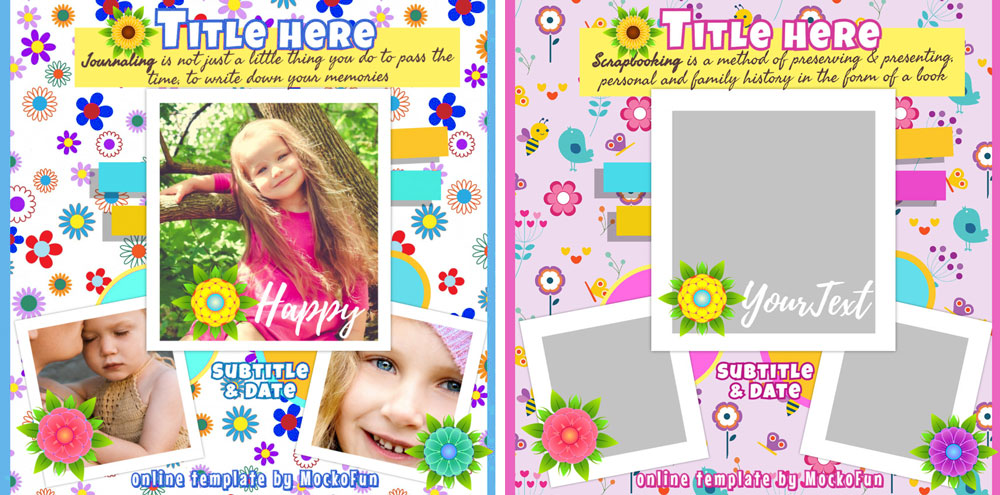 Next Post
Sticker Photoshop Styles and Actions