Here is a new Photoshop action from actions4photoshop website, the only site focused entirely to actions that are hand picked and verified by the editors. Todays free action is a halftone generator that adds a halftone pattern over your images. A simple yet effective action that I hope you will enjoy.
Download this free halftone texture pack (JPG, PNG, PAT)
To make comic book effects you can either create your own halftone texture/dots texture or, you can download one of these pre-made halftone textures from PhotoshopSupply.
Simple Photoshop action that allows you to add a halftone pattern to your images in just a few seconds. The action comes in two versions; the first action adds a dot pattern and the second one adds a check pattern. This is a rather basic action because all it needs is a Photoshop Filter and I am talking about the Halftone Pattern filter from the Sketch menu.
The halftone effect is very versatile and can be used in many graphic design styles. For example the halftone effect is often used for comic books and comic illustrations. I used it in one of my tutorials to create a comic text effect. Beside comics, the halftone can be used for newspaper illustrations, political posters, magazine illustrations and so on.
Halftone Photoshop Action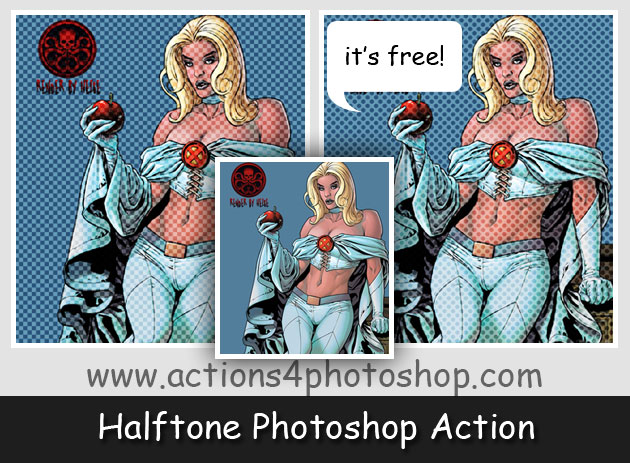 The image above is the a before/after preview of this halftone action. Just open your image and play action and the pattern is added over your image. The layers are not merged so you can easily adjust the opacity of the halftone pattern. The girl from the preview is Emma Frost (fictional character who appears in comic books published by Marvel Comics); I also added a speach bubble to the original image.
License
This ATN file is free for personal and commercial use with attribution. You are not authorized to redistribute, resell without the author written agreement.