I enjoy making web icons and playing with different styles and textures. There are thousands of free icons available on the internet and some of them are truly works of art. For this time of year the most popular icons are the Christmas inspired icons.
So I've made these cute gingerbread icons for me and my friends, that you can now download for free, to decorate your blog in time for Christmas. There are 11 cake icons for some social networks like twitter, facebook, deviantArt, etc. And also you can find winter season icons like gingerbread house, star, Christmas tree, snowman and gift icons. Hope you like them!
After releasing the Cake Icons for Social Networks, here is another icon pack with cute Christmas gingerbread icons degined by psddude. If you are interested in other free icons for this special season, you can check out these Christmas Icons That You Must Have
Download for free to decorate your blog in time for Christmas. You have to be registered to download this set of Christmas icons.
License
These PNG files are free for personal and commercial use with attribution. You are not authorized to redistribute, resell without our written agreement. If you feature these icons on your website, you have to linkback to our blog.
Gingerbread Icons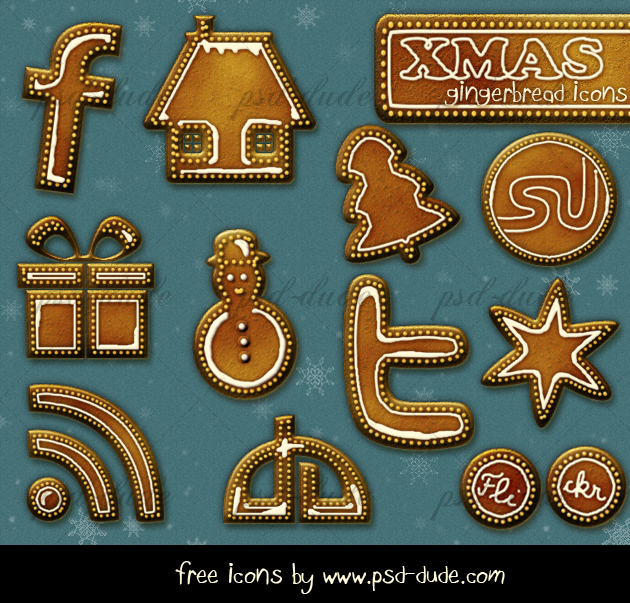 This pack contains 11 PNG icons(size: 256x256/128x128) and a TXT license file. I hope you'll find them cool enough to share it with all your friends. .










You can check out this awesome list with over 25 free Cake Fonts that you can download and use for commercial projects. Use the cake fonts online with the MocoFun text editor or install the fonts on your computer and use them in Photoshop.
Try also this cute Gingerbread font that you can use online with MockoFun.
Did you know you can use online tools like MockoFun to combine Christmas vector shapes with text and create some amazing Christmas cards? MockoFun provides pre-made templates for Christmas cards and even an awesome list of over 50 Christmas fonts that you can use online or download for free to use in Photoshop. Combine Christmas fonts with text symbols like a star symbol for example.
Check out this tutorial on how to use the online Christmas Card Maker and all the awesome features that MockoFun has to offer.