Download for free this action that helps you to fold paper in Photoshop in just a few seconds. This 1 click action creates a folded paper effect using your own photo, layer, blank canvas, etc. You can even apply it to text layers or vector shapes but you have to raterize it first. Fold paper or fold photos with this new action.
It is really easy to Fold paper in Photoshop if you use our new free action. If you need to fold paper in half with just a single click download this action for free. After you click the play button, the paper is folded in half on vertical and horizontal scale. You obtain four layers: the background, the original paper/photo/etc, the horizontal fold and the vertical fold. All the layers have the layer styles intact so you can easily change opacity, shadow, colors and so on.
Photoshop actions are really useful resources and can save you a lot of time. We hope that you will find this paper fold action just as useful as the other actions. Don't forget to check out our previous fold brochure action.
Fold Paper Photoshop Action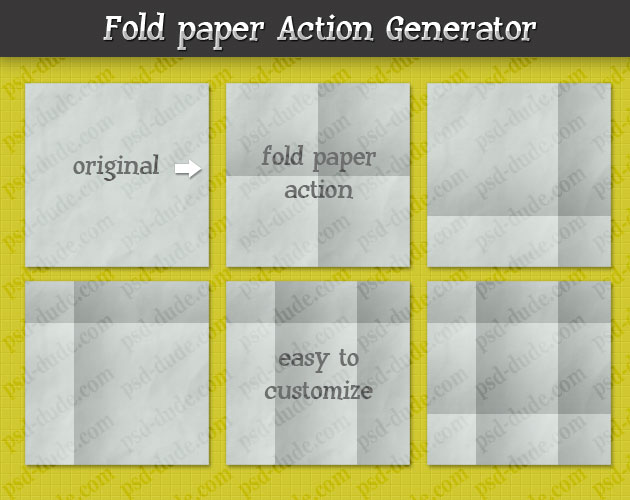 The ATN file contains 3 folding paper actions depending on the starting layer choose one of the actions. Every action has a message that explains how to use it properly. If you remove the Stop message the action can be easily used with batch option to save even more time.
In the image below you can see the before/after playing the fold action. If you want to customize it and obtain more folds, simply duplicate the horizontal/vertical fold layer; open the layer style window and move the gradient as you wish. You can obtain as many paper folds as you wish. Change the Angle of the Gradient Overlay and you will obtain oblique lines.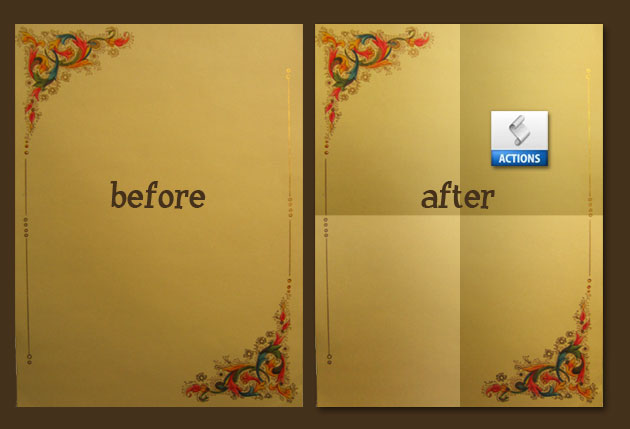 Folded Paper Photoshop Action License
This ATN file is free for personal, non-commercial use only. You are not authorized to redistribute, resell without our written agreement. Do not claim this file as your own. Because many of our resources are free for download, we ask that you give us proper credit with a link back to our blog.
About the Author Of This Photoshop Fold Paper Action

Daniel is a young freelance Graphic designer, very pasionate about so many design related areas. He just launched his second website Actions4Photoshop, that is actually a new website aiming to become the biggest collection of Photoshp actions around the internet.
Next Post
Create Neon Effect Photoshop Tutorials