This vector psd flower is an exclusive PSD file, that was kindly offered to us by our friend Ioan Decean. The PSD flower has all the layers intact so you can see exactly how it was made.
The photoshop flower and the flower pot are made from vector shapes placed in different groups so you can easily change color and other settings. Free download for all our registered users.
If you want some other flower Photoshop related resources you can also check out our previous posts: flower patterns and flower brushes.
About the Author of this Vector Flower PSD File

Decean Ioan (better known by his friends as Nelutu) is a talented 30 years old graphic designer from Romania. Among his hobbies are martial arts, computers, drawing and of course digital art. You can check out his personal blog www.ioandecean.info where he publishes lots of free PSD files. You can contact Nelutu, get in touch with him and become friends on different social networks like deviantart or twitter.
Nelutu has also some premium files for sell on graphicriver, so don't forget to also check out his GraphicRiver Portofolio. And last but not least he is a player on dribbble.
Flower PSD License
This PSD file is free for personal and commercial use for all our registered users. Do not redistribute or sell this file. Do not claim it is your work.
Flower PSD Vector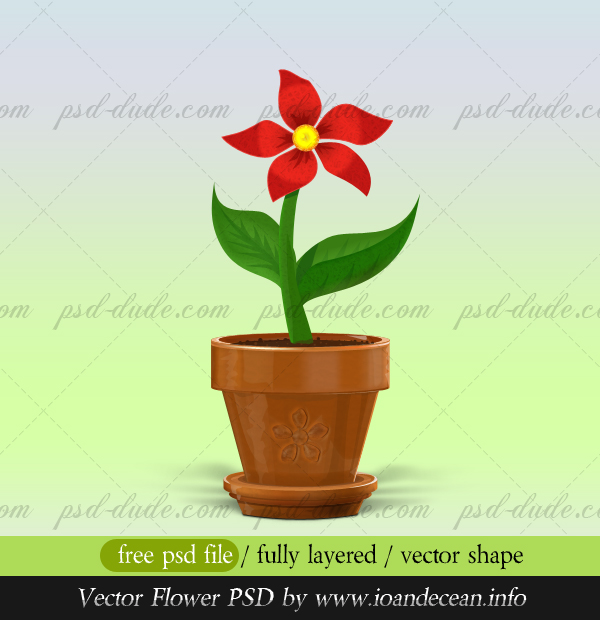 Flower PNG
If you just want this flower image without downloading the PSD file you can get these 4 PNG files with the flower in different color versions. There are 2 sizes, 512x512 px and 256x256 px. As you already know the PNG file allows you to save the image with transparent background so you can easily integrate it in your design.
Next Post
Price tag icons with free customizable PSD file