Hi, I was playing the other day with the idea of making a clock icon and because the result looked very nice I have said to myself why not making a free clock social icon pack for my friends?
As some of you already know I have an obsession for social network icons, so I have created 6 clock icons customized for Twitter, Reddit, StumbleUpon, Rss, MailRss and of course Facebook.
Free download for all our registered users. If you decide to use these icons please don't forget to put a link back. Enjoy!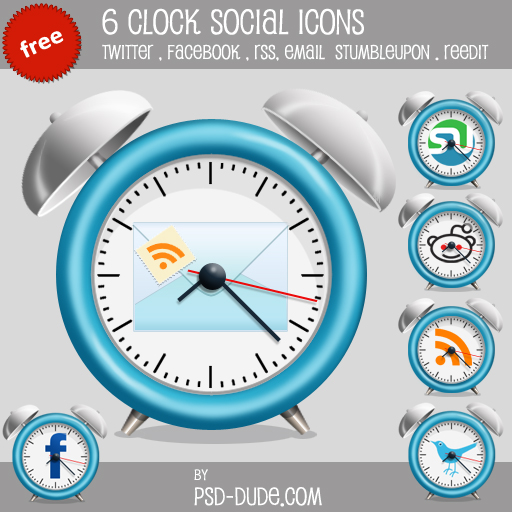 Free Clock Social Icon Pack - photoshop resource by psd-dude.com
Terms of Use
Free License
- Use our Works with the Free License if you agree not to modify, distribute or sell the Icons. All you have to do is put a
publicly accessible back-link to our Website: http://www.psd-dude.com
*this pack contains 6 social icons available in sizes 512x512 and 256x256, .PNG files, for Twitter, Reddit, StumbleUpon, Facebook, RSS and RSSMail. You may NOT redistribute/sell them as is. If you have any questions please contact us here: here.
Previous Post
Beautiful Collection of Photoshop Christmas Brushes and Vectors
Next Post
Xmas Space Theme Wallpaper for Your Desktop