View on YouTube: How to Create Vintage Old Photo Effect Online
You can transform any photo into an old vintage photo effect online using MockoFun. You don't need Photoshop for this. And it's FREE 💰💰💰!

In this tutorial I will guide you through all the steps to transform any photo into an photo that has a cool retro look.
Vintage Photo Editor
To check out all the filters and settings available in MockoFun read the vintage photo editor full guide.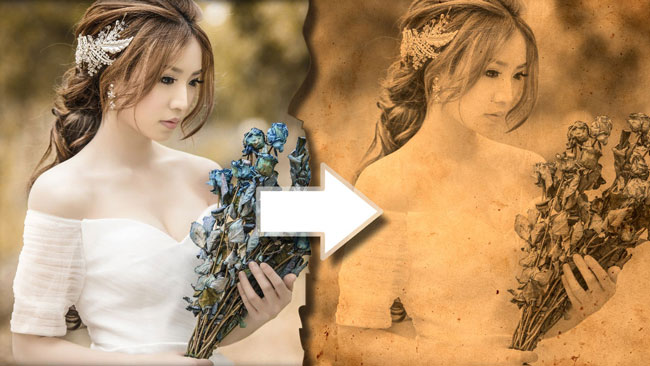 Upload Your Photo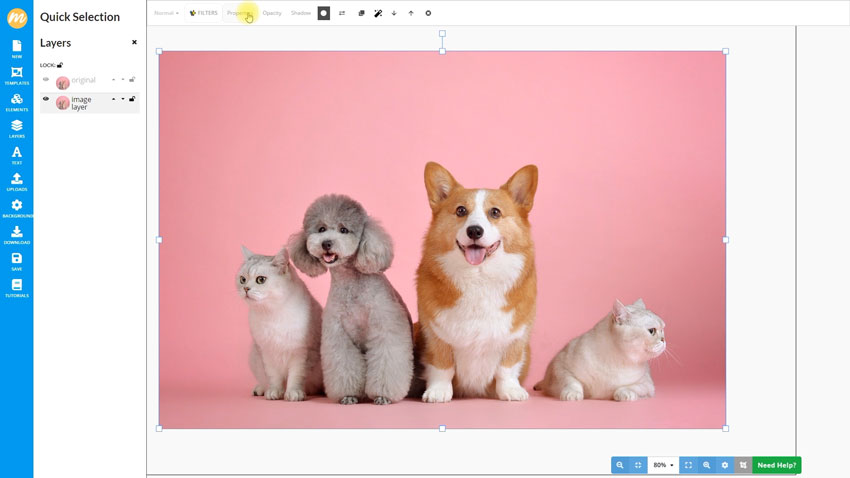 You can upload your own image or use one photo from the free MockoFun stock image gallery.

Simply add the photo to the work area and then go to layers. Just like in Photoshop you can duplicate layers and rename layers. In the tutorial I'm creating a copy of the original layer and rename it to "Old Photo Effect". That is the layer I will work on to create the vintage effect.
MockoFun Photo Filters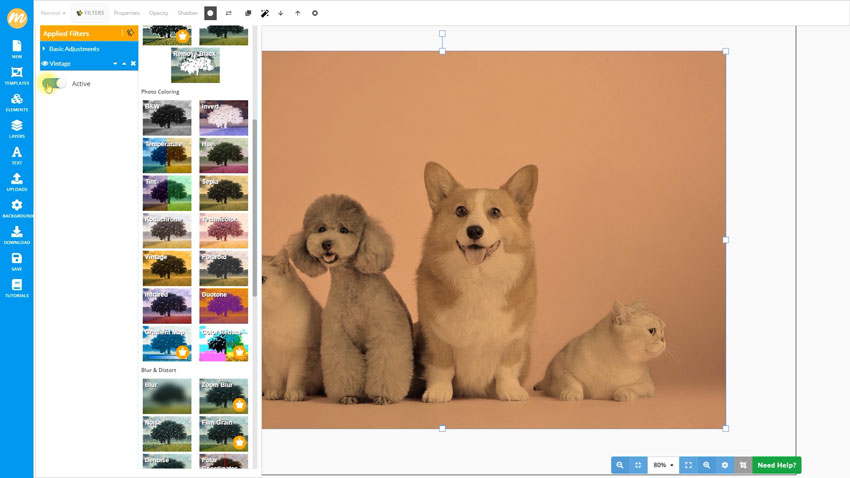 MockoFun contains over 50 excelent photo filters that can be used in comination on a photo. The filters allow making non-destructive changes, just like in Photoshop when working with Smart Objects. The photo filters have individual settings that can be adjusted in real-time, you can re-arrange the filter order or turn them on and off.

For this old photo effect I will use the Hue adjustment, Brightness and the Vintage photofilter on the original image. To create a more realistic old photo look I will also decrease the Contrast to create a faded photo effect.

When following the steps in the tutorial you can go back at any filter and adjust the filter settings depending on the photo you used.
Grunge and Old Vintage Overlays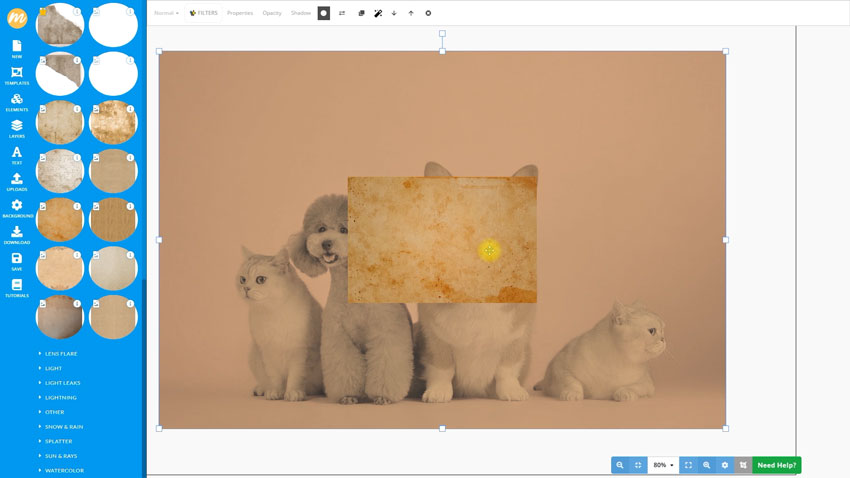 MockoFun has a dedicated Special Effects section where you can find effects and overlays like:
bokeh lights
dust and scratches
fire and smoke
light leak overlays and lens flares
grunge and old vintage overlays
etc.
From the Grunge & Old effects category I chose one of the beautiful old paper textures for this tutorial, but you can experiment with any other texture you like. MockoFun offers free texture overlays from Textures4Photoshop plus other unique textures. You can even upload your own textures. For over 150 different choices I highly recommend this old paper texture collection.

After adding the old paper texture over the original photo, just like in Photoshop you can use Blending Modes like Multiply, Screen, Overlay, etc., blend the two images together and enhance the old photo effect. For this effect I chose Multiply and also reduced the opacity of the old paper texture a bit.

MockoFun allows applying photo filters to any image in the work area, so you can also apply filters to the vintage paper texture.
Replace Image With Your Own
All designs you make in MockoFun can be saved in the cloud and you will be able to load them when you come back to MockoFun. Also, if you create an effect that you like, for example this old vintage photo effect, you can re-use the effect on a different image simply by selecting the layer called "Old Photo Effect" and choosing the Replace Object button. Then select a different image and the app will replace the image but keep all the filters and filter settings.

The final result of the old vintage photo effect can be downloaded as a JPG, PNG or even 300dpi print-ready PDF with just one click.
Conclusion
In my view MockoFun is one of the best online photo editing tools available and I hope you give it a try.

Don't forget to subscribe to this channel for more video tutorials like this one! SUBSCRIBE