Write for Us
If you have teaching skills and want to share your knowledge with the others please send as a note. We are interested in all kinds of design related articles but most of all we are interested in Photoshop Tutorials and Photoshop resources like Brushes , Patterns, Custom Shapes and so on.
Unfortunately we can not pay you but we offer you the chance to show your skills. Every article has an "About the Author" place where people can find more about you. You will also get a link to your website, twitter and facebook accounts etc. What else? Well if you have an item for sell on sites like graphicriver.net for example we can add a presentation article on our site so you can get more exposure!
Learn how to create a Movember Flyer in Photoshop using simple photo editing techniques. Add glasse...
A supermoon is the coincidence of a full moon or a new moon with the closest approach the Moon makes...
Start working like a professional graphic designer by adding these amazingly useful graphic design r...
Learn how to create an isometric 3D text effect in Photoshop in just a few simple steps. For this tu...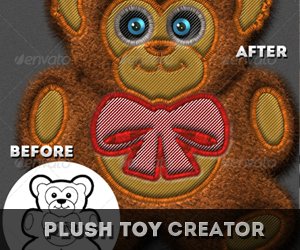 You can create amazing gold text effects by using these unique gold Photoshop styles, both free and ...
If you want to know how to create dispersion effect in Photoshop in a easy way, here is a quick solu...
Today's Photoshop collection of resources includes some amazing packs of metal chrome PSD text style...
In today list of free textures for Photoshop I have gathered over 100 amazingly beautiful wood textu...
There's something about ribbons that just looks good. I thought about making this Ribbon Vector Free...
I have decided to create a new character from Alice in Wonderland and I hope that maybe someday to r...
To create a Comic Book Effect in Photoshop we have to mix all sort of filters and blend them togethe...
Stitching and sewing can be created also in Photoshop with very realistic results. So in this tutori...
Hello girls and boys! Today i want to make a cartoon rainbow... i really hope you will like it! ...
In this tutorial I will show you how to create a 3D map in Photoshop using different 2D and 3D model...