Download this useful Photoshop action that adds a subtile shadow effect, or better said reflection to any text layer. All you have to do is play the action. You can customize the resulted layers because all the layer styles remain intact.
The text shadow action is great if you want to create a shadow in Photoshop and you don't have time to go trough all those steps involved. Download for free and enjoy!
I've found this really cool Photoshop action that adds a shadow or a reflection effect to your text. It is a little bit confusing because it looks like a reflection but because it's a black and white reflection, you can say it is a shadow. As you know the reflection is colored like the original object.
Anyway I hope you will find this Shadow Action useful enough to use it in your projects. All you have to do is download the action, write the text and press the play action button. You will obtain 3 layers, one is the original text with some layer styles. The second is the text shadow with a Gradient Overlay that can be adjusted, and the third is the background layer.
If you want to change the background color and make it darker for example, all you have to do is to adjust the shadow opacity level. If you want to read more about text shadow I suggest you to check out this tutorial Text Shadow in Photoshop.
Text Shadow Photoshop Action
The image above is the a before/after preview of this shadow action. I started with an original white text and you can see the result. After the action was completed I've played a little with the layers and changed the background color and this is the new text shadow effect result.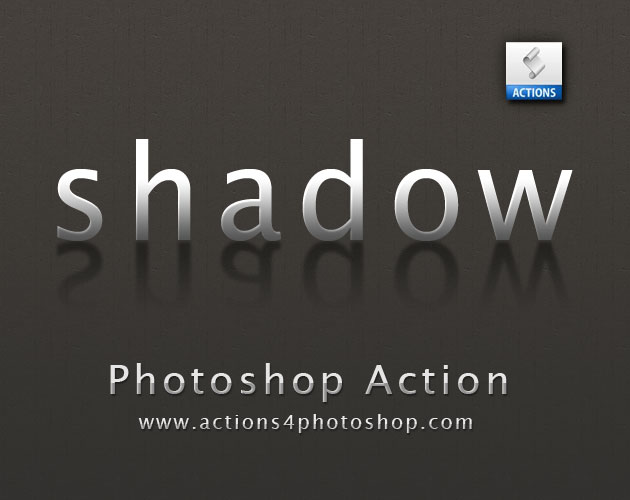 License
This ATN file is free for personal, non-commercial use only, attribution required. You are not authorized to redistribute, resell without the author written agreement.
FREE DOWNLOAD
Drop Shadow Photoshop Action (Free)