Grab this new Photoshop freebie and create retro vintage text effects using the fully customizable PSD mockup. Simply add your own artwork inside the smart object and you will obtain retro vintage typography with just a single click. Easy and effective, hope you will enjoy our new free PSD file.
Retro Typography | Free PSD
Create retro typography in Photoshop with this cool PSD mockup file. All you have to do is to open the "retro text by psddude" smart object(double click on the smart object thumbnail). Inside you will find another smart object called "Your work inside". Again open this smart object and inside you can add your text. As you can see in the preview my retro typography contains both text and shapes so you can be creative.
To see the retro typography result you have to save and close the two smart objects. You have to wait a few seconds for the effect to be rendered. You can easily modify all the text effects, like the long shadow effect for example. You can reduce or increase the opacity, you can change the color of the text, the pixel pattern and so on.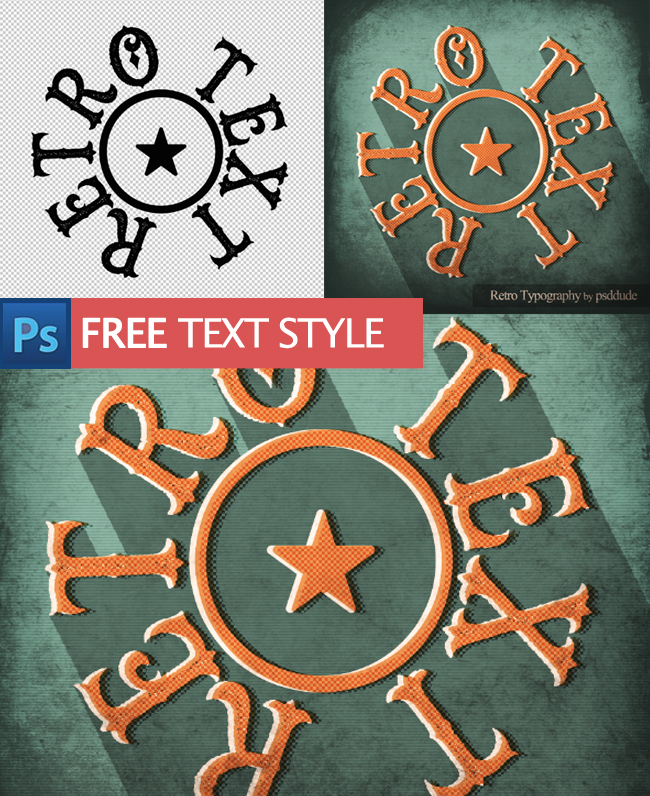 For the grunge background effect I have used this grunge texture but you can of course replace it with any other grunge vintage texture that you like.
FREE DOWNLOAD
You can also check out this Vintage Paper Texture pack if you want to create a retro typography like this.
Next Post
Great Collection of Glass Text Photoshop Tutorials