Download for free this pizza text style and use it to create cool looking food typography in under a minute. The pizza Photoshop free style is fully customizable, you can use any type of layer and can be used in personal and commercial projects with attribution. This pizza text effect can be used for Italian restaurant flyers for example. Great effect for any pizzeria advertising material. This item is not 300 DPI print ready, so it can only be used on web.
Pizza Free Style for Photoshop
This is a free pizza style that you can use it both for text and shape layers. In this tutorial you can learn how to create a pizza text in Photoshop from scratch.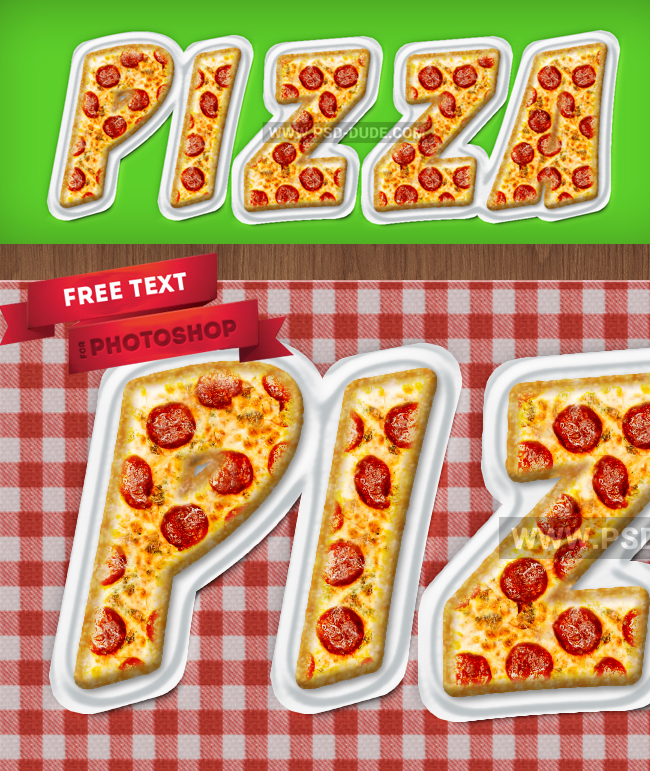 Main Features
Free Pizza Photoshop Style
the pack includes 1 PSD file
smart objects, styles intact, fully customizable
works great with any type of layer
How To Use
Open the PSD file called "free-pizza-style-by-psddude.psd". Add your image inside the last "ADD YOUR TEXT INSIDE(www.psd-dude.com)" smart object. Double click on the smart object(s) thumbnail to open and edit. Add your text layer(s) and/or custom shapes inside. Save and close to see the result.
License
These files are free for personal and commercial projects with attribution. All you have to do is to link back to our blog. You can NOT redistribute this file on other websites.
Free Download
Pizza Font Online
If you don't have Photoshop, you can try this creative pizza letters from MockoFun. Use the pizza text online.
You can also check out this awesome list with over 25 free Cake Fonts that you can download and use for commercial projects. Use the cake fonts online with the MocoFun text editor or install the fonts on your computer and use them in Photoshop.
Next Post
Qlilipn Image to Parallax Video Photoshop Actions