So, let's say you are looking for a psd frame or a psd border to frame your images. Look no more, here you can find the best Photoshop frames available on the internet. Simply download the CSH file, upload in Photoshop and you are ready to use these cool frame vectors. The border photoshop shapes are so easy to customize, to resize, to change the color and to add different layer styles.
I like to add a frame border in photoshop for my preview images, but I usually add a simple 4px Stroke border or a beautiful vignette. If you want something really special for framing your photos, you have to use more complicated borders. So these frame shapes are a very good choice. Another idea would be to use one of the many frame Photoshop actions or you can use a frame Photoshop brush.
If you are looking for free high quality Photoshop shapes that can be used in commercial projects, you can check out these vector, shapes and silhouettes from PhotoshopSupply.
Frame Border Photoshop
Freebie Frame Border Shapes
Frames Custom Shapes
Doodle Frame Shapes
Frame Shapes and Borders
Circular Frame Shapes
You can also check out these free frame shapes from PhotoshopSupply. The set contains 12 vector frames in CSH format.
Learn how to add border in Photoshop from this quick tutorial.
BONUS: you get a free Photoshop fame action that includes 9 actions for framing photos.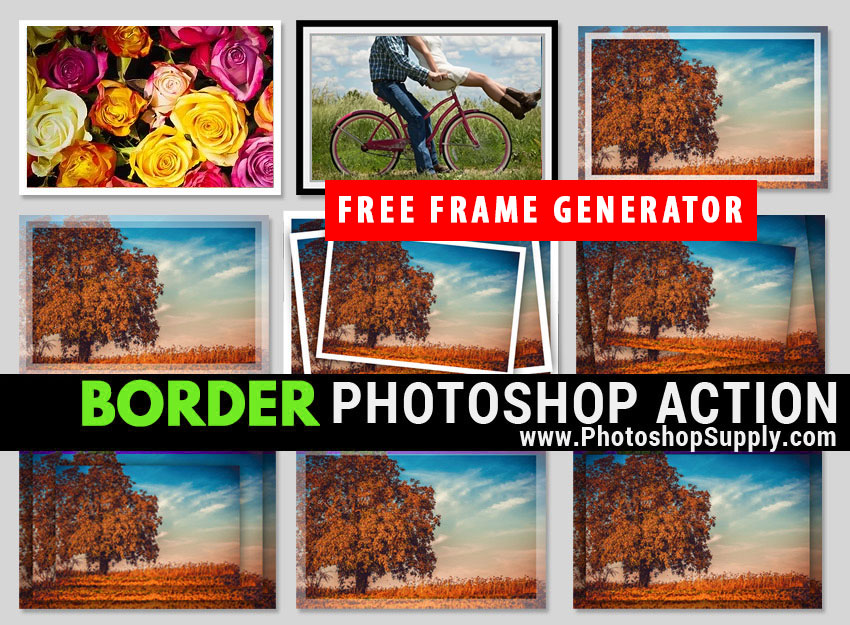 Frame Photo Online [FREE]
If you don't have Photoshop, you can try MockoFun online photo editor which is a free Photoshop alternative. MockoFun is a really magic photo editor online with lots of cool features.
Make your pictures more creative in just a few easy steps! You don't need advanced photo editing skills to frame a photo online.
So, if you want to learn how to frame photo online check out this quick tutorial.
Create Photoshop shapes quick and easy! This set contains 1 layerd PSD file that will allow you to create a vector shape silhouette out of any photo/graphics/image. The pack also contains a Photoshop action that you can use to create custom shapes.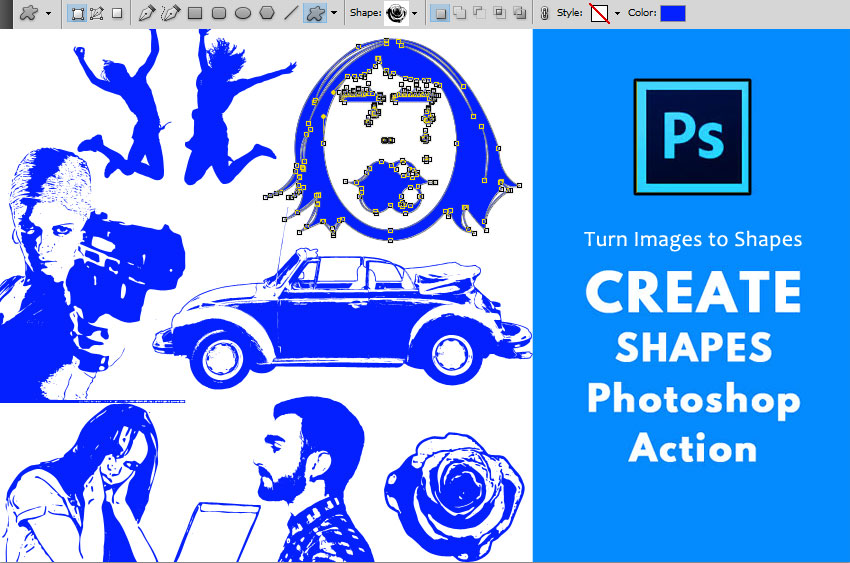 You can also try this Photoshop action; convert image to vector using Photoshop. You get a vector image with colors, not just a shape/silhouette. From JPG to vector with 1-click!