Download these beautiful decorated egg shapes for the upcoming Easter celebration! The CSH file contains 13 Photoshop custom shapes that are available for all our registered users. These shapes were made using a simple egg shape in combination with another set of shapes that I've made, folk decoration shapes.
Inside the resource post you will find all the details on how to use a custom shape in Photoshop. This is my second set of custom shapes made with Adobe Photoshop CS4 and I really hope you will enjoy it!
Easter Egg Photoshop Vector Shapes
This set contains 13 egg vector shapes for Easter. These shapes were made with Adobe Photoshop CS4. You can download the ZIP file for free. It includes a CSH file and a TXT Info&License file.
How to Use a Photoshop Custom Shape
Simply download the CSH file. Open the Photoshop, go to Edit menu and open the Preset Manager window. Choose Custom Shapes from the Preset Type dropdown box and press the Load button. You are now ready to use the shapes!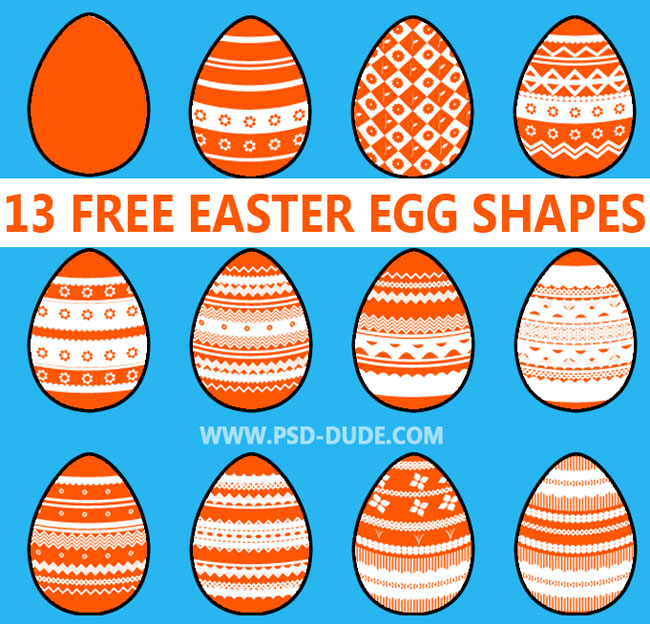 License
This set is free for personal and commercial use with attribution. If you use our shapes on other websites please credit us . Remember that the www.psd-dude.com files can not be redistributed on other websites. If you feature this set of PS shapes, you have to put a corect link to this page.
You can also check out our new set of Easter Photoshop vector shapes to paint and decorate the Easter eggs.
Previous Post
Over 70 Clock Photoshop Custom Shapes Free Download