Arrow Photoshop brushes are among my favorite brushes. So I have made this set of arrow brushes using arrow shapes combined with a hand made grunge texture. I hope you decide to add my grunge arrow brushes to your collection of free brushes. I want to thank my dear friend Oksana Khristenko for give us free access to these amazing arrow shapes that I used to make my Photoshop brushes.
Download the abr file, install the brushes in Photoshop and be creative. If you like them don't forget to share with your friends.
To create a grunge effect in Photoshop, you can use these Grunge Backgrounds and also this set of Grunge Textures from PhotoshopSupply.
24 Arrow Photoshop Brushes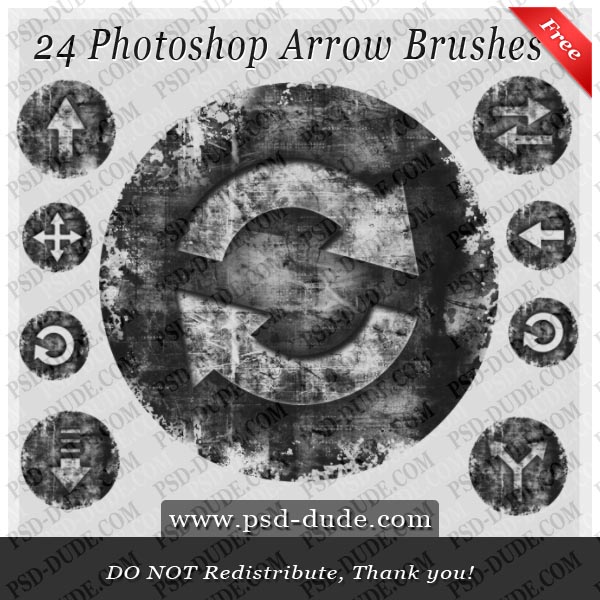 License
These Photoshop brushes (ABR file) are free for personal, non-commercial use only. You are not authorized to redistribute, resell without our written agreement. If you feature these shapes on your website, you have to put a link to this page, not a link to the ABR/ZIP file. Do not claim this file as your own.
Because many of our resources are free for download, we ask that you give us proper credit with a link to www.psd-dude.com
Special thanks
A big thank you goes to Oksana Khristenko and Shapes4FREE for providing the arrow custom shapes used for creating these brushes.
This archive contains 1 ABR file (24 arrow brushes for Photoshop) and a TXT license file. I hope you find it useful enough to share it with your friends. Free download for all our registered users.
If you like this you might also be interested in: