Partner link exchange
Get in touch with us and become our friend and partner. You have to have a website similar to our blog, digital art related, with quality and unique content that do not infringe copyrights and that has a google page rank between 3 - 10, and alexa ranking between 1 - 100,000.
What we ask of you and what we offer in return:
"follow" links from your pages to our pages you find interesting and the other way around
optionally posting information about contests or special announcements
optionally preferential prices for ad space
we are open to other partnership ideas
Contact us if you want to become our partner and we can establish the exact details from case to case.
Blogs we like and often peek at
We find, we like, we revisit. Here is a list of blogs belonging to our friends.
PSDBox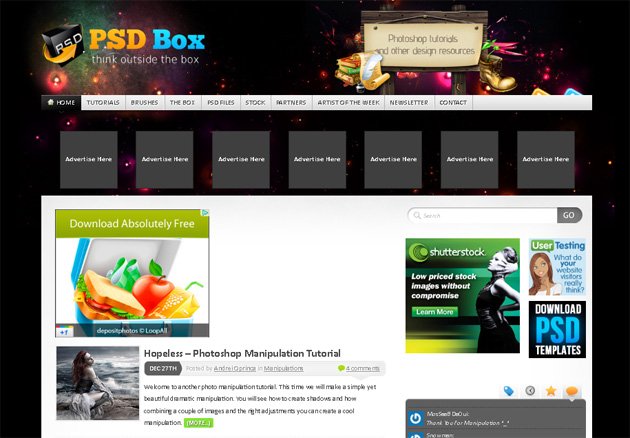 Learn how to create The Mummy movie poster effect in Photoshop. We'll create an evil woman character...
New collection of free water textures that you might want to add to your design resources box. The l...
Learn how to create a fairy pixie dust magic trail in Photoshop using overlay textures, blending tec...
Download our new set of circle brushes which contains 30 circles drawn in Photoshop. Making a circle...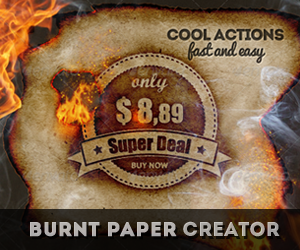 You can create amazing gold text effects by using these unique gold Photoshop styles, both free and ...
There's something about ribbons that just looks good. I thought about making this Ribbon Vector Free...
In today list of free textures for Photoshop I have gathered over 100 amazingly beautiful wood textu...
I have decided to create a new character from Alice in Wonderland and I hope that maybe someday to r...
Today's list is a collection of Free Photoshop Layer Styles. As many of you already know, Photoshop ...
If you want to know how to create dispersion effect in Photoshop in a easy way, here is a quick solu...
To create a Comic Book Effect in Photoshop we have to mix all sort of filters and blend them togethe...
Hello girls and boys! Today i want to make a cartoon rainbow... i really hope you will like it! ...
Stitching and sewing can be created also in Photoshop with very realistic results. So in this tutori...
In this tutorial I will show you how to create a 3D map in Photoshop using different 2D and 3D model...