Part 2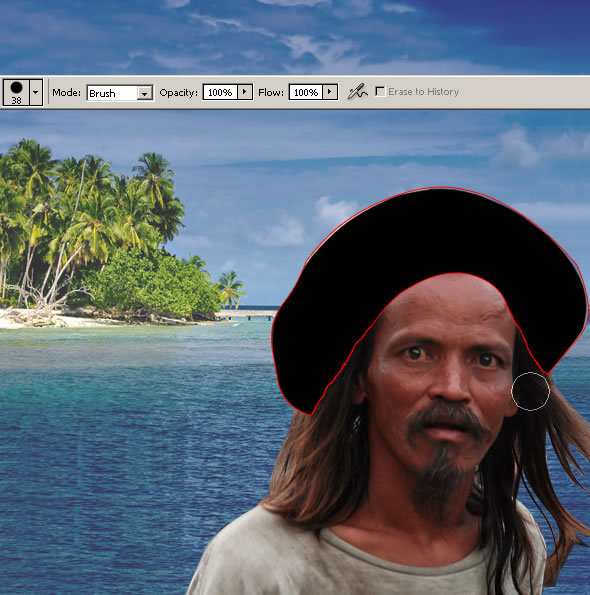 Step 5 – Fix the Hair
I have to fix the hair now to blend the hat with the rest of the image. Because I will not use hair brushes the best method to fix hair problems is to use the Smudge Tool.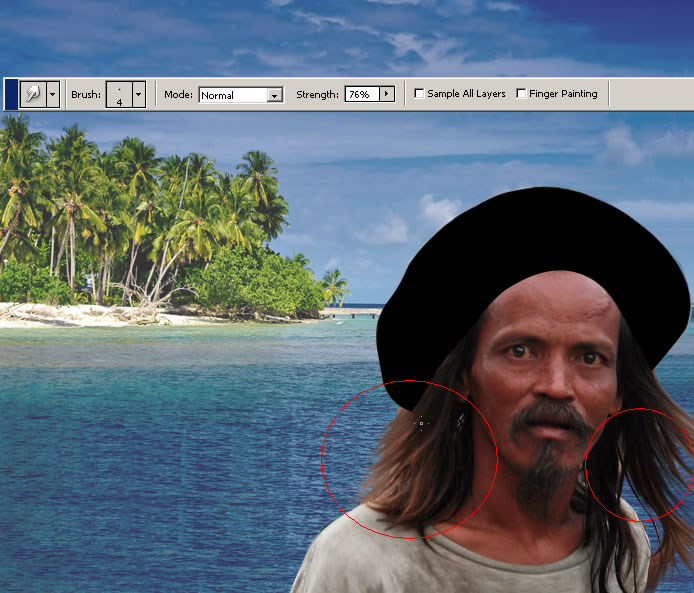 To look more real I have copied to parts of the hair from left and right. Call this layer Extra Hair Layer. Place the Extra Hair Layer above Pirate Hat Layer. I have colored the hair with red 50% Colr Overlay to see exactly the shape of the hair extension. Use also the Smudge Tool make the hair look real.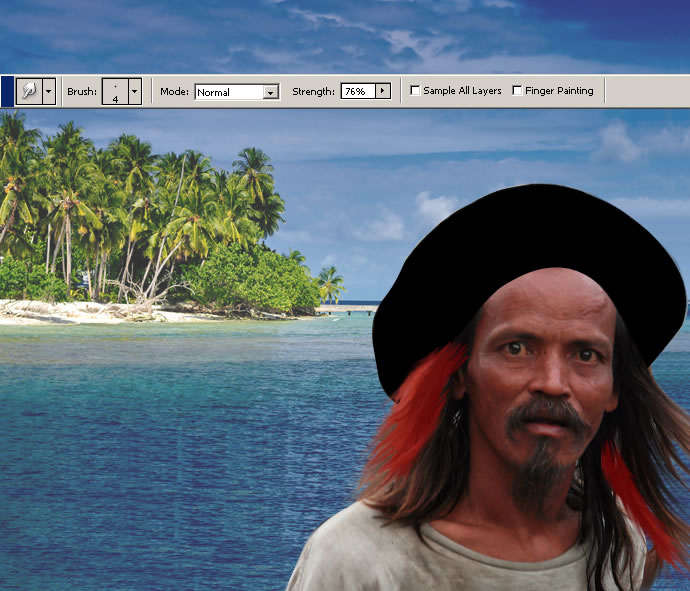 Remove Color Overlay.
Step 6 –Change the Hat into a Pirate Hat
It is really simple to transform the hat into a pirate hat. Just add some items and this is it!
Let's start by adding a white line. With the Pen Tool, check Paths and draw a line along the exterior edge of the hat.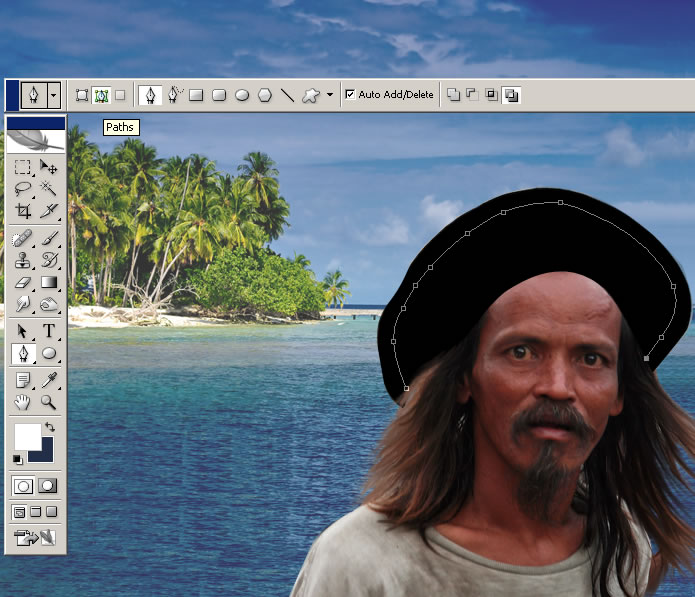 Than select the Brush Tool and make sure you have brush size 3 and color white.
Create a new layer and call it White Lines. Select the Pen Tool again and right click on the path and choose Stroke Path.. like in the image: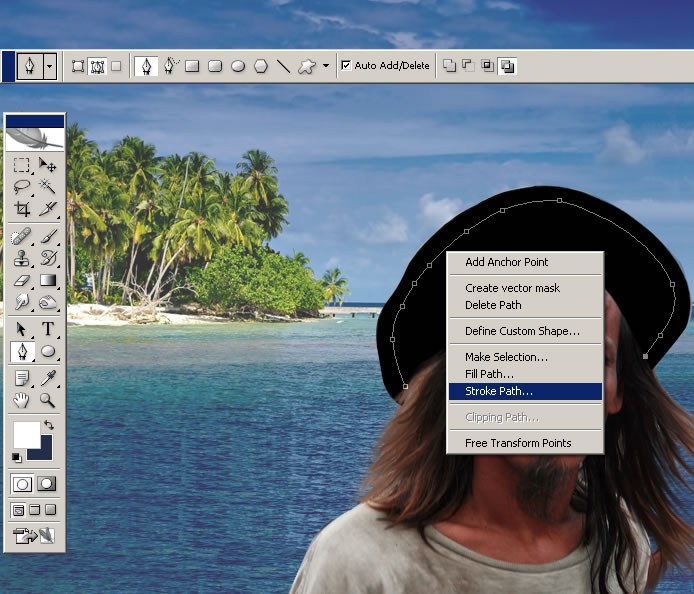 Now go to Edit – Transform – Scale and make the path a little bigger. The idea is to obtain to white lines. You can easily use the Conver Point Tool to adjust the shape of that second line. After you obtain a nice paralel line choose Stroke Path again. Now press Delete and the path is gone. Now change the opacity of this layer to 45 %.
With the Eraser Tool , opacity 28 % smoothly delete the parts of the lines to obtain shadows.
The second item that you I need to add is the Skull and the hat is ready.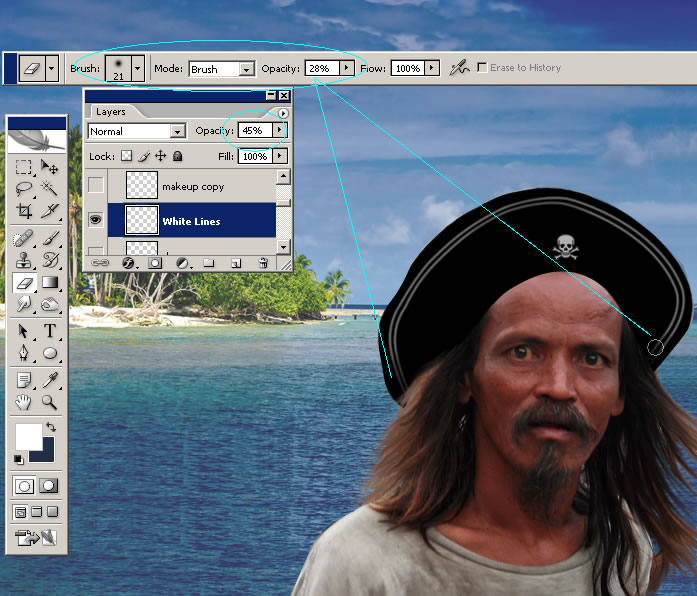 Step 7 – Pirate Earring and Eye Patch
To complete the pirate look I will add an Old golden earring and an eye patch.
Resize the earrings to 40% and delete the right sided one. Than use Edit – Transform – Skew to give it the right perspective.
Change the opacity of the Old Golden Earring to Lighten 100%.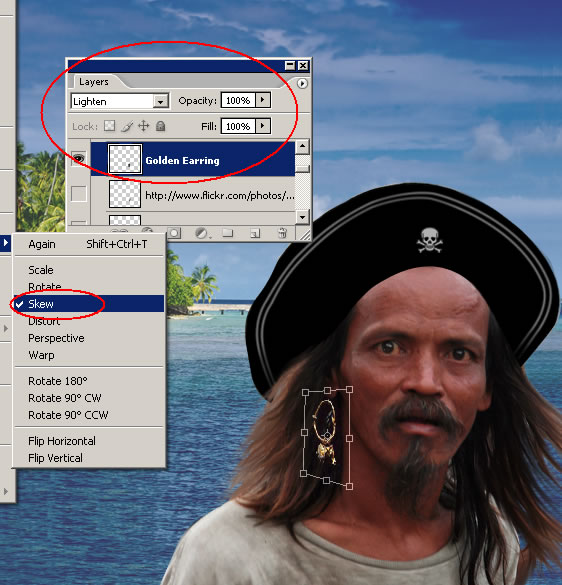 Use the Eraser Tool , opacity 30% to add shadow and to give the impression that is really his earring.
Ok now let's deal with the eye patch. With the Pen Tool simply draw the eye patch, color black.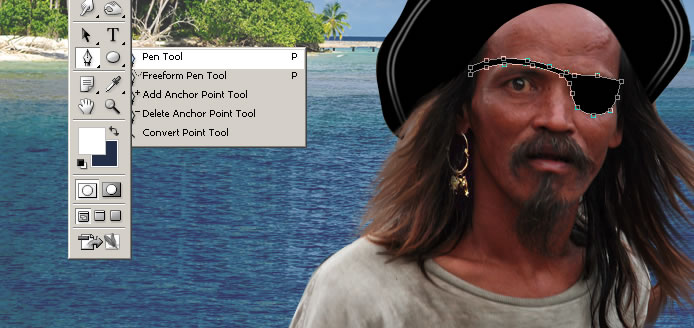 Rasterize the shape and with the Dodge Tool, shadows , expossure 20% lighten parts of the eye patch again to look real.
I will now add a little black makeup to the eye. Use the Brush Tool, different opacities and sizes. Use also the Filter – Blur – Gaussian Blur . In final add a little black line with the Pen Tool, Paths.
Step 8 – Add the Pirate Ship